Grow Smart Board of Directors

Michael F. Ryan

Chairman of the Board

Susan Arnold

William Baldwin

S. James Busam

Joseph Caffey

Robert L. Carothers

Arnold Chace

Jen Cookke

Trudy Coxe

Peter Damon

Stephen J. Farrell

Thomas E. Freeman

J. Joseph Garrahy

John R. Gowell, Jr.

Stephen Hamblett

Robert Harding

Michael S. Hudner

Stanley J. Kanter

Howard M. Kilguss

Thomas A. Lawson

Dennis Langley

James Leach

Frederick Lippitt

Roger Mandle

Rev. James C. Miller

Thomas V. Moses

George Nee

B. Michael Rauh, Jr.

Gary Sasse

Richard Schartner

Deming Sherman

Merrill Sherman

Curt Spalding

James F. Twaddell

Ranne Warner

Sandra Whitehouse

Frederick C. Williamson

W. Edward Wood

Board Listing with Affilliation

Staff

Executive Director

Director of Programs

Director of Research & Communications

Office Manager / Executive Assistant

Office Assistant

Research Assistant
---
Looking for a past issue?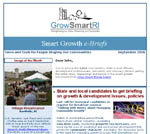 ---
Want to join an

expanding network of

smart growth practioners?

Click below for details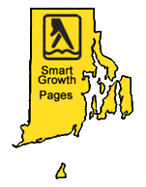 Smart Growth

Toolbox Topics

Dear John,

You're among the 2,472 opinion leaders, state & local officials, development professionals, journalists and visionary citizens getting the latest news, happenings and trends in the smart growth movement from Grow Smart Rhode Island.



Smart economic growth for your community?

New EDC proposal holds great potential, but needs fine-tuning according to Grow Smart

It's called the Jump Start Growth Centers Program and its goal is to assist communities and investors in developing sorely needed commercial and industrial sites in places appropriate for development and designated by the host community.

The concept of Growth Centers, or priority investment areas, is about encouraging compact, mixed-use development and redevelopment in areas where growth can be most beneficial and most easily accommodated. It's also about preserving open space; conserving tax dollars; and connecting people with a sense of place unique to their community.

The proposal, included as an article in the proposed FY 2006 State Budget, would leverage up to $25 million through moral obligation bonds to help finance costs associated with design, master planning and permitting of "pad-ready" sites as well as necessary utility and transportation infrastructure. According to the proposal, developers who wish to pursue projects in locally designated and state-approved growth centers would be eligible for low interest "Jump Start" loans from EDC of up to $2.5 million.
FREE assistance to implement smart growth

After learning about the principles of smart growth, many communities are asking "How do we get from the principles to practice? This could really help my community - but how do we do it?" EPA is offering an opportunity to apply for free technical assistance that will help you apply smart growth principles to a real challenge in your community.

The Development, Community and Environment Division in U.S. EPA's Office of Policy, Economics and Innovation is seeking applications from communities that want to develop in ways that meet environmental and other community goals. A team of multidisciplinary experts will provide technical assistance to communities that are selected.

Application deadline: May 19, 2005
Housing workshops focus on design, zoning

As municipalities plan for affordable housing, one of the questions often heard is what impact it will have on the physical character of different communities. On April 5th, a standing-room-only gathering of developers, design professionals and municipal officials gained insight into the importance of design ... READ MORE

This spring Grow Smart is participating with other organizations in a series of presentations on the importance of good design. The municipal training initiative will offer three May workshops, held in Kingston, Lincoln and Portsmouth, that provide additional opportunities to talk with Anne Tate of the RISD Urban Design Center, several RI architects and national experts from the HUD Design Advisory Program, about housing design. Click HERE for the brochure and registration form.
Planning the future of your community

May 4th program for anyone with an interest in the role of comprehensive planning to help communities adapt to change

The Lincoln Institute of Land Policy is conducting an all-day workshop on comprehensive community planning at its headquarters in Cambridge, MA on Wednesday, May 4th.

Presented by Dr. John Mullen, Dean of the Graduate School at the University of Massachusetts, the purpose of this course is to help participants come to an understanding of the trends that are impacting the quality of life in New England communities, and how to help to ensure that they are positive. It provides an in-depth review of fundamental planning principles and the planning process as they relate to the New England community.
CommunityViz® now available at reduced cost

The Orton Family Foundation is pleased to announce it is making CommunityViz® planning software available to communities at the new, reduced cost of $185, removing a significant barrier to access for communities in need of effective planning tools and methods.

CommunityViz® provides GIS-based analysis and real-world 3D modeling that allow people to envision land use alternatives and understand their potential impacts, explore options and examine scenarios from all angles - environmental, economic, and social - and feel confident in their land use planning decisions.
CALENDAR

Monday, April 18 (7:00p - 8:30p)

Sponsored by the Charlestown Conservation Commission and presented by the URI Cooperative Extension in partnership with the RI Department of Health.

Charlestown

Tuesday, April 19 (7:00p - 8:30p)

A community education forum sponsored by the West Bay League of Women Voters.

Warwick

Saturday, April 23 (8:15a - 6:00p)
Thank you to our funders

Grow Smart would like to acknowledge and thank the following individuals and organizations for their generous support during the first quarter of 2005.

Individuals

Edgar & Andrea Adams

Sarah Dowling

Jay & Elizabeth Gowell

B. Michael Rauh

Mr. & Mrs. Lawrence Reilly

Deming & Jane Sherman

William Tallman

Barbara van Beuren

Sheldon & Sandra Whitehouse


Foundations

Haffenreffer Family Fund

The Rhode Island Foundation

The Stephen A. & Diane L. Goldberg Foundation


Corporations

Durkee, Brown, Viveiros & Werenfels

Struever Bros. Eccles & Rouse, Inc.

The Peregrine Group, LLC

Tru-Kay Manufacturing

Washington Trust


Government

Rhode Island Treasurer's Office

Town of Hopkinton

Quinebaug-Shetucket Heritage Corridor

University of Maine

Your donation to Grow Smart enables us to continue developing and spreading the word about smart growth policies and programs that strengthen our cities and protect our countryside.
Growth and development issues in the news

National

Statewide

Barrington

Bristol

East Providence

Glocester

Newport

North Smithfield

Pawtucket

Warwick

West Warwick

Woonsocket