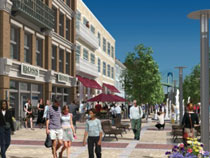 O2 Aims to Breath New Life into Newport's North End

The $1.4 billion investment envisioned for this mixed-use development would be the largest private real estate investment in the State's history.

Located in Newport's North End and including the Newport Grand video slot facility, O2 proposes to realize the vision of the City's

which was unanimously approved by the Newport Planning Board in January 2007.


Read more in Projo.com



Grow Smart

Board of Directors

Deming E. Sherman

Chairman of the Board

Susan Arnold

William Baldwin

Samuel J. Bradner

Kenneth Burnett

Joseph Caffey

Robert L. Carothers

Arnold Chace

Jen Cookke

Trudy Coxe

Dennis DiPrete

Stephen J. Farrell

J. Joseph Garrahy

John R. Gowell, Jr.

Akhil C. Gupta

Michael S. Hudner

Stanley J. Kanter

Howard M. Kilguss

Dennis Langley

James Leach

Roger Mandle

The Rev. James C. Miller

Thomas V. Moses

George Nee

William M. Pratt

B. Michael Rauh, Jr.

Gary Sasse

Richard Schartner

Pamela M. Sherrill

Curt Spalding

James F. Twaddell

Ranne Warner

Frederick C. Williamson

W. Edward Wood

Board Listing with Affiliation





Sponsor Message

Grow Smart Staff
Executive Director
Director of Programs
Director of Research & Communications
Executive Assistant for Finance
Office Assistant
Training Coordinator
Dear John,

You're among the 3,281 civic leaders, state & local officials, development professionals, journalists and visionary citizens getting the latest news, happenings and trends in the smart growth movement from Grow Smart Rhode Island.

Editors Note: This is an abbreviated version of our monthly

e-newsletter. The regular format will return next month.



Grow Smart recognized with award from

Environmental Business Council

Environmental Merit Award will be presented at 14th Annual EBEE Awards Celebration on June 7th in Waltham, MA

In recognition of its work in developing and promoting innovative policies and programs that have revitalized city, town and village centers, preserved cultural and natural resources and expanded economic opportunity, Grow Smart Rhode Island has earned the Environmental Merit Award from the Environmental Business Council of New England (EBC).

Each year in June, the EBC recognizes companies, organizations and individuals for outstanding accomplishments in the promotion of a sustainable, clean environment through the EBEE Awards Program. These awards were created by the EBC to encourage environmental companies, government agencies, nonprofit organizations, and environmental professionals to serve as models for others to emulate and, in doing so, further the mission and objectives of the EBC.
Planning for vibrant, mixed-use centers

will be featured on local cable program

Show will air May 4th, 10th and 12th and will be available via streaming video

Understanding the benefits and "how-to's" of encouraging investment in mixed-use urban, town and village centers will be the focus of discussion on an upcoming show of Tea With Marie, a local cable program available on Cox Communications.

Joining program host Marie Younkin-Waldman will be be panelists Scott Wolf, Executive Director of Grow Smart RI, Tom Kravitz, Director of Planning & Economic Development for the Town of Burrillville and Jeanne Boyle, Director of Planning for the City of East Providence.

Innovative state and local planning policies will be discussed, as well as on-the-ground projects in Burrillville and East Providence that exemplify smart growth principles.

The 30-minute program will air Friday May 4th at 3 PM on Channel 13 (Interconnect "A" Statewide) and then again on Thursday and Saturday May 10th and 12th at 3:00 PM on Channel 18 (Lincoln, Cumberland, Central Falls and Smithfield viewing area).

Grow Smart will provide a link to the streaming video when it becomes available next month.
Federally funded Safe Routes to School

program issues call for proposals

Program provides 100% federal funding to communities for improving the safety of kids walking or biking to school.

Application deadline is July 12, 2007.

The Rhode Island Statewide Planning Program, Rhode Island Department of Transportation and the Safe Routes to School Steering Committee (on which Grow Smart RI serves) has announced a call for proposals to participate in the 100% federally funded Safe Routes to School national program.

This is an opportunity for schools and communities to make walking and bicycling to school a safe and routine activity, helping to support healthy communities and lifestyles. The Program provides reimbursement for a wide variety of projects and activities, both infrastructure and non-infrastructure, with the goal of creating comprehensive Safe Routes to School Programs in individual elementary and middle schools (K through 8).

Eligible activities include:

Infrastructure projects that substantially improve the ability of students to walk and bicycle to school including crosswalks, sidewalks and repairs, traffic calming, etc.
Non-infrastructure related programs and activities to encourage walking and bicycling to school such as traffic enforcement, walking school buses, walking clubs, bike rodeos, etc.

View the application at the Safe Routes to School website

Orientation Workshops

Two workshops will be held to introduce the Safe Routes to School program and to assist communities with project development. The agenda is the same for each of the workshops which will be held at the RI Department of Administration, One Capitol Hill, Providence:

- Mon., May 7 at 1:00 p.m., Conference Room B, and

- Wed., May 9 at 6:30 p.m., Conference Room A.
Local teacher recognized for engaging

students in community planning

By teaching kids that they can shape what happens in their own neighborhoods, Coventry middle school teacher Ted Mitchell can then engage his students in the world beyond.

Most middle school students don't care much about history or social studies - unless they've come to see it through an interesting lens. That's why the Dunn Foundation has recognized Coventry middle school teacher Ted Mitchell with a merit award.

Mitchell developed a creative approach to coaxing students to better understand the world by engaging them in a neighborhood planning project that teaches about smart growth and community planning. And the kids have responded.

Mitchell has been using this teaching tool throughout his 11 years working in Connecticut and Rhode Island . Last year, he teamed up with Grow Smart Rhode Island to explore the opportunities for his students to shape Coventry's future, using the town's Comprehensive Community Plan as the project textbook.

His seventh-grade students came up with their own ideas for how town officials should plan for the future. The students created PowerPoint presentations to illustrate population trends and projections and to address things like economic development, open space, town facility needs, recreation and safe streets. They then presented their ideas to the Town Council, which adopted some of the recommendations.

Last year's students, now in eighth grade, remember what they learned and why it's important to them. "What I learned is that we could have our own opinions on how to change the community," said Jade Lytle, 14. "We are the generation that 20 years from now will be affected by what changes are made now."

View a 90-second video clip courtesy of ABC6 News