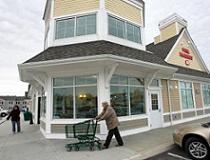 Projo photo / Bob Thayer
Narragansett's Bright Spot
The first phase of Pier MarketPlace, a mixed-use project in the center of town, is nearly complete and officials see the anticipated $480,000 in new tax revenue as helping to fill a town budget deficit. Early results of a townwide statistical revaluation show that values have increased on 17% of properties in town and most of those properties are in the pier area.
Read more in Projo.com


Grow Smart Rhode Island

Board of Directors

Deming E. Sherman

Chairman of the Board

Susan Arnold

William Baldwin

Rebecca G. Barnes

Samuel J. Bradner

Kenneth Burnett

Joseph Caffey

Robert L. Carothers

Jen Cookke

Trudy Coxe

Dennis DiPrete

Stephen Durkee

Stephen J. Farrell

John R. Gowell, Jr.

Akhil C. Gupta

Michael S. Hudner

Stanley J. Kanter

Howard M. Kilguss

Dennis Langley

James Leach

Thomas V. Moses

William M. Pratt

B. Michael Rauh, Jr.

Richard Schartner

Lucie G. Searle

Pamela M. Sherrill

John C. Simmons

Curt Spalding

James F. Twaddell

Directors Emeritus

Arnold "Buff" Chace

Louise Durfee, Esq.

J. Joseph Garrahy

Michael F. Ryan

Frederick C. Williamson

W. Edward Wood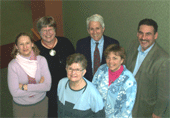 Staff

Scott Wolf

Executive Director

Director of Programs

Director of Research & Communications

Executive Assistant for Finance

Office Assistant

Training Coordinator
Dear John,

You're among the 3,250 civic leaders, state & local officials, development professionals, journalists and visionary citizens getting the latest news, happenings and trends in the smart growth movement from Grow Smart Rhode Island.



RIEDC Review Panel calls for major

overhaul, decries absence of a clear

strategy for economic development

Review Panel reports that the agency has performed unsatisfactorily for more than a decade. Grow Smart remains hopeful that its recommendations will be included in future strategy.

Referring to the agency as a "basket of frogs", Alfred J. Verrechia, the chairman of the Governor-appointed review panel, criticized the EDC's approach as "fragmented, disjointed and without focus" and said that "leadership has been inconsistent and not well coordinated with the Governor" who chairs the EDC. The panel in turn made several largely institutional recommendations to reform the economic development function in Rhode Island, such as expanding the board of directors, conducting a national search for a new director and establishing a public-private entity to coordinate new business recruitment.

The panel's full report echoed several of the points in a paper Grow Smart submitted a month ago for the panel's consideration. For example, the panel called for EDC to:

Build a "vibrant partnership" with RI's colleges, universities and hospitals and "... recognize that our educational institutions and hospitals are economic engines and that they need to be nurtured and fostered as such".
Create "...a team of potential 'economic development ambassadors', promoting the assets and positive attributes of Rhode Island instead of perpetuating the current climate which dwells too much upon weaknesses and negative perceptions".

Absent from the recommendations was a broader, more strategic directional shift for Rhode Island to better position itself to play more effectively to its strengths, as had been suggested to the panel by Grow Smart and that was documented in the NBC 10 news clip linked to the left.

Among Grow Smart's recommendations was a call for a more focused recruitment of small and medium- sized knowledge based companies - the kind that have recently been drawn to rehabbed mill and factory buildings of which Rhode Island has an abundance. "Our state has a large collection of rehabbed and rehab-ready mill buildings on already developed land with existing municipal infrastructure. While they are a largely untapped resource, they are also an available and efficient resource for economic development that has the added benefit of further revitalizing our urban and town centers", said Scott Wolf, Executive Director.

According to reports, the Governor's staff is preparing legislation to alter the EDC Board while the review panel is preparing a job posting to recruit applicants for the director's job. The Governor is also studying the panel's remaining recommendations. Grow Smart remains hopeful that he and/or a new EDC Board will adopt several of our key recommendations for an asset based and sustainable economic development strategy.


Relevant media coverage of RIEDC Panel activity


President may visit Providence to discuss

his administration's urban agenda

The 77th Annual Meeting of the U.S. Conference of Mayors will convene in Providence June 12-16 and it has been traditional for a newly elected President to address the mayors

President Obama, Vice President Biden and members of the Cabinet and Congress have been invited to the event, which is the largest annual gathering of U.S. mayors. The President has yet to confirm his intention to attend.

The focus of the three-day summit will be how cities are using federal funds from the American Recovery and Reinvestment Act to strengthen metropolitan areas as key to long term American prosperity.

[More] about the Conference

Governing Magazine reports that the President has a new notion of urban policy

According to Governing, the President has fundamentally accepted the argument of mayors and other experts that metropolitan areas are the primary economic drivers in the country and deserve to be treated as assets rather than problems. It's not just that many cities have experienced downtown revival and an uptick in population over the past decade. It's that metro areas are punching well above their weight in contributing to the nation's economic activity, even during the current downturn.

Both President Obama and his chief urban adviser, Valerie Jarrett, have made it clear that federal urban policy is about to evolve into something very different: a means of helping cities and their regions become instruments of American economic strength. Those policies are now under development by President Obama's newly created White House Office of Urban Affairs.

[More] from Governing Magazine
National report:

Housing migrates back to cities

An EPA study finds exurbs are losing market share while downtown corridors are making a comeback. Metro Providence is among 10 regions whose downtown areas are attracting an increased although still modest share of total new residential construction

Across the country, many urban neighborhoods are experiencing dramatic transformations. Parking lots, underused commercial properties, and former industrial sites are being replaced by condos, apartments, and townhouses. In spite of the many impressive projects, a central question remains: Do such examples add up to a fundamental shift in the geography of residential construction?

The trends indicate that the distribution of residential construction has significantly changed over time in many regions. In more than half of the largest metropolitan areas, urban communities have dramatically increased their share of new residential building permits. Metro Providence's share more than tripled since the 1990's, but remains relatively low at 7%.
U.S. Transportation Secretary outlines

smarter goals for transportation system

"Livable and Sustainable Communities"

Those four words might not be at the top of the list of what one would expect to hear from the person in charge of how the federal government spends our tax dollars on all forms of transportation - ports, railroads, highways, interstates, sidewalks, bike lanes and more - but that's exactly what U.S. Transportation Secretary Ray LaHood named as a primary goal for DOT while testifying before a Senate Committee on April 28, 2009,

In his remarks, he made it clear that DOT and the Obama administration see the deep connections between where and how we spend transportation dollars and the quality of life for everyday Americans.

Smart Growth America (on whose Board Scott Wolf sits) has been a leading advocate for such priorities through the Transportation for America coalition.

Learn [More] about the administration's priorities
Smart Growth America releases guide

for transportation stimulus funds

Resource provides guidance for citizens and reporters to use in asking whether state officials are choosing the best available ways to invest transportation stimulus funds

As families all over America struggle to make ends meet, officials are under pressure to make the best use of the federal stimulus money now pouring into state capitals. The American Recovery and Reinvestment Act (ARRA) is a critical opportunity for state and local officials to help those families by building a stronger economy now and jump-starting the completion of a 21st century transportation system.

Rhode Island is receiving $137 million for transportation and infrastructure projects which represents an opportunity to stimulate the economy while advancing long-term goals. ARRA funds are eligible to be spent on many different kinds of transportation projects. Spending the Stimulus: How Your State Can Put Thousands Back to Work by Jumpstarting a 21st Century Transportation System illustrates the breadth of investments that a state can make with the funds it receives through ARRA, by outlining 20 project types in 5 main categories, and providing an example for each.
Rhode Island not alone in transit

budget crisis

With ridership at record highs, transit agencies across the country are facing unprecedented fiscal crises in this economic downturn, with many considering layoffs, service cuts and fare hikes that are hitting at the worst possible time, a compilation of nationwide data shows.

This map to the right, compiled by Transportation for America, highlights 85 communities across the U.S. that face job cuts, service reductions and fare hikes. Together, these systems are responsible for more than 22 million trips each day by everyday Americans.

Efforts to address the transit budget gap in Rhode Island include a move by Governor Carcieri to shift $2.2 million to RIPTA and a number of bills pending in the General Assembly to stabilize and reform the way RIPTA is funded.

[More] from Transportation for America
CALENDAR Highlights:


Click here b> to let us know if you would like your land-use/water resources related conference or workshop listed on our CommunityConnectionRI Calendar.

This Week's Listings on CommunityConnectionRI:

Wednesdays, June 3, 10, 17, 2009 (5:30p - 9:00p)

Making Good Land-Use Decisions

is a training program offered as a service to Rhode Island municipalities. The program is designed primarily for Town Councils, Planning Boards, Zoning Boards, and the municipal staff that support those bodies and is also valuable for Conservation Commissions.

Presented by the Grow Smart RI Land-Use Training Collaborative

Location: Audubon Society of RI

Smithfield