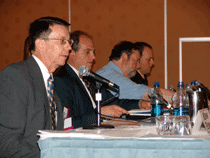 More than 20 workshops will be presented by respected and accomplished professionals on topics such as Rhode Island-specific opportunities for sustainable economic growth, zoning for green energy production, reuse of I-195 surplus land, and enhanced public transportation system, regulatory reform, improving public health through better community design, agricultural vitality, leadership in energy and environmental design, affordable housing and more.

Workshop presenters include:

Jane Austin, Special Coalitions Liaison, Save The Bay

Dan Baudouin, Executive Director, The Providence Foundation

Kenneth Buckland, AICP, LEED AP, Principal, The Cecil Group, Inc.

Eric Busch, Principal, Rustpoint Advisory, LLC

Steve Cecil, AIA ASLA, Principal, The Cecil Group, Inc.

Thomas E. Deller, Director, Department of Planning & Development, City of Providence

Steve Durkee, AIA, Principle, Durkee, Brown Viveiros & Werenfels Architects

Jan Eckhart, Sweet Berry Farm & Middletown Planning Board

Jerry Elmer, Staff Attorney, Conservation Law Foundation

Kevin Essington, Director, Government Relations, The Nature Conservancy

David Everett, Principal Planner, City of Providence Dept of Planning and Development

David Farmer, Dean, Graduate School of Oceanography, URI

Kenneth Filarski, FAIA, AICP, LEED-AP, LEED-AP BD+C, CFM, FILARSKI/architecture

Steven Fischbach, Rhode Island Legal Services

Kevin M. Flynn, Associate Director, Rhode Island Division of Planning

Rupert Friday, Director, RI Land Trust Council

Grover Fugate, Executive Director, RI Coastal Resources Management Council

Greg Gerritt, Urban Agriculture Task Force

Richard Godfrey, Executive Director, Rhode Island Housing

Nellie Gorbea, Executive Director, HousingWorks RI

Janice Greenwood, P.E.; Vice President, Woodard & Curran, Inc.

Frances Halsband, FAIA, Partner, Kliment Halsband Architects

Eric Hangen, AICP, President, I Squared Community Development Consulting

Virginia Hesse, Architect, Rhode Island Historic Preservation & Heritage Commission

Steven Hughes, AIA, LEEP AP, Associate, RGB Corp.

Nathan Kelly, Senior Planner, Horsley Witten Group, Inc.

Meg Kerr, Watershed Outreach Coordinator at Narragansett Bay Estuary Program

Rochelle Lee, Consultant

Paul Leveille, LEED AP, High Performance Buildings Program Manager, The Jordan Institute

Michael P. Lewis, Director, Rhode Island Department of Transportation

John Leyden, CBO, RI State Building Commissioner, RI Dept. of Administration

James Lima, Partner, HR&A Advisors, Inc.

Thomas A. Mann, Jr., Executive Director, The Pawtucket Foundation

Eugenia Marks, Senior Director of Policy, Audubon Society of Rhode Island

Pat McNiff, Casey Farm & Pat's Pastured

Scott Millar, Chairperson, Exeter Pilot Team

James Miller, Chair, Ocean Engineering, URI

Benjamin Morton, Carol R Johnson Associates Inc.

Bill Needleman, Senior Planner, City of Portland, ME

Anton C. Nelessen, PP, M. ARCH. UD, CNU, Principal, A. Nelessen Associates, Associate Professor of Urban Planning, Rutgers, the State University

Bonnie Nickerson, Senior Planner, City of Providence

Norman Ospina, Olneyville Neighborhood Association

Donald Powers, AIA, Principal, Donald Powers Architects

Jon Reiner, Town Planner, Town of North Kingstown

Katie Resnick, Environmental Planner, Horsley Witten Group, Inc.

John Rhodes, Pricipal, Moran, Stahl & Boyer, LLC

Paul Rich, Chief Development Officer, Deepwater Wind Rhode Island

David Schweid, Planner, Town of Exeter, RI

Leni Schwendinger, Principal, Leni Schwendinger Light Projects LTD

Harry Smith, Office of Planning & Development, New London, CT

Greg Spiess, LEED AP; Principal, Greg Spiess AIA Architecture & Urban Design

Robert Stein, AICP, Land Use Bureau Chief, Stamford, Connecticut

Keith Stokes, Executive Director, RI Economic Development Corporation

W. Michael Sullivan, Ph.D., Director, RI Department of Environmental Management

Mark Therrien, Assistant General Manager, Planning, RIPTA

Jerry van Eyck, ASLA, Principal, !Melk Landscape Architecture PC

Kate Venturini, Manager, URI / CRMC Coastal Landscapes Program

Linda Walden, Director of Planning & Development, Killingly, CT

Caroline Wells; Director of Planning and Community Development, Town of Warren, RI

Martha Werenfels, AIA, LEED AP, Principal, Durkee, Brown, Viveiros & Werenfels Architects

Nancy Whit, Executive Director, Pawtucket Citizens Development Corporation

Lee Whitaker, AICP, Director of Planning, Town of East Greenwich

Scott Wolf, Executive Director, Grow Smart Rhode Island

Grow Smart is grateful for the generosity and commitment of our many presenters. We will continue to leverage the talents, ideas and energy of diverse partners in transforming Rhode Island into an economic and cultural leader for this and future generations.
Several workshops qualify for CM credits with the American Planning Association.