Grow Smart Board of Directors

Michael F. Ryan

Chairman of the Board

Susan Arnold

William Baldwin

S. James Busam

Joseph Caffey

Robert L. Carothers

Arnold Chace

Jen Cookke

Trudy Coxe

Peter Damon

Louise Durfee

Stephen J. Farrell

Thomas E. Freeman

J. Joseph Garrahy

John R. Gowell, Jr.

Stephen Hamblett

Robert Harding

Michael S. Hudner

Stanley J. Kanter

Howard M. Kilguss

Thomas A. Lawson

Dennis Langley

James Leach

Frederick Lippitt

Roger Mandle

Rev. James C. Miller

Thomas V. Moses

George Nee

B. Michael Rauh, Jr.

Gary Sasse

Richard Schartner

Deming Sherman

Merrill Sherman

Curt Spalding

James F. Twaddell

Ranne Warner

Sandra Whitehouse

Frederick C. Williamson

W. Edward Wood

Board Listing with Affilliation

Staff

Executive Director

Director of Programs

Director of Research & Communications

Office Manager / Executive Assistant

Office Assistant

Research Assistant
---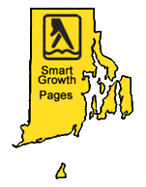 Smart Growth

Toolbox Topics

Dear John,

You're among the 2,110 opinion leaders, state & local officials, development professionals, journalists and visionary citizens getting the latest news, happenings and trends in the smart growth movement from Grow Smart Rhode Island.



Federal Hill Makes Top 20 List of Best Neighborhoods

Providence's Federal Hill is being honored as one of the top 20 neighborhoods in North America. The recognition comes from the New York-based Project for Public Places, which focuses on public space design and management. Topping the list was Granville Island in Vancouver, British Columbia.

Federal Hill is ranked 16th on the list of 20 neighborhoods, districts and downtowns. Other neighborhoods rounding out the list included San Francisco's North Beach, New Orleans' Lower Garden District and the Adams Morgan section of Washington, D-C.
Zoning Workshop for Housing Affordability Draws 80+

In response to requests from municipal planners, Grow Smart and several partners, including Rhode Island Housing and the Statewide Planning Program, collaborated on a November 30th workshop to help municipalities better understand housing development financing and zoning strategies.

Co-sponsored by The Rhode Island Foundation and the United Way of RI, the workshop drew over 80 participants to the Crowne Plaza in Warwick to hear presentations by planning and development experts.

Workshop materials will be available on the Rhode Island Housing website in mid-December
Red and Blue States United for Smart Growth

Regardless of party affiliation, voters in every region of the country this year voted to expand transportation options, create more parks and open space and to plan sensibly for expected growth.

As USA Today put it, "In cities and suburbs - small, large, red and blue - voters were united on one key issue: paying to get out of traffic jams." In a record number of transit funding ballot initiatives, voters nationwide approved investments in public transportation for a total of more than $40 billion. At the same time, voters in 111 communities in 25 states, including RI, passed ballot measures to invest $2.4 billion in protecting land for open space, parks and recreation.

Also, candidates in every region of the country, including RI, won election after campaigning on smart growth values. Click here to view a sampling from around the country.

- Red state or blue, Americans sick of gridlock USA Today
Whitman, Glendenning Chair National Smart Growth Council

Grow Smart RI founding Chairman Jim Dodge a member of the non-partisan Council

President Bush's first EPA Administrator has joined forces with a Democratic former governor known for his smart-growth initiative to create a high-level council of government, business and civic leaders that aims to promote alternatives to urban sprawl.

The National Smart Growth Council serves both as a forum for prominent public officials, business leaders, labor, and experts to share their views of progress toward smart growth, and as an incubator of new ideas for how to help communities plan for healthy growth and development.
10 Principles for Rebuilding Neighborhood Retail

Despite the many obstacles - real or perceived - that can block redevelopment of city and town neighborhood retail projects, such areas can be successfully revived with careful planning and commitment from the public and private sector, according to the Urban Land Institute (ULI).

Ten Principles for Rebuilding Neighborhood Retail, a 23-page booklet, will help you identify the key issues that neighborhood streets face and determine the most effective ways to rebuild them and ensure their long-term competitive position. It also helps set strategic principles to guide the community, public planners, retailers, and developers.
Aging Americans: Stranded Without Options

A national study now shows that more than half of all non-drivers age 65 and over stay at home on a given day, particularly because of limited transportation options. This trend is particularly troublesome for a state like Rhode Island which ranks 6th highest nationally in percentage of people over 65.

Released by the Surface Transportation Policy Project and AARP, these findings offer further evidence of the need for an efficient and reliable mass-transit service as well as zoning reforms that encourage mixed-use traditional neighborhood design, offering living options that are less auto-dependent.
CALENDAR

Thursday, December 9 (7-9p)

This workshop will help you evaluate the accommodations for bicycles and pedestrians in the communities where you live, walk and bicycle. It will also give you the materials and tools you need to duplicate the Bicycle-Friendly Workshop in your community. Registration is FREE - space is limited.

Sponsored by Greenways Alliance of RI, Bike Downtown, Groundwork Providence and Narragansett Bay Wheelmen.

Chamber of Commerce Conference Room

Providence

Thursday, December 9 (5:30p)

The DEM and the Woonasquatucket Watershed Council will host the last of three regional workshops for residents and town officials on greenspace planning and priorities for the six communities in the Woonasquatucket River watershed: North Smithfield, Smithfield, Glocester, Johnston, North Providence and Providence.

Audubon Society of Rhode Island

12 Sanderson Rd.

Smithfield

All hearings will take place from 2 to 4pm AND 6 to 8pm.

Monday, December 20 Newport Public Library

Tuesday, December 21 URI Providence

Wednesday, December 22 Warwick City Hall/Narrag. Town Hall

Thursday, December 23 Barrington Public Library

*Transportation advocates may be interested in the recently enacted Parking Cash-Out law that provides for employer-sponsored parking subsidy programs which give the employee the option of receiving subsidized parking or a monthly transit pass. It also allows cities and towns to grant appropriate reductions in parking requirements otherwise applicable to new and existing commercial developments that implement parking cash-out programs for those developments.

Friday, February 4

Call for Nominations Deadline

The Rhode Island Land Trust Council

is seeking nominations for the 4th Annual

"Peter Merritt Award"

for Outstanding Achievement in the Land Trust Community. Nominations must include full name, address and telephone number of the individual or group, should be one page or less and emailed to

Rupert Friday

of the RI Land Trust Council.