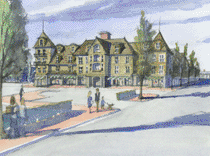 Grow Smart mourns the passing of Board member Stephen Hamblett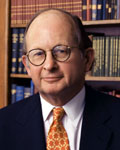 Remembered as a
tireless leader of community improvement efforts, Grow Smart mourns the loss of Board member Stephen Hamblett, who died on December 13, 2005.
Stephen was a longtime, generous supporter of the smart growth movement in Rhode Island and was instrumental in the founding and development of this organization. We will greatly miss his sage counsel, vision and selfless, unpretentious approach. We extend our deepest condolences to all of Steve's family and many friends.
Grow Smart
Board of Directors
Michael F. Ryan
Chairman of the Board
Susan Arnold
William Baldwin
S. James Busam
Joseph Caffey
Robert L. Carothers
Arnold Chace
Jen Cookke
Trudy Coxe
Peter Damon
Stephen J. Farrell
Thomas E. Freeman
J. Joseph Garrahy
John R. Gowell, Jr.
Stephen Hamblett
Robert Harding
Michael S. Hudner
Stanley J. Kanter
Howard M. Kilguss
Thomas A. Lawson
Dennis Langley
James Leach
Roger Mandle
Rev. James C. Miller
Thomas V. Moses
George Nee
B. Michael Rauh, Jr.
Gary Sasse
Richard Schartner
Deming Sherman
Merrill Sherman
Curt Spalding
James F. Twaddell
Ranne Warner
Sandra Whitehouse
Frederick C. Williamson
W. Edward Wood
---
Your one-stop resource for

professionals and others
---
Become an e-Brief Sponsor

---
Looking for a past issue?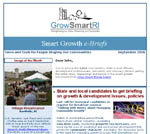 ---
Display at your Town Hall, local library or place of
business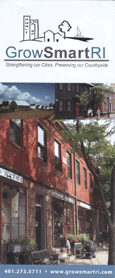 Grow Smart Staff
Executive Director
Director of Programs
Director of Research & Communications
Executive Assistant for Finance
Office Assistant
Dear John,

You're among the 2,464 opinion leaders, state & local officials, development professionals, journalists and visionary citizens getting the latest news, happenings and trends in the smart growth movement from Grow Smart Rhode Island.

Foward to a friend



Many brave mini-blizzard to network in Pawtucket

Cold winds, traffic gridlock and blowing snow wasn't enough to keep a number of smart growth advocates from attending Grow Smart's VIP Networking Reception December 9th in downtown Pawtucket at the newly opened Riverfront Lofts, a signature state historic tax credit project.

Developers, architects, planners, consultants, civic leaders, real estate professionals and concerned citizens gathered for some holiday networking. It was also a chance to hear about the state's soon-to- be-adopted Future Land Use Plan from Kevin M. Flynn, Associate Director of Rhode Island's new Division of Planning.

Grow Smart extends its appreciation to Riverfront Lofts developer and Grow Smart Board member Ranne P. Warner for hosting our reception.
National conference organizers seek program ideas

With a focus on "place-making", the Congress for The New Urbanism meets in Providence June 1-4, 2006

Wanted: developers, planners, economic policy types, architects, builders and regulatory officials. That is, any practioner who is helping to shape a place, a city or a village. The CNU XIV planning committee is especially interested in featuring local examples and partnerships resulting the development of compact, walkable, mixed-use communities. To learn more, explore What is New Urbanism?

Using the developer as the lens and our region as the model, CNU XIV will get participants into the field to better understand where New Urbanism has succeeded, where it has failed and where it merely failed to try.

To submit your ideas, click HERE and use the following:

login: Proposal

password: Proposal
Close out 2005 with a donation to Grow Smart RI

Concerned about maintaining and enhancing Rhode Island's quality of place? Committed to helping Rhode Island expand economic opportunity while remaining a distinctive, beautiful and charming state? Then why not make a year-end tax-deductible contribution to help Grow Smart? We're working hard, and with increasing success, to stimulate smart growth in our cities and town centers and to reduce unplanned growth and sprawl in our outlying communities.

We promote comprehensive strategies for shaping Rhode Island's future that include the revitalization and health of our cities and towns, the protection of our farms, forests and open spaces and the encouragement of greater regional cooperation. Click here to see what your contribution can help us achieve in 2006

Click the credit card below to make a secure donation.



Regional effort maps future of Aquidneck's West Side

Plan proposes a mix of commercial, residential and recreational uses including a marine-oriented "growth center"

In an effort to expand economic development while avoiding the pitfalls of unplanned, haphazard development, the Aquidneck Island Planning Commission recently released the results of a two-year study to chart a course that will significantly enhance the quality of life for residents of Newport, Middletown and Portsmouth.

Already, the West Side Master Plan has earned broadbased political and community support from Governor Carcieri, Senators Chafee and Reed and Representative Kennedy as well as members of the General Assembly leadership and the Newport County Chamber of Commerce.
Winners announced for national Smart Growth awards

Conversion of mill complex into a mixed-use neighborhood is seen as a model for other New England communities

The U.S. EPA recently announced five winners of the 2005 National Awards for Smart Growth Achievement from among 63 applicants in 26 states and the District of Columbia.

The town of Redding, Connecticut, recognized for its work with developer Stephen Soler to clean up and redevelop the vacant 55-acre former Gilbert & Bennett Wire Mill in the town's Georgetown section as a mixed-use, transit-oriented and walkable neighborhood, won it the 2005 EPA Smart Growth Award in the Small Communities category.
Home Builders see benefits of compact development

The National Association of Homebuilders now include these benefits in latest talking points

"An important part of Smart Growth is using land more efficiently and preserving those lands that are most environmentally sensitive," states the National Association of Home Builders (NAHB) in its new web- page talking points, advising members that compact development helps reach these goals and "also reduces development costs through more efficient use of infrastructure, which in turn makes housing more affordable."
Rivers Council debuts website

The Rhode Island Rivers Council has launched a new website to serve as a clearinghouse for information about its programs, news, watershed groups and volunteer and funding opportunities.

If you want to become involved as a volunteer to assist the Rivers Council in attaining their goal of pristine rivers and watersheds, contact them through the website.
CALENDAR

Monday, January 9 (6:30p - 8:30p)

Session will cover the essentials of preparing a grant application for Farmland Protection Program, Wetlands Reserve Program and Wildlife Habitat Incentive Program. Free.

Providence

Tuesday, January 24 (9:00a - 3:30p)

Free for Rhode Island participants

Providence

Saturday, February 4 (9:30a - 2:30p)

Providence

Thursday, February 23 (8:30p - 4:30p)

Providence
Job Postings

Based on demand and available space, Grow Smart will occasionally post positions related to smart growth and land use.

The service is available on a complimentary basis for the benefit of e-brief subscribers. Organizations interested in posting a job opening must provide a link to further information. Email your listing to us
Growth and development in the news

New England





Statewide















Aquidneck Island

Block Island

Burrillville

Charlstown

Cranston

East Providence