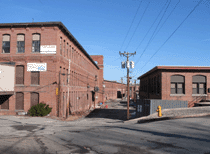 Award Winner in Lincoln

Grow Smart

Board of Directors

Deming E. Sherman

Chairman of the Board

Susan Arnold

William Baldwin

Joseph Caffey

Robert L. Carothers

Arnold Chace

Jen Cookke

Trudy Coxe

Stephen J. Farrell

Thomas E. Freeman

J. Joseph Garrahy

John R. Gowell, Jr.

Michael S. Hudner

Stanley J. Kanter

Howard M. Kilguss

Dennis Langley

James Leach

Roger Mandle

Rev. James C. Miller

Thomas V. Moses

George Nee

B. Michael Rauh, Jr.

Michael F. Ryan

Gary Sasse

Richard Schartner

Merrill Sherman

Curt Spalding

James F. Twaddell

Ranne Warner

Sandra Whitehouse

Frederick C. Williamson

W. Edward Wood

Board Listing with Affilliation





Sponsor Message

Grow Smart Staff
Executive Director
Director of Programs
Director of Research & Communications
Executive Assistant for Finance
Office Assistant
Training Coordinator
Dear John,

You're among the 3,114 civic leaders, state & local officials, development professionals, journalists and visionary citizens getting the latest news, happenings and trends in the smart growth movement from Grow Smart Rhode Island.



FREE powerpoint illustrates benefits

of density in cities and small towns

Ideal for boards and commissions, civic and neighborhood groups and chambers of commerce. Free narrated DVD also available.

America's best neighborhoods share some basic characteristics - they're walkable, they include shops, housing and jobs in the same area and they have lots of parks and green space and good access to transit. The single element that makes all of this possible is the one thing many community residents fear the most - higher density development.

A Plan for Tomorrow: Re-Thinking Density to Create Stronger, Healthier Communities is a free PowerPoint presentation jointly prepared by the Urban Land Institute, the National Multi-Housing Council, and the Sierra Club, that shows how density can transform neighborhoods, and offers compelling research to allay conventional fears about density.
Massachusetts, Winooski, Vermont capture national smart growth awards

The U.S. EPA presented its 2006 National Awards for Smart Growth Achievement on November 15, 2006 at the National Building Museum in Washington, D.C.

The program recognizes communities that use principles of smart growth to create better places. This competition is open annually to local or state governments and other public sector entities. New England captured two of the five national awards.

The Commonwealth of Massachusetts was recognized for overall excellence in creating the Office of Commonwealth Development (OCD) to better coordinate state spending and policy decisions that influence where development happens, encourage innovative development locally, and make private investment in good projects easier.

The city of Winooski, Vermont (pop. 7,000) was recognized for its Downtown Redevelopment Project which has revitalized this small town with new development that respects the city's character and history.
EPA rolls out plan for implementing smart growth on Aquidneck Island

Plan aims to help communities amend land development ordinances and regulations to achieve smart growth goals

In an effort to capitalize on Aquidneck Island's coastal character while safeguarding its future, the U.S. EPA's Smart Growth Technical Assistance Team has released the Smart Growth document, "Implementing the Aquidneck Island West Side Master Plan: Promoting Growth Centers."

The EPA team applied smart growth principles in presenting customized recommendations for each municipality, targeting proposed investment to the Melville Marina Village in Portsmouth; the Anchorage and Vanicek areas in Middletown; and the North End in Newport.
CT Governor signs smart growth executive order

In a sweeping plan aimed at halting "sprawl" in Connecticut, Governor M. Jodi Rell issued an Executive Order on October 6, 2006 creating an Office of Responsible Growth to coordinate state initiatives to control rampant, ill-conceived development that threatens Connecticut's special character.

The new office, part of the state budget and policy department, will review state funding that has an impact on the development of Connecticut and promote a future that is well-planned, economically strong and environmentally sound.
CALENDAR Highlights


Click here to let us know if you would like your land- use/water resources related conference or workshop listed on the CommunityConnectionRI Calendar.


Friday, Dec. 8, 2006

Thurs., Jan. 25, 2007 (8:30a - 9:30p)

The League's Annual Convention is its showcase event featuring two dozen workshops and seminars for local government officials.

Warwick

Thurs., March 1, 2007 (5:30p - 8:00p) * * Save The Date * *

A conference for municipal staff, councils, boards and commissions, legislators, business leaders, major water users, water suppliers, state agencies and interested citizens. Presented by the Environmental Council of RI, Apeiron Foundation, Audubon Society, Coalition for Water Security, Grow Smart Rhode Island, RI Association of Conservation Commissions, RIDEM, RI Division of Planning, RI Water Resources Board and Save The Bay.

Providence

Saturday, March 24, 2007 (8:30a - 4:00p)

Providence
'Growth & Development' in the news


Send us Your News We want to know what's happening in your community.


National


Statewide


Block Island

Charlestown

Coventry

Cranston

Cumberland

East Greenwich