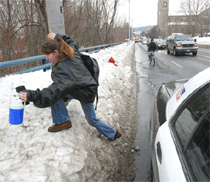 Projo photo / Frieda Squires

The plight of pedestrians in an auto-centered culture


Jennifer LaPointe climbs the snow bank as she makes her way around a police car that is stopped to help school children cross Cumberland St. in Woonsocket. Following a 12/13 storm, a pedestrian was struck and killed in this location early Wednesday morning, 12/19 as he walked to work. Another pedestrian was struck and killed the previous evening, 12/18 by a snowplow in Blackstone, MA.

Read more in Projo.com



Board of Directors

Deming E. Sherman

Chairman of the Board

Susan Arnold

William Baldwin

Rebecca G. Barnes

Samuel J. Bradner

Kenneth Burnett

Joseph Caffey

Robert L. Carothers

Jen Cookke

Trudy Coxe

Dennis DiPrete

Stephen Durkee

Stephen J. Farrell

John R. Gowell, Jr.

Akhil C. Gupta

Michael S. Hudner

Stanley J. Kanter

Howard M. Kilguss

Dennis Langley

James Leach

Roger Mandle

The Rev. James C. Miller

Thomas V. Moses

George Nee

William M. Pratt

B. Michael Rauh, Jr.

Gary Sasse

Richard Schartner

Pamela M. Sherrill

Curt Spalding

James F. Twaddell

Directors Emeritus

Arnold "Buff" Chace

Louise Durfee, Esq.

J. Joseph Garrahy

Michael F. Ryan

Frederick C. Williamson

W. Edward Wood


Help us achieve our year-end fundraising goal



Be listed as a supporter in next month's newsletter!


Staff

Scott Wolf

Executive Director

Director of Programs

Director of Research & Communications

Land-Use Training Coordinator

Executive Assistant for Finance

Office Assistant
---
Grow Smart RI
Power of Place Summit
May 2, 2008

---
Check out our Smart Growth
Resource Directory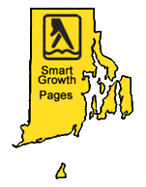 ---
Browse e-brief archives
and press releases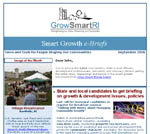 ---
Visit CommunityConnectionRI
Calendar
---
Dear John,

You're among the 3,460 civic leaders, state & local officials, development professionals, journalists and visionary citizens getting the latest news, happenings and trends in the smart growth movement from Grow Smart Rhode Island.



Grow Smart Board of Directors approves

2008 workplan

Five broad obectives will focus on promoting high quality mixed-use, mixed income development; improved public transit; a comprehensive farm preservation strategy; aggressively promoting the smart growth agenda as critical to Rhode Island's future well being and sustainable prosperity; and diversifying Grow Smart's funding base to deliver maximum results

At its December 13th meeting, the Grow Smart Rhode Island Board of Directors, under the leadership of its Chairman Deming Sherman, set the organization's work plan agenda for 2008. "This year's plan aims to mobilize greater support for policies that take full advantage of Rhode Island's compact and efficient size, historic charm and enviable quality of life", said Sherman.

Among the plan details is an aggressive outreach and education effort as well as initiatives to influence public policy in the areas of neighborhood and economic renewal, housing, transportation, land and energy conservation and water management and supply.

Click HERE to view the complete work plan

To help us implement this ambitious plan, please consider and end of year contribution to Grow Smart Rhode Island. You can make a donation by clicking HERE .
Wolf Op/Ed: Time to play to RI's strengths

and stop beating ourselves up

Published in the 12/7 edition of the Providence Journal, column aims to highlight Rhode Island's many underreported assets and untapped potential

Defying the drumbeat of negative headlines about everything from budget deficits and political corruption to Rhode Island having a bad business climate and balkanized local government, Grow Smart Executive Director Scott Wolf offers a more optimistic point of view about the future of our dynamic, beloved and quirky state.

Apparently, many other forward-thinking people agree. The response from community leaders and other concerned citizens has been overwhelmingly positive. The extensive Op/Ed puts Rhode Island's current problems in perspective by juxtaposing them with our many strengths and urges our state and local leaders to capitalize more aggressively on these strengths to advance a path to sustainable prosperity.

Click HERE to read the Op/Ed in its entirety.
Grow Smart playing key role in bolstering

Tax Increment Financing (TIF) law

click image to right to view a larger version

Redevelopment financing tool seen as critical to several pending economic development projects in Rhode Island

Concerned that Rhode Island municipalities will lose the effective use of an innovative tool for financing public improvements in connection with the redevelopment of blighted areas, Grow Smart and the Rhode League of Cities and Towns are leading a group calling for the legislation early in the 2008 General Assembly to exempt Tax Incrementing Financing (TIF) revenue from the property tax levy cap.

The Tax Increment Financing Act (RIGL 45-33.2), enacted in 1984 enables municipalities to use TIF to finance public infrastructure improvements necessary to attract private investment.

Grow Smart is actively seeking organizations and municipalities to join in the effort. You can do so by signing on to the Statement of Principles in the link below.
A "Growing" interest in mixed-use design

Workshop draws diverse stakeholders for insights on building well-designed and mixed-use urban, town and village centers

How do municipalities, landowners and developers overcome restrictive and outdated zoning standards to build vibrant, attractive and efficient neighborhoods they way they evolved naturally a century ago?

Thirty-one individuals from several communities throughout Blackstone Valley turned out last Tuesday for a workshop in North Smithfield to find out. Attendees included municipal planners, developers, architects, and interested citizens all coming together for an insightful program sponsored by the Grow Smart Rhode Island Land-Use Training Collaborative. Funding for the development of the workshop and workshop manual was provided by the John H. Chafee Blackstone River Valley National Heritage Corridor Commission.

Presented by leading planners and architects, the workshop examined the elements that contribute to the livability of our Rhode Island town centers, design strategies for successful mixed-use development, green design, parking considerations, and how to make the most efficient use of limited sites. Speakers included Sheila Brush, Program Director at Grow Smart RI, Elizabeth Debs, an architect and consultant in housing and community design, Donald Powers, AIA, CNU, of Donald Powers Architects, Inc., Ross Speer, AIA, of Mostue & Associates, Inc., and Scott Millar, Rhode Island Department of Environmental Management. Read more from the program flyer.

Watch for a details on a future presentation of this workshop on Aquidneck Island.
Woonsocket commuter rail feasibility

study now available online

A passenger rail feasibility study for a link from Woonsocket to Providence and Boston has been completed by the City of Woonsocket. The study concluded that a potential passenger rail line between Woonsocket and Providence holds more promise than a Woonsocket-Boston connection. The study includes ridership demand and potential station sites.

The City has now partnered with the Providence Foundation and the RI Association of Railroad Passengers for the next phase of this project. Under a new Planning Challenge Grant from the RI Division of Planning, a rail study will be completed that focuses in on the commuter rail potential of the P&W line from Woonsocket to Warwick. This next phase will look more closely at the possibility of commuter rail between Woonsocket all the way down to the airport, via the Warwick Intermodal Station, with the opportunity to connect to Boston via the envisioned MBTA stop in Pawtucket/Central Falls.

Click HERE to download the study

Search underway for executive director at

Providence Preservation Society

Resumes accepted through January 23, 2008.

The Providence Preservation Society (PPS), founded in 1956, seeks an Executive Director. The candidate must be a proven advocate and spokesperson for preservation principles with leadership, strategic thinking, and management skills; fundraising, marketing, and public relations experience; demonstrated success in budget development and management, staff leadership and development, and fundraising and grantwriting; and cogent public speaking and written communication skills.

Click HERE to learn more
CALENDAR Highlights:


Click here b> to let us know if you would like your land-use/water resources related conference or workshop listed on our CommunityConnectionRI Calendar.

Thurs., Jan. 10, 2008 (7p - 9:30p)

Greening your Congregation

. Presented by Rhode Island Interfaith Power & Light.

Bishop Henricken High Scool

Warwick

Friday, Jan. 11, 2008 (10a - 3:15 p)

LEED for Neighborhood Development: Reports from New England Projects

. Sponsored by: Sustainable Development Committee of the Massachusetts Chapter of the American Planning Association, Congress for the New Urbanism, New England Chapter US Environmental Protection Agency and The Green Roundtable.

Federal Reserve Bank of Boston

Boston, MA

Tuesday, January 15, 2008

Application deadline for New England Grassroots Environment Fund

grant. Funds distributed in April, 2008.

Thursday, January 17 & 24, 2008 (evenings)