Grow Smart Board of Directors

Michael F. Ryan

Chairman of the Board

Susan Arnold

William Baldwin

S. James Busam

Joseph Caffey

Robert L. Carothers

Arnold Chace

Jen Cookke

Trudy Coxe

Peter Damon

Louise Durfee

Stephen J. Farrell

Thomas E. Freeman

J. Joseph Garrahy

John R. Gowell, Jr.

Stephen Hamblett

Robert Harding

Michael S. Hudner

Stanley J. Kanter

Howard M. Kilguss

Thomas A. Lawson

Dennis Langley

James Leach

Frederick Lippitt

Roger Mandle

Rev. James C. Miller

Thomas V. Moses

George Nee

B. Michael Rauh, Jr.

Gary Sasse

Richard Schartner

Deming Sherman

Merrill Sherman

Curt Spalding

James F. Twaddell

Ranne Warner

Sandra Whitehouse

Frederick C. Williamson

W. Edward Wood

Board Listing with Affilliation

Staff

Executive Director

Director of Programs

Director of Research & Communications

Office Manager / Executive Assistant

Office Assistant

Research Assistant
---
Looking for a past issue?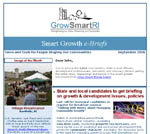 ---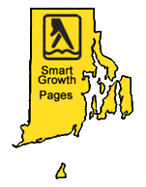 Smart Growth

Toolbox Topics

Dear John,

You're among the 2,242 opinion leaders, state & local officials, development professionals, journalists and visionary citizens getting the latest news, happenings and trends in the smart growth movement from Grow Smart Rhode Island.



Governor acts to boost statewide planning

Consistent with a suggestion by Grow Smart in its 2004 Candidates' Briefing Book, Governor Carcieri announced this month that he is elevating the Planning function to Division status within the Department of Administration. This division will include the Offices of Statewide and Strategic Planning, and the new Office of Housing and Community Development.

The move, recommended by the Governor's Fiscal Fitness team, is expected to increase the influence of sound planning in state and local decision making by linking planning experts more closely with the Governor's Office, directors of other state departments, local governments and the public, according to Grow Smart Executive Director Scott Wolf.
Study predicts surge in need for more buildings

New national study reveals that RI will need almost 124,000 new housing units and 3 million new square feet of commercial and industrial space by 2030

Residential and commercial development in the next quarter century will eclipse anything seen in previous generations as the nation moves to accommodate rapid population growth, according to a new Brookings Institution report. The report projects that Rhode Island will need almost 124,000 new housing units by 2030, translating into an average annual production rate of 4,100 - nearly twice the current rate.

These new projections heighten the importance of creating more compact and walkable living and working environments. The question for policy makers, planners and ordinary citizens is this: Should we maintain the status quo in terms of development patterns, or can we envision a more efficient and livable pattern of growth? There may be no better time than now to plan the shape of Rhode Island's future.
Coventry students take to town planning

Under the direction of social studies teacher Ted Mitchell, students at the Knotty Oak Middle School wrapped up a 6-week town planning project by presenting their findings to members of the Coventry Town Council and Planning Board. Town Council Vice President Richard Senetti said the group was not only impressed with the students' creative vision, but also their intuition. He said the Town Council had been discussing at least three of the issues raised by the students within the last 36 hours.

Using the town's Comprehensive Plan, the seventh graders mapped out solutions for issues such as growth, traffic, economic development, vacant mill space, recreation and future school needs. "They actually developed a lot of creative ideas that were discussed as part of a presentation by Grow Smart staffer John Flaherty earlier in the year", according to Mitchell.
REALTORS®: Schools and Smart Growth

It's no secret that schools are a vital part of a community's health. And REALTORS® know all too well the connection between school quality, home-buying decisions and the consequences for cities and towns. In fact, the fiscal consequences are causing many states and communities to reconsider school funding methods.

Schools also are an important part of the Smart Growth puzzle. School siting decisions, for example can greatly affect land use development and transportation patterns as well as the cost of providing education. These and many other current issues related to schools are discussed in this issue of On Common Ground, a publication of the National Association of REALTORS®
Promenade to come alive with new apartments

A product of the statewide Historic Preservation Investment Tax Credit program, The Promenade is poised to bring new life and 24/7 activity to a long-vacant portion of the former Brown & Sharpe manufacturing facility west of the Providence Place Mall. The 220 apartments will compliment the adjacent 220,000 sf Foundry Corporate Office Center which is now 99.5% occupied.

Developed by The Foundry Associates, the loft-style apartments will be completed this Spring.
Your home for a Wal-Mart?

On February 22, the U.S. Supreme Court will hear a case that may decide if your municipality is entitled to bulldoze your home to make way for a major development such as a Wal-Mart.

Although the the U.S. Constitution requires that private property be seized only for "public use", local governments around the nation are increasingly invoking the power of eminent domain in the name of economic development - often on behalf of big box stores and, as in the case of Kelo vs. City of New London, corporations like pharmaceutical giant Pfizer.
Tapping federal grants to promote heritage tourism

New guide to using CDBG grants for historic preservation and heritage tourism in your community

Communities across America are searching for ways to improve their local economies, enhance their quality of life and revitalize their neighborhoods while preserving their cultural and natural heritage. Historic preservation and heritage tourism are two prominent economic and community development strategies.

This 12-page guide from the U.S. Department of Housing and Urban Development details how communities can utilize Community Development Block Grant funds (CDBG) to promote historic preservation and heritage tourism in their own cities and towns. The success of this program, however, may be affected by the President's budget proposal to reduce CDBG funding.
CALENDAR

Friday, March 4 (8:30a-3:30p)

The RI Natural History Survey's conferences provide environmental and life scientists, as well as the public, with a forum to discuss key issues related to the state's biota and habitats.

Rhodes-on-the-Pawtuxet

Cranston

Saturday, March 12 (8:30a-3:30p)

Sponsored by the RI Land Trust Council, the RI Rivers Council and the RI Association of Conservation Commissions

URI Memorial Union, Kingston Campus

March 15-17

The Practice of Sustainability: Art/Science/Business

Over 1300 professionals in the fields of renewable energy, green building, sustainable land use, integrative design, green business, and policy will gather together to share ideas, information, resources, and inspiration.

Seaport World Trade Center

Boston, MA

Saturday, April 23 (8:30a-6:00p)

This year's conference theme is "Preserving Historic Houses of Worship." There will be 24 different walking tours; discussion panels; lectures; and workshops, as well as presentation of the 2005 State Preservation Awards.

Newport

* submissions for calendar items may be emailed to John Flaherty.
Citizens press Congress to extend Heritage Corridor

As the John H. Chafee Blackstone River Valley National Heritage Corridor faces a legislative sunset in November 2006, a nonprofit friends group is advocating its reauthorization.

The CorridorKeepers is mobilizing citizens and other partners throughout Rhode Island and Massachusetts in a grassroots campaign to demonstrate how the federal commission has helped improve the region's quality of life while building partnerships to preserve its rich heritage.
Growth and development issues in the news

Burrillville

Cumberland

East Greenwich

Exeter

Lincoln

Narragansett

Newport County

North Providence

North Smithfield

Pawtucket