Grow Smart
Board of Directors
Michael F. Ryan
Chairman of the Board
Susan Arnold
Joseph Caffey
Robert L. Carothers
Arnold Chace
Jen Cookke
Trudy Coxe
Peter Damon
Stephen J. Farrell
Thomas E. Freeman
J. Joseph Garrahy
John R. Gowell, Jr.
Michael S. Hudner
Stanley J. Kanter
Howard M. Kilguss
Thomas A. Lawson
Dennis Langley
James Leach
Roger Mandle
Rev. James C. Miller
Thomas V. Moses
George Nee
B. Michael Rauh, Jr.
Gary Sasse
Richard Schartner
Deming Sherman
Merrill Sherman
Curt Spalding
James F. Twaddell
Ranne Warner
Sandra Whitehouse
Frederick C. Williamson
W. Edward Wood
---
Your one-stop resource for

professionals and others
---
Congress for the
New Urbanism
CNU XIV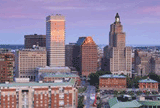 ---
Become an e-Brief Sponsor

---
Display at your city or town hall, local library or place of
business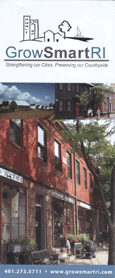 Grow Smart Staff
Executive Director
Director of Programs
Director of Research & Communications
Executive Assistant for Finance
Office Assistant
Dear John,

You're among the 2,506 civic leaders, state & local officials, development professionals, journalists and visionary citizens getting the latest news, happenings and trends in the smart growth movement from Grow Smart Rhode Island.

Foward to a friend



Grow Smart to host statewide conference May 11th

Program will focus on specific tools for implementing goals of new State Land Use Plan, including mixed-use growth centers and land conservation

With the support of several sponsors, Grow Smart will present a statewide conference in Providence on Thursday, May 11, 2006 to help jump start the implementation of the state's soon-to-be-adopted State Land Use Policies & Plan. The plan, which places a new and more urgent emphasis on the need for smarter growth, is expected to be adopted by the State Planning Council later this Spring.

The conference will be geared to citizens serving on municipal boards and commissions, state officials, builders and developers as well as architects, engineers, consultants and nonprofit interest groups. Topics will include an overview of development trends in Rhode Island, the new State Land Use Plan's proposed responses to these trends and the latest best practice tools for managing growth in a way that builds upon our existing assets, safeguards our environment and strengthens our economic competitiveness.
Public hearings set for new statewide land use plan

The Rhode Island State Planning Council has announced a series of workshops and public hearings regarding the adoption of a draft Rhode Island State Land Use Policies and Plan.

Advocates for smarter growth will find reason to be encouraged by, among other things, the plan's renewed emphasis on goals and strategies to direct future growth to locally designated "growth centers" with existing or planned infrastructure and access to public transit.

Four (4) workshops and public hearings will take place in various parts of the state beginning February 27th and ending on March 2nd. Click HERE for details.
Author to keynote 3rd Annual Land & Water Summit

Jeffrey C. Milder, author of Practical Ecology for Planners, Developers, and Citizens, to discuss how smart development can support conservation

The 3rd Annual Land & Water Conservation Summit will take place at URI on Saturday, March 11, 2006. This day-long conference will provide Land Trust & Watershed Council Board Members, staff, volunteers, municipal commission members and others interested in land and watershed conservation with the information, skills, and connections needed to be most effective.

More than 30 workshops will be offered covering topics such as: habitat restoration, conservation easements, appraisals, and maintaining working landscapes on protected lands.

Early Registration ends February 17th. Click HERE for more details.
Preservation conference to focus on waterfront

Outlooks and Opportunities on the Waterfront" is the theme of the 21st Annual Rhode Island Historic Preservation Conference, which takes place April 8th in Pawtuxet Village.

The day-long conference will offer a variety of workshops, lectures, tours, and discussions. Individual sessions include walking tours of Pawtuxet and Edgewood neighborhoods; a showcase of recent preservation tax credit projects; a panel about the visual language of the waterfront; a presentation of stereoscopic 3-D images of 19th-century Rhode Island; discussions about waterfront recreation, public access, and private development; a boat tour of upper Narragansett Bay; and a bus tour of the industrial empire of the Sprague and Knight families.
Could smart growth tip the next Presidential election?

Political strategists take note as Virginia's new governor tackles sprawl

Newly elected Virginia Governor Timothy M. Kaine aims to reduce traffic by empowering local governments to direct development to existing cities and towns.

Mr. Kaine's campaign emphasized the causes and consequences of rampant, haphazard development, and his victory has prompted strategists in both parties to conclude that the politics of growth could be a crucial factor in a presidential election, perhaps as early as 2008.
CALENDAR

Thursday, February 23 (8:30p - 4:30p)

Providence

Monday, February 27 (2:00p)

Providence

Monday, February 27 (6:00p)

Pawtucket

Tuesday, March 28 (6:00p)

Narragansett

Thursday, March 2 (6:00p)

Middletown

Saturday, March 11 (8:15a - 4:30p)
A growing market for village-style living in RI

Cities and small towns alike are embracing the mixed-use trend

The return to the town square concept - small self-sufficient, walkable neighborhoods featuring mixed-use development - is becoming more attractive for its sense of community as well as its convenience and efficiency, according to local officials and developers.

RIEDC Executive Director Michael McMahon says rising energy costs and increased traffic congestion are part of the reason, but developers have also found that a growing number of people now prefer to live within walking distance of work, shops and services. According to McMahon, "You're going to see more of a premium based on development where your car is less important."

Several such developments are in the making in Rhode Island, including The Residences at Westin Providence, Chapel View in Cranston, Crompton Mills in West Warwick, the Pontiac Mills in Warwick and the Lonsdale Bleachery in Lincoln.

Read More from:
Growth and development in the news

National

Statewide











Barrington

Bristol

Burrillville

Charlstown

Coventry

Cranston

Cumberland

East Greenwich