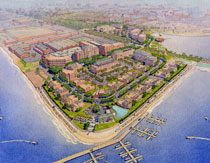 East Providence Waterfront Commission gives OK to
The $200M project proposes to turn the former brownfield site, a 29-acre waterfront property south of Bourne Avenue, into a mix of uses including townhouses, offices, shops and restaurants with a 150-slip marina. It is estimated that the project will boost local property tax revenue by $3.1M annually.



Grow Smart

Board of Directors

Deming E. Sherman

Chairman of the Board

Susan Arnold

William Baldwin

Samuel J. Bradner

Kenneth Burnett

Joseph Caffey

Robert L. Carothers

Arnold Chace

Jen Cookke

Trudy Coxe

Dennis DiPrete

Stephen J. Farrell

J. Joseph Garrahy

John R. Gowell, Jr.

Akhil C. Gupta

Michael S. Hudner

Stanley J. Kanter

Howard M. Kilguss

Dennis Langley

James Leach

Roger Mandle

The Rev. James C. Miller

Thomas V. Moses

George Nee

B. Michael Rauh, Jr.

Gary Sasse

Richard Schartner

Pamela M. Sherrill

Curt Spalding

James F. Twaddell

Ranne Warner

Frederick C. Williamson

W. Edward Wood

Board Listing with Affilliation





Sponsor Message

Grow Smart Staff
Executive Director
Director of Programs
Director of Research & Communications
Executive Assistant for Finance
Office Assistant
Training Coordinator
Dear John,

You're among the 3,160 civic leaders, state & local officials, development professionals, journalists and visionary citizens getting the latest news, happenings and trends in the smart growth movement from Grow Smart Rhode Island.



Historic Tax Credit program

once again at risk

Grow Smart, concerned most about the impact of a possible cap, remains committed to working with coalition partners and state leaders to ensure continued revitalization of our urban, town and village centers

For the third straight year, Grow Smart Rhode Island will make its case for maintaining a strong historic tax credit program, which is again facing some possible changes that could undermine its many benefits. The program, enacted in 2002, has been an economic development tool that is widely credited for jump- starting a rebuilding boom, revitalizing urban, town and village centers, recycling abandoned and contaminated sites, enhancing public safety and creating new jobs, tax revenue and economic vitality in communities from Woonsocket to Westerly.

Because state government is facing a large projected deficit and does not measure any of the tax credit's financial benefits, Grow Smart is concerned that state leaders could inadvertently adopt program cuts that would undermine the revitalization momentum stimulated by the historic tax credit.

Several ideas have surfaced so far for changes to the program and are being examined more thoroughly. Among them are ... [MORE]
Land-Use 2025 may influence final

Quonset Gateway design

Last Monday, February 12, was the deadline for the Rhode Island State Planning Council's (SPC) review of the proposed site plan for the Quonset Gateway Project. The SPC is mandated by law to determine whether the project conforms with the State Guide Plan, of which Land-Use 2025 is a key element. If the Council determines that the site plan does not conform, then the project cannot go forward without changes being made.

In light of a draft conformance report prepared by SPC staff that identified a number of inconsistencies with the "fundamental concepts, goals, policies and objectives of the State Guide Plan," the Council on February 8th voted to accept the Quonset Development Corporation (QDC) and New Boston Development Partners' request to extend the determination deadline to March 8th. The extension allows time for the SPC, the Town of North Kingstown, QDC and the New Boston Development Partners to discuss revisions that could address concerns raised not only by the staff report but also by the Town of North Kingstown. [More]

The SPC is expected to hold a special meeting on March 1, 2007 to review the proposed site plan.
Smart Growth a major topic at several

upcoming statewide conferences

Following adoption of RI's new land-use plan last April, many of its smart growth principles and strategies are up for discussion at conferences about water supply management, conservation, historic preservation and affordable housing.

Water for Rhode Island: Today & Tomorrow

Thursday, March 1, 2007 5:00 p.m. to 9:00 p.m.

Economic development, residential growth, healthy streams and rivers: how will Rhode Island manage its limited water supply to meet our future needs? Join fellow state and municipal officials, legislators, business leaders, water suppliers and concerned citizens at a statewide conference to frame the issues, stimulate ideas for action, and move toward solutions.

Save the Bay Center, Providence [

More

]

4th Annual Land & Water Conservation Summit

Saturday, March 24, 2007, 8:30 a.m. to 4:00 p.m.

This summit is the conference for: land trusts, watershed councils and conservation commissions. Among the workshops being offered are "Implementing RI's State Land-Use Plan: Your Organizations' Role", "Sustainable Development" and "GIS Mapping for Conservation Development "

The 22nd Annual RI Statewide Historic Preservation Conference

Saturday, April 14, 2007

This conference will demonstrate that preserving old buildings, historic downtowns, and traditional land use patterns ensures a level of land, energy, and materials consumption that is sustainable for the future. Learn how revitalizing existing transportation routes, commercial districts, and brownfields lessens our footprint on open space and greenfields.

Building a Better Rhode Island 2007

Monday, May 7, 2007

Join Rhode Island Housing for a partnership conference designed to foster collaboration in creating affordable homes in Rhode Island. Learn more about emerging practices and products that create new opportunities to provide safe, affordable homes for Rhode Islanders while enhancing our communities.

Crowne Plaza, Warwick [

More

]
New project database from CNU

Looking for ideas on how other communities are successfully promoting walkable, neighborhood-based development? The Congress for the New Urbanism (CNU) offers a Project Database that features dozens of new urbanist developments from throughout the United States and other countries.

Review CNU's take on how Providence's Downtown city-scale plan encompasses an area nearly four miles long and one mile wide, and seeks to expand the downtown's position in the region by increasing its development capacity for urbane living and working. Also, read how Crozet, Virginia's Master Plan uses a specific ''neighborhood model'' to further develop an agrarian community while preserving the historic character and natural landscape that was important to local residents.
White House budget seen as undermining

local efforts to manage growth,

transportation

According to the national policy advocacy group Smart Growth America (SGA), President Bush's proposed FY 2008 budget cuts key programs that localities rely upon to handle growth, stimulate economic revitalization, provide transportation and housing choices, and protect natural areas. It especially shortchanges metropolitan areas, where most Americans live, though rural lands and areas in need of conservation fare only slightly better in SGA's view.

"The President's budget will undermine local efforts to restore prosperity, manage traffic, and protect the environment in all corners of the nation," said SGA executive director Don Chen. "Though the administration has made the rhetorical case for smart growth, this budget fails to provide the leadership and choices our communities need."

Scott Wolf, Grow Smart Rhode Island's Executive Director, is a member of SGA's 16 person Board. [More]
LEED for neighborhoods makes debut

The release of the LEED-Neighborhood Development (LEED/ND) pilot rating system this month represents a major national effort to bring together the principles of smart growth, community design and green building. A joint effort of the U.S. Green Building Council, The Natural Resources Defense Council and the Congress for New Urbanism, LEED-ND seeks to promote development that can bring more neighborhood conveniences, greater walkability, safer streets, less traffic and pollution, and renewed cohesiveness and vitality to communities. The LEED-ND initiative, which has been under design for the past 4 years, assumes that the most powerful strategy for achieving environmental sustainability is incorporating high-performance buildings in compact, mixed-use neighborhoods that reduce driving by making walking and transit attractive options for commuting and other trips.

The U.S. Green Building Council (USGBC) is soliciting projects to be part of the pilot program for its LEED/ ND Rating System. LEED stands for Leadership in Energy and Environmental Design. Up to 120 pilot projects will be selected to participate in the pilot program. Projects in all stages of development -- from pre- entitlement planning to complete construction -- will be accepted into the pilot program.

The deadline for applying to be a LEED/ND pilot participant is April 6, 2007, at 5:00 p.m. Pacific time. Financial assistance to cover portions of pilot fees for certain projects may be available. [More]
Smart Growth technical assistance

Is your community looking to use smart growth to reach economic development goals? Do you need help ensuring that school investments help your community meet multiple goals? Do you need to retrofit a commercial corridor?

The U.S. EPA is accepting applications for the Smart Growth Implementation Assistance program. Through this program, a team of multidisciplinary experts will provide free technical assistance to communities, regions, or states that want to develop in ways that meet environmental and other local or regional goals.

Selected communities will receive assistance in the form of a multi-day visit from a team of experts organized by EPA and other national partners to work with local leaders. Applications will be accepted until March 8, 2007.
CALENDAR Highlights


Click here to let us know if you would like your land-use/water resources related conference or workshop listed on our CommunityConnectionRI Calendar.


Wednesday, March 7, 2007 (4:30 - 8:30p)

Sponsored by DEM, Grow Smart RI and the Narragansett Bay Research Reserve. Continuing education credits available.

DEM, Room 300

Providence

Tuesday, March 13, 2007 (8:45a - 3:00p)

Sponsored by the URI Cooperative Extension in cooperation with the RI Division of Agriculture and Marketing.

Bryant University

Smithfield

Tuesday, March 27, 2007 (9:00a - 3:00p)

Sponsored by the URI Cooperative Extension in cooperation with the RI Division of Agriculture and Marketing.

South Kingstown Land Trust Field Office

South Kingstown

Friday, March 30, 2007

CNU/New England Annual Conference

. A day of educational sessions with national experts in the field, interactive seminars and networking.

Lowell, MA

Tuesday, April 3, 2007

Entry Deadline

for the

6th Annual National Awards for Smart Growth Achievement

sponsored by the U.S. EPA.
Revitalizing America's Mills

Creative communities throughout the United States have developed innovative approaches to revitalizing abandoned and potentially contaminated mills.

Revitalizing America's Mills: A Report on Brownfields Mill Projects is a 32-page booklet published by the U.S. Environmental Protection Agency (EPA) that relates case histories chronicling some of the challenges faced and solutions found during the EPA- supported revitalization of more than 350 mill sites (so far) throughout the nation.

The new booklet's contents include a brief history of mills in the United States, followed by redevelopment case studies and a comprehensive list of federal, state and other resources.
'Growth & Development' in the news


Send us Your News We want to know what's happening in your community.

New England


Statewide


Charlestown

Coventry

Cranston

Cumberland

East Greenwich