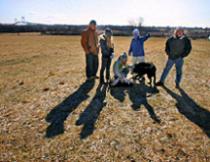 The Providence Journal / Mary Murphy
Preserving Rhode Island Farmland
Joe Dutra, left, and Martha and George Neale, with their daughters Chandler, 14, and Hadley, 17, stand on the Neale's farm in Jamestown yesterday. The Pell Bridge to Newport is in the background.
Conservation advocates from the town, the state and the federal government celebrated on February 11th their combined efforts to preserve two of the most scenic working farms on the island, as well as a landscape enjoyed by untold numbers of visitors.
Read more in Projo.com

Board of Directors

Deming E. Sherman

Chairman of the Board

Susan Arnold

William Baldwin

Rebecca G. Barnes

Samuel J. Bradner

Kenneth Burnett

Joseph Caffey

Robert L. Carothers

Jen Cookke

Trudy Coxe

Dennis DiPrete

Stephen Durkee

Stephen J. Farrell

John R. Gowell, Jr.

Akhil C. Gupta

Michael S. Hudner

Stanley J. Kanter

Howard M. Kilguss

Dennis Langley

James Leach

Roger Mandle

The Rev. James C. Miller

Thomas V. Moses

George Nee

William M. Pratt

B. Michael Rauh, Jr.

Gary Sasse

Richard Schartner

Pamela M. Sherrill

Curt Spalding

James F. Twaddell

Directors Emeritus

Arnold "Buff" Chace

Louise Durfee, Esq.

J. Joseph Garrahy

Michael F. Ryan

Frederick C. Williamson

W. Edward Wood


Staff

Scott Wolf

Executive Director

Director of Programs

Director of Research & Communications

Land-Use Training Coordinator

Executive Assistant for Finance

Office Assistant
---
Grow Smart RI
Power of Place Summit
May 2, 2008

---
Check out our Smart Growth
Resource Directory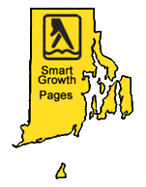 ---
Browse e-brief archives
and press releases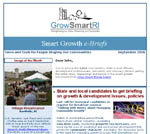 ---
Visit CommunityConnectionRI
Calendar
---
Dear John,

You're among the 3,460 civic leaders, state & local officials, development professionals, journalists and visionary citizens getting the latest news, happenings and trends in the smart growth movement from Grow Smart Rhode Island.



ABC6 reporter Jim Hummel examines the

role of smart growth in shaping a

prosperous, sustainable Rhode Island

13-minute Interview with Scott Wolf describes how a broad coalition of leaders is advancing an agenda to capitalize more fully on RI's compactness, distinctiveness and its vast cultural and natural resources

ABC6 reporter Jim Hummel interviewed Grow Smart RI Executive Director Scott Wolf for the February 3rd edition of ABC 6 On The Record. Among the topics of discussion were Rhode Island's growth and development patterns, incentives for targeted economic development, the importance of a first rate public transit system, neighborhood revitalization and the importance of Rhode Island identifying and playing to its strengths.

Click the "play" button above or HERE to watch on a larger screen.
Widespread opposition voiced about

Governor's proposed Historic Tax Credit

cap

Diverse community stakeholders and developers provide compelling testimony about the many statewide economic, social and environmental benefits of the popular program

Click the "play" button to view testimony

Following a Carcieri Administration proposal in January to retroactively and prospectively cap the historic tax credit program and eventually eliminate it by 2017, the House Finance Committee held a public hearing to solicit comment on Tuesday, February 5th. The proposal was included as part of Article 20 (beginning on page 102) of the Governor's FY '08 Supplemental Budget bill.




House Finance Committee members heard from many opponents of the Governor's proposal, including Grow Smart Rhode Island, municipal officials and planners, the business community, project investors and developers, a fellow legislator from the Senate and a fomer Lieutenant Governor (some of whom are featured here).






Chief among the expressed concerns was the retroactive nature of the Governor's proposal, which several developers testified would thwart redevelopment projects already underway while sending a message to the business community that Rhode Island is not a stable place to invest.






Grow Smart and the Coalition for Neighborhood & Economic Renewal (CNER) have proposed a number of reforms to improve the efficiency of the program without undermining its widely recognized economic return and community benefit.




Among the concepts proposed include:

Prospectively reducing the historic tax credit from 30% to 25%
Eliminating private social clubs from eligibility for the program
Spreading out the distribution of tax credits for the largest projects over a period of up to 3 years


Grow Smart and other tax credit supporters are encouraged by the House Leadership's public recognition of the benefits of the Historic Tax Credit. House Majority Leader Gordon Fox, an original sponsor of the Historic Tax Credit, voiced his continued support for the Tax Credit during his televised response to the Governor Carcieri's State of the State address on January 22nd.

And, shortly after the House Finance Committee hearing, Speaker of the House William Murphy reaffirmed his longstanding support of a strong, predictable and transparent state Historic Tax Credit. In remarks before the Greater Providence Chamber of Commerce at its February 7th legislative luncheon, the Speaker highlighted the value of the tax credit program and his opposition to the Governor's proposed retroactive cap on the program.

It is anticipated that Majority Leader Fox will be introducing legislation soon that will incorporate the major tax credit proposals of Grow Smart and the Coalition for Neighborhood and Economic Renewal as an alternative to the Governor's cap proposals.
Grow Smart's 'Power of Place Summit'

will bring together diverse stakeholders

shaping the future of our communities

2nd Biennial Event will take place Friday, May 2 at the Rhode Island Convention Center

State and local decision-makers, builders and developers as well as architects, engineers, housing and environmental groups, citizen planners and other community stakeholders will convene on May 2 for a daylong conference focused on building prosperity through smart and sustainable growth that plays to Rhode Island's strengths. The Summit is designed to serve as an opportunity to expand the dialogue about Rhode Island's future beyond the high profile state budget debate now preoccupying so many key leaders.

Plan to join us and explore the connection between Rhode Island's economic competitiveness, our environment, government and energy efficiency and our overall quality of life. This year's program will feature 24 workshops, exhibits and plenty of opportunity for networking. Online Summit registration will open in March.

Last Chance to Partner as a Summit Sponsor

This year we are partnering with Providence Business News to produce a Special Supplement insert profiling the Summit and chronicling 10 years of smart growth achievement. Confirm your Summit sponsorship now and get your organization's logo included on the supplement cover. Click HERE for details or call John Flaherty at 273-5711, Ext. 5.

Exhibit Space Will Go Fast

Don't miss the opportunity to showcase your organization to more than 500 people involved in shaping our communities' future. Exhibit space is limited to 25 booths. Click HERE for details.
Companion bills introduced to remove

obstacles to redevelopment financing tool

click on image at right to view a larger version of explanatory diagram

Tax Increment Financing (TIF) seen as critical to several pending economic development projects in Rhode Island

Concerned that Rhode Island municipalities will lose the effective use of an innovative tool for financing public improvements in connection with the redevelopment of blighted areas, members of the Rhode Island House and Senate have introduced companion bills to exempt certain TIF revenue from the property tax levy cap.

Under the proposals (H-7458 and S-2430), revenue that is used to pay the principal and interest on TIF bonds would be exempt from the levy cap.

Grow Smart and the Rhode League of Cities and Towns are leading a group advocating for the legislation. Representatives of the group have conferred with General Assembly leaders to allay any concerns that this proposal is intended to undermine the purpose of the property tax levy cap.

Tax Increment Financing, enacted in Rhode Island in 1984, is widely used throughout the United States enabling municipalities to finance public infrastructure improvements necessary to attract private investment. Bond payments are then made using a portion of the incremental increase in taxes generated by the resulting private investment. Use if TIF's in Rhode Island has only occurred sporadically in the past, but this year many communities, including Coventry, East Providence, Lincoln, Providence and Tiverton, have signaled an interest in using the tool for local redevelopment projects.
Feb. 28th workshop in Newport focuses

on design for mixed-use development

AIA and APA credits available for upcoming workshop entitled Design Strategies for Mixed-Use Development. Sponsored by the Grow Smart RI Land Use Training Collaborative, the one-night session will be offered on Thursday, February 28th at the CCRI Newport Campus.

This workshop will look more closely at the elements that contribute to the livability of our urban and town centers, design strategies for successful mixed-use development, environmental design and regulatory issues and how to make the most efficient use of limited sites. No matter how you're contributing to shaping your community's future - as an official, developer, designer or active citizen - this workshop will provide an opportunity to gain useful new insights and knowledge.

Featured speakers include Arnold Robinson, AICP of the Newport Collaborative Architects Inc., Donald Powers, AIA, CNU of Donald Powers Architects Inc., Ross Speer, AIA of Mostue & Associates Inc., and Scott Millar of the RI Department of Environmental Management.
Free smart growth technical assistance

available through EPA program

Are you trying to revitalize your urban, town and village center? Are you looking to use smart growth to reclaim a brownfield site or to reach greenhouse gas reduction goals? Do you need help analyzing where best to locate a new school that best fits your community? Or do you need to breathe new life into an aging commercial corridor?

The U.S. EPA is responding to this need by issuing a request for applications for the Smart Growth Implementation Assistance program. Through this program, a team of multidisciplinary experts will provide free technical assistance to communities, regions, or states that want to develop in ways that meet environmental and other local or regional goals.

EPA is soliciting applications from communities that want help with either policy analysis or public participatory processes. Selected communities will receive assistance in the form of a multi-day visit from a team of experts organized by EPA and other national partners to work with local leaders. Applications will be accepted until May 8, 2008.

Click HERE to read about how Aquidneck Island advanced development of the West Side Master Plan with EPA technical assistance in 2006.
Pawtucket earns national recognition as

one of 10 Great Towns for Working Artists

Art Calendar, the Orlando, FL based business magazine for visual artists has named the City of Pawtucket among the 10 Great Towns for Working Artists.

Among the reasons for the selection is Pawtucket's success in attracting artists and serving as a model for other communities planning to institute artist relocation programs of their own.

As one of nine communities in Rhode Island with state tax exemptions for working artists, Pawtucket certifies eligible artists or galleries who get state tax sales exemptions for original art or limited production works of art sold within the 307-acre arts and entertainment district. The law (Rhode Island General Law 44-30-1.1) also exempts artists in the district from state income tax on income generated from their work.
Cities: A Smart Alternative to Cars

Creating compact communities-and eliminating the need to drive everywhere-may be the best way to slash greenhouse gas emissions from vehicles, according to a BusinessWeek Magazine article.

February 11, 2008 - The answer to the problem of the American car may not be under its hood.

Transportation generates more than a quarter of U.S. greenhouse gases, according to the Environmental Protection Agency. A portion of that comes from moving freight around but more than 20% is personal transportation. Our vehicle emissions are a major climate change contributor, but what comes out of the tailpipe is only a fraction of the total climate impact of driving a car, and the climate impact is in turn only a part of the environmental and social damage cars cause. Improving mileage will not fix these problems.

[More]
CALENDAR Highlights:


Click here b> to let us know if you would like your land-use/water resources related conference or workshop listed on our CommunityConnectionRI Calendar.

Friday, March 7, 2008 (12:00p - 1:30p)

Getting There: Sustainable Transportation Luncheon

. Registration is free. Presented by the New Public Transit Alliance.

Rhode Island Foundation

Providence

Saturday, March 15, 2008 (8:30a - 4:30p)

2008 Land & Water Conservation Summit

. Sponsored by the Rhode Island Land Trust Council, the Rhode Island Association of Conservation Commissions and the Narragansett Bay Estuary Program.

University of Rhode Island Memorial Union

Kingston

Tuesday, March 18, 2008 (8:00a - 1:00p)

Agritourism - The Next Phase

. Presented by the Rhode Island Center for Agricultural Promotion & Education.

The Culinary Museum, Johnson and Wales University

Providence

Saturday, April 12, 2008 (evenings)
'Growth & Development' in the news

Send us Your News We want to know what's happening in your community.


National


Blackstone Valley


Barrington

Bristol

Burrillville

Central Falls

Charlestown

Cranston

East Greenwich