Providence ranks favorably
in costs for corp. HQ sites
DOWNTOWN PROVIDENCE is a relative bargain for a corporate headquarters when compared with Boston and Stamford, Conn., according to a study by the national location consultant firm of The Boyd Company, Inc.


Grow Smart Rhode Island

Board of Directors

Howard M. Kilguss

Chairman of the Board

Susan Arnold

William Baldwin

Rebecca G. Barnes

Samuel J. Bradner

Kenneth Burnett

Joseph Caffey

Robert L. Carothers

Jen Cookke

Trudy Coxe

Dennis DiPrete

Stephen Durkee

Stephen J. Farrell

Michael L. Friedman

Wilfred L. Gates

John R. Gowell, Jr.

Akhil C. Gupta

Stanley J. Kanter

Jason E. Kelly

Dennis Langley

James Leach

Thomas V. Moses

William M. Pratt

B. Michael Rauh, Jr.

Richard Schartner

Lucie G. Searle

Deming E. Sherman

Pamela M. Sherrill

John C. Simmons

Curt Spalding

Jonathan F. Stone

James F. Twaddell

Directors Emeritus

Arnold "Buff" Chace

Louise Durfee, Esq.

J. Joseph Garrahy

Michael S. Hudner

Michael F. Ryan

Frederick C. Williamson

W. Edward Wood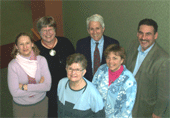 Staff

Scott Wolf

Executive Director

Director of Programs

Director of Research & Communications

Executive Assistant for Finance

Office Assistant

Training Coordinator
---
---
Grow Smart Rhode Island Workshops
---
Miss a previous e-brief?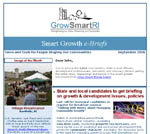 ---
John,

You're among the 3,265 civic leaders, state & local officials, development professionals, journalists and visionary citizens getting the latest news, happenings and trends in the smart growth movement from Grow Smart Rhode Island.



Workshop proposals, sponsorship

deadlines fast approaching for May 14th

'Power of Place Summit'

Partners, stakeholder groups encouraged to propose and help facilitate a range of workshop topics for advancing the transformation of Rhode Island's economy

Believing intently that Rhode Island has all the ingredients to transform itself into an economic and cultural leader, Grow Smart will convene the 3rd Biennial Power of Place Summit on Friday, May 14, 2010 at the Rhode Island Convention Center in downtown Providence. Among the goals for the confab is to increase the capacity of public and private decision makers to recognize the opportunities for playing more effectively to our strengths and capitalizing on our many place-based assets.

Grow Smart will once again partner with Providence Business News (PBN) to produce a Summit program insert previewing the topics, workshops, speakers and sponsors, reaching more than 27,000 influential readers in Southeastern New England. Confirm your Summit sponsorship by February 26, 2010 and get your organization's logo included on the PBN supplement cover.

The Summit is expected to draw up to 500 opinion leaders ranging from federal, state and local officials, academics, developers, architects and real estate professionals to planners, investors and staff from many policy advocacy groups. The program will take a closer look at how to achieve sustainable economic prosperity using strategies that revitalize urban and town centers, increase housing options and affordability, promote clean and efficient transportation choices, maintain a vital agricultural sector and that ensure responsible stewardship of our natural resources.

Click HERE to download a Workshop Proposal form

Click

HERE

to download a

Sponsorship form
RIBA interviews Grow Smart about

about economic recovery, RI's assets

Executive Director Scott Wolf offers a smart growth perspective on the opportunities for Rhode Island's economic recovery

Better capitalizing on Rhode Island's many strengths, more focused marketing of available location-efficient economic development sites, innovative fiscal incentives to encourage municipal leadership in economic development, restoration of a targeted state historic tax credit and more aggressive promotion of the state's tourism industry and agricultural sectors are among the topics of discussion in RIBA's "A Conversation with Scott Wolf" that appears on p. 11 in the February 2010 edition of The Rhode Island Builder's Report.

Engage in discussion through our Blog.
The future of transit in RI spotlighted by

Apeiron forum, Fox Providence, NBC 10

January 28th forum draws attention to Transit in a Sustainable Rhode Island

Grow Smart's John Flaherty, who serves as Co-Chair of the Coalition for Transportation Choices, was joined by Catherine Lutz, a professor at Brown University and Mark Therrien, Assistant General Manager of RIPTA for a panel discussion about transportation in the Ocean State.

The three speakers agreed that Rhode Island needs to expand its transit system and build more walkable and bikeable communities. It was acknowledged, however, that achieving this will require a concerted effort by federal, state, municipal and private sector partners.

Lutz, co-author of a new book called "Carjacked: The Culture of the Automobile and its Effects on Our Lives" spoke of the complex impact of the automobile on modern society and outlined how to develop a healthier, cheaper and greener relationship with cars.

Flaherty and Therrien spoke about the challenges and opportunities for advancing a first class public transit system that's a win for the economy, a win for the environment and a win for those looking to reduce their household transportation costs.
CALENDAR Highlights:


Click here b> to let us know if you would like your land-use/water resources related conference or workshop listed on our CommunityConnectionRI Calendar.

Saturday, March 27, 2010 (7:45 a.m. - 4:30 p.m.)

Sponsored by the Narragansett Bay Estuary Program, RI Land Trust Council and the RI Association of Conservation Commissions. Online registration is now open.

Location: URI Memorial Union

Kingston

Saturday, April 24, 2010

Sponsored by the Rhode Island Historical Preservation & Heritage Commission.

Little Compton
'Growth & Development' in the news

Our news recap will return in the next issue of Smart Growth e-Briefs.