Pawtucket Rising


Click the image above to

watch a 1-minute trailer.

Local filmaker profiles the birth and evolution of Pawtucket's arts district through adaptive reuse of empty century-old factory buildings as an engine of economic revival.

PAWTUCKET RISING, a documentary by Jason Caminiti, will air on Rhode Island PBS on Saturday, January 24 at 7 PM on channel 36, digital 36.1, Dish 7776, DirecTV 36, and on cable channel 8 in RI.



Grow Smart Rhode Island

Board of Directors

Deming E. Sherman

Chairman of the Board

Susan Arnold

William Baldwin

Rebecca G. Barnes

Samuel J. Bradner

Kenneth Burnett

Joseph Caffey

Robert L. Carothers

Jen Cookke

Trudy Coxe

Dennis DiPrete

Stephen Durkee

Stephen J. Farrell

John R. Gowell, Jr.

Akhil C. Gupta

Michael S. Hudner

Stanley J. Kanter

Howard M. Kilguss

Dennis Langley

James Leach

Thomas V. Moses

William M. Pratt

B. Michael Rauh, Jr.

Richard Schartner

Lucie G. Searle

Pamela M. Sherrill

John C. Simmons

Curt Spalding

James F. Twaddell

Directors Emeritus

Arnold "Buff" Chace

Louise Durfee, Esq.

J. Joseph Garrahy

Michael F. Ryan

Frederick C. Williamson

W. Edward Wood


Staff

Scott Wolf

Executive Director

Director of Programs

Director of Research & Communications

Executive Assistant for Finance

Office Assistant

Training Coordinator
---
Visit our Smart Growth
Resource Directory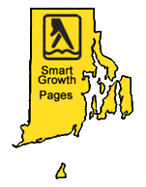 ---
---
Miss a previous e-brief?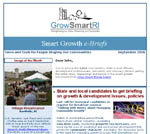 ---
Do you live
or work in this zone?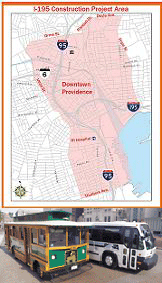 Dear John,

You're among the 2,938 civic leaders, state & local officials, development professionals, journalists and visionary citizens getting the latest news, happenings and trends in the smart growth movement from Grow Smart Rhode Island.



Grow Smart sees opportunity to invest

wisely in RI's long-term sustainability

through emerging federal stimulus plan

Executive Director Scott Wolf and staff pledge to work hand-in-hand with state government to ensure that stimulus funding is put to best use, meets urgent needs and invests in key assets such as public transit, school facilities, historic buildings, fix-it-first municipal infrastructure, affordable housing and renewable energy, as well as roads and bridges in disrepair

Since November, Grow Smart has been in contact with officials in the Carcieri Administration encouraging the state to mobilize an aggressive effort to maximize the long-term potential of the anticipated federal economic stimulus package.

In a January 7, 2009 letter to Governor Donald L. Carcieri, Grow Smart Executive Director Scott Wolf noted that the emerging stimulus package not only offers an opportunity to gain a much needed, rapid infusion of dollars into the Rhode Island economy, but also an opportunity to make significant investments in the building blocks of sustainable prosperity.

The letter also detailed the efforts and progress of Massachusetts Governor Deval Patrick and Connecticut Governor M. Jodi Rell in preparing their states to maximize the potential of the stimulus program.

Governor Carcieri has appointed the heads of the State Division of Planning and the Economic Development Corporation to jointly reach out to municipal leaders and state agencies to develop a list of priority projects. Those project requests are due back to the Division of Planning by Tuesday, January 27, 2009.

Grow Smart will continue to collaborate with leaders in state and local government as well as numerous NGO's to advance a recommended project list that creates immediate jobs and lays the foundation for longer-term sustainability.

According to Scott Wolf, "The pending stimulus package represents an opportunity to invest in a number of our key assets and therefore play effectively to our strenghts".

Projo: State scrambles for a stimulus wish-list PVD Phoenix Blog: Grow Smart: Gov, get rollin'n on stimulus Congress: U.S. House unveils $825 billion Stimulus Summary Brookings: Obama must get infrastructure investment right T4A: National alliance seeks to shape stimulus bill Poll: Americans favor smarter spending in stimulus bill RI Future Bog: Transportation stimulus
Transit Alliance sends funding proposals

to Governor, General Assembly leaders

Following a September 23, 2008 Transit Financing Summit organized in part by Grow Smart and attended by a broad cross-section of civic, political and business leaders, the New Public Transit Alliance (NuPTA) completed its report on December 19, 2008 and forwarded its recommendations to Governor Donald L. Carcieri and legislative leaders as they contemplate how best to sustain a growing demand for public transportation amidst significant needs for road and bridge repairs.

The report emphasizes the important role that public transportation plays in economic development and environmental quality and lays out a menu of potential funding options, recognizing that there is no silver bullet and that not all of the options can or need to be implemented simultaneously.

The recommendations build off the deliberations of the Governor's Blue Ribbon Panel on Transportation Funding, but also bring forward new ideas that link transit funding with land-use and development and with efforts to reduce road maintenance needs by reducing wear and tear from excessive vehicle use.

Download the 16-page report


Projo: 1/13/09
Students draw attention to RIPTA funding

crisis through website, video interviews

Click on the image to the right to view the 2-minute news segment about Youth in Action by NBC 10.

The potential budget and service cuts threatening Rhode Island's statewide bus system could have a major impact on those who ride the bus the most.

A group called Youth in Action has launched a Web site to explain what impact RIPTA's financial crisis has on them and riders statewide. Many Providence high school students use the bus to get to class and to school programs.

Visit the website
Partnership for Community Development

beginning 2nd semester

Program launches second semester with three courses starting Thursday January 29th

Roger Williams University's Institute for Public Policy and the School of Continuing Studies, in partnership with the Housing Network of Rhode Island, have come together to offer courses in community development.

The courses are aimed at enriching the professional development of those already working in the field of community development - where public policy, affordable housing advocacy, finance, and government regulation come together. The program also offers newcomers the opportunity to develop a useful skillset toward a new and exciting career.

All classes are offered at the Providence campus on Washington Street in the evenings from 6-9pm. On Mondays, Mary-Ellen Boyle, Ph.D. from Clark University will teach "Sustainable Community Economic Development", on Tuesdays, Kathy Dorgan, AIA will teach "Elements and Issues in Community Development" and on Thursdays, June Speakman, Ph.D. of RWU will teach "Non-profit Management".

Click HERE for program and registration details.
CALENDAR Highlights:


Click here b> to let us know if you would like your land-use/water resources related conference or workshop listed on our CommunityConnectionRI Calendar.

This Week's Listings on CommunityConnectionRI: