Sponsor Message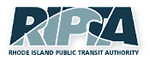 'Power of Place Summit'
Resouce Column


Held May 12, 2006
See who participated
(use 'smart' as the password)
Post Summit Survey
Following the Power of Place Summit, we surveyed the nearly 500 participants - planners, architects, state and local officials, business leaders and citizens - asking what they think about Land-Use 2025, what it offers their communities as well as their priorities for implementation. The results below reflect all completed responses and represent approximately 20% of Summit attendees.
Complete Survey Results
Sample Highlights
Respondents identified a strategy of targeted state investments to urban, town and village centers as the single most important of nine strategies listed for influencing smarter growth.


What do you think are the most important ways that RI's new Land-Use Plan can make a difference in your community?


If you were designing a plan to promote the smart growth concepts contained in Land Use 2025 in your community, what issues/messages would you emphasize?

Workshop Session Notes

With the help of several volunteers from the Statewide Planning Division, we have assembled notes from each of the workshop sessions held during The Power of Place Summit. In some cases, there were two note-takers and therefore two sets of notes.


Grow Smart

Board of Directors

Deming E. Sherman

Chairman of the Board

Susan Arnold

William Baldwin

Joseph Caffey

Robert L. Carothers

Arnold Chace

Jen Cookke

Trudy Coxe

Stephen J. Farrell

Thomas E. Freeman

J. Joseph Garrahy

John R. Gowell, Jr.

Michael S. Hudner

Stanley J. Kanter

Howard M. Kilguss

Dennis Langley

James Leach

Roger Mandle

Rev. James C. Miller

Thomas V. Moses

George Nee

B. Michael Rauh, Jr.

Michael F. Ryan

Gary Sasse

Richard Schartner

Merrill Sherman

Curt Spalding

James F. Twaddell

Ranne Warner

Sandra Whitehouse

Frederick C. Williamson

W. Edward Wood
---
---
Become an e-Brief Sponsor

---
Display at your city or town hall, local library or place of
business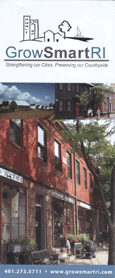 ---
Want to join an

expanding network of

smart growth practioners?

Click the map for details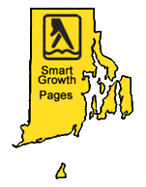 Smart Growth
Grow Smart Staff
Executive Director
Director of Programs
Director of Research & Communications
Executive Assistant for Finance
Office Assistant
Training Coordinator
Dear John,

You're among the 2,993 civic leaders, state & local officials, development professionals, journalists and visionary citizens getting the latest news, happenings and trends in the smart growth movement from Grow Smart Rhode Island.



Deming Sherman takes reins as newly installed Chairman of Grow Smart RI

Well-known community leader long in the forefront of neighborhood revitalization efforts succeeds National Grid's Michael Ryan

Deming E. Sherman, a partner in the law firm of Edwards Angell Palmer & Dodge, LLP was unanimously elected Chairman of the Grow Smart Rhode Island Board of Directors earlier this month, succeeding Michael F. Ryan. Sherman has served as Secretary of the Grow Smart Board since the organization's inception in 1998.

Ryan, Regional President for National Grid in Rhode Island, has been Grow Smart's Board Chairman for the last 3½ years, during which time the organization promoted and protected The State Historic Tax Credit, helped to develop and showcase the State's new 20 year plan for sustainable growth and development, expanded its award winning municipal training program, played a key role in the reform of the State's approach to siting and building affordable housing and significantly expanded its contributor base. In stepping down from the Grow Smart Chairmanship, Ryan announced that he intends to remain an active member of Grow Smart's full Board and Executive Committee.

Sherman's election to the Grow Smart Board Chairmanship is the latest in a series of community leadership positions he has held including Chairman of the Board for the Providence Preservation Society, President of The Rhode Island Philharmonic Orchestra, First Night Providence and Festival Ballet Providence, Trustee of the Providence Athenaeum, Advisory Board member of the Community Mediation Center of Rhode Island and a member of the Rhode Island Commodores. [Read More]
Land-Use 2025 Update

Land-Use 2025 is a valuable tool for shaping livable, sustainable, efficient and prosperous communities in all of Rhode Island's 39 cities and towns. Yet, according to Grow Smart Executive Director Scott Wolf, "without successful implementation, it will remain just another good plan on a shelf."

That's why - as a nonprofit advocacy organization focused on sustainable development - Grow Smart is committed to establishing and promoting a way to measure the progress and benefits of implementing Land-Use 2025 at both the state and local level.

Eariler this month, Grow Smart started the process of identifying an informed and knowlegable task force to help vet a mechanism with which to gauge meaningful implementation progress and desired outcomes. The Task Force will be announced in August and will meet three times before introducing its measurement tool in October. Stay tuned.
The next real estate boom

(The following is an excerpt of a revealing article from CNNMoney.com)

Dense settlements, not sprawling ranch houses, are the future of housing - and could make for a smart real-estate investment.

The demand for such developments is real, and it's only going to get greater as consumer preferences rapidly shift away from the McMansions preferred by boomers. According to a study by the nonprofit Congress for New Urbanism, while less than 25 percent of middle-aged Americans are interested in living in dense areas, 53 percent of 24-34 year olds would choose to live in transit-rich, walkable neighborhoods, if they had the choice.

Demand for housing within walking distance of transit will more than double by 2025, according to another nonprofit, the Center for Transit-Oriented Development. Even now, properties within a 5- or 10- minute walk to a train stop are selling for 20 to 25 percent more than comparable properties further away - a price premium that's likely to increase as traffic jams worsen. [More]
New resource for 'context-sensitive'

road design

Manual from the Institute of Transportation Engineers promotes place-appropriate road designs

For decades, towns and cities have complained that highway designers inflict the same high-speed designs on them that they build in rural areas. Now, just in time for the Complete the Streets campaign, the Institute of Transportation Engineers has come out with a manual that helps engineers identify and distinguish among different types of urban places, with design features appropriate to each. ITE's Context Sensitive Solutions in Designing Major Urban Thoroughfares for Walkable Communities shows how to design roads to support walkable and bikeable communities, compact development, and mixed land uses. [More]
Deadline fast approaching for historic

preservation grant applications

State Preservation grant applications are now available for the 2006 grant round through the Rhode Island Historical Preservation & Heritage Commission. The Commission will award $1 million in matching grants to fund capital preservation work at public historic sites, museums, and cultural art centers located in historic buildings.

For more information or to receive a 2006 application, please call 222-4138, visit the office at 150 Benefit St., Providence (M-F, 8:30 a.m. - 4:30 p.m.), or visit their website.

Applications are due on July 28, 2006. Interested applicants can direct questions to Sarah Zurier at 222-4142.
New census estimates available for RI

The Population Estimates Division of the U.S. Census Bureau has published population estimates for Rhode Island's 39 cities and towns and 5 counties for 2005. These estimates suggest that the state experienced a 2.4 percent increase in population for the first five years of the new millennium, despite an estimated 0.3 percent decrease for the period 2004 to 2005.

From a smart growth perspective, one of the encouraging trends is the growth in population in 9 out of 10 of Rhode Island's urban communities, including Providence, Pawtucket, Woonsocket and Central Falls. Also encouraging is the ranking of Bristol, one of Rhode Island's most walkable places, as the second most rapidly growing community in the entire state for this 5-year period. However, the census estimates also reveal that the overall growth rate in several fairly rural parts of the state - Washington County and the westernmost part of Rhode Island - continue to exceed the overall pace of growth in our cities, but by a declining margin. Newport County is the biggest loser in the population estimates game, with 4 of its 5 communities, including the city of Newport, registering population losses. This continues a trend observed in the last Census.

The following table displays the 2005 estimates and the shifts between 2000 and 2005 by city, town and county. Further information about the Rhode Island 2000 Census as well as other Rhode Island census information can be found on the census page of Statewide Planning's website.
CALENDAR

Wednesday, July 26, 2006 (6:00 p.m.)

Kick-off for Providence Tomorrow

, a unique and inclusive planning process designed to create a framework for growth and preservation of Providence Neighborhoods as the City updates its Comprehensive Plan and Zoning Ordinance. [

More

]

Roger Williams Park Casino, Providence

August 20-22, 2006 HERE for info on one-day discounts for New England area residents.

Kingston

Thursday, September 28, 2006
State awards 11 planning grants to

municipalities and organizations

Grow Smart among the recipients for its municipal training program

The Rhode Island Division of Planning has awarded Challenge Planning Grants to 11 municipalities and organizations to conduct transportation-related planning studies over the coming year. Cooperative Agreements have been signed with all the grant recipients, and many are beginning to get their studies underway.

Projects range from an examination of potential growth centers to highway corridor management studies and preliminary assessments of commuter rail service feasibility and transit oriented development.
CNU XIV Multimedia Toolkit

The Congress for New Urbanism offers the CNU XIV Multimedia Toolkit, a collection of materials from sessions and events at the 2006 CNU Congress held in Providence June 1-4, 2006. The Toolkit includes audio and video from nearly 50 Congress sessions, a similar number of slideshows, and reports from the correspondents who covered the Congress for the online Daily NUws.

In the toolkit, you'll find:

Audio: Recordings of the sessions
Video: Recordings of the sessions
Reports: Short articles about the events from CNU's on-site reporters
Presentations: Copies of speakers' presentations in convenient PDF format
Multimedia Presentations: Automated web slideshows of the presentations with synchronized audio

CNU XIV: Developing the New Urbanism was the first Congress to focus heavily on what it takes to bring plans for compact walkable development through to completion: the coordinated interaction of government officials, the public, designers, financiers, and often multiple developers in settings ranging from outlying new villages to dense downtowns.
'Growth & Development' in the news


National

New England

Barrington

Blackstone Valley

Block Island

Cumberland

East Providence

Exeter