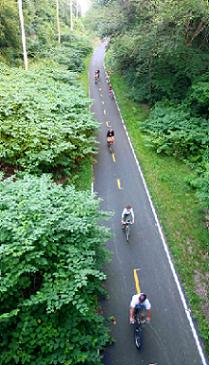 Projo photo / Andrew Dickerman

A Ride along the Riverside


Children and adults ride through lush foliage approaching Glenbridge Avenue as the Woonasquatucket River Watershed Council hosts a bicycle ride on the new bike path yesterday along the river from Riverside Mills Park, on Aleppo Street, in Providence, to Lyman Street, in Johnston.



Board of Directors

Deming E. Sherman

Chairman of the Board

Susan Arnold

William Baldwin

Rebecca G. Barnes

Samuel J. Bradner

Kenneth Burnett

Joseph Caffey

Robert L. Carothers

Jen Cookke

Trudy Coxe

Dennis DiPrete

Stephen Durkee

Stephen J. Farrell

John R. Gowell, Jr.

Akhil C. Gupta

Michael S. Hudner

Stanley J. Kanter

Howard M. Kilguss

Dennis Langley

James Leach

The Rev. James C. Miller

Thomas V. Moses

William M. Pratt

B. Michael Rauh, Jr.

Richard Schartner

Lucie G. Searle

Pamela M. Sherrill

John C. Simmons

Curt Spalding

James F. Twaddell

Directors Emeritus

Arnold "Buff" Chace

Louise Durfee, Esq.

J. Joseph Garrahy

Michael F. Ryan

Frederick C. Williamson

W. Edward Wood


Staff

Scott Wolf

Executive Director

Director of Programs

Director of Research & Communications

Executive Assistant for Finance

Office Assistant
---
Do you live
or work in this zone?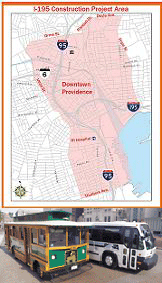 ---
Miss last month's e-brief?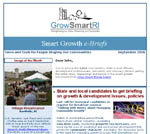 ---
Visit our Smart Growth
Resource Directory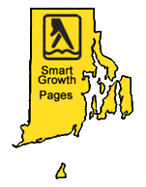 ---
Dear John,

You're among the 3,626 civic leaders, state & local officials, development professionals, journalists and visionary citizens getting the latest news, happenings and trends in the smart growth movement from Grow Smart Rhode Island.



Transit riders, local officials bracing for

impacts of perfect storm

Soaring fuel costs and a counterintuitive funding mechanism tied to the consumption of gas make it impossible for RIPTA to maintain service at a time when demand for public transit has never been higher

Absent an innovative funding solution, the short term forecast for public transit in Rhode Island is nothing short of devastating. Due to the rising cost of fuel, RIPTA has gone from a balanced budget in March to projecting a $12 million deficit for next year. On the heels of a July 1st fare increase, the agency is now contemplating a significant reduction in service affecting 160 lines across the state.

Some RIPTA board members have said flatly that they oppose cuts in service despite not having a solution to the deficit. "Transit is economic development," said Tom Deller. "Transit shouldn't be cut - it needs to grow," he said.

At least one municipality and its representatives in the General Assembly are already mobilizing to save their route. The Burrillville Town Council voted unanimously last week to send a letter to Governor Donald L. Carcieri and RIPTA General Manager Alfred J. Moscola protesting the proposed elimination of service to Burrillville. Senators Paul W. Fogarty (Burrillville, Glocester, N. Smithfield), and John J. Tassoni (Smithfield, N. Smithfield) are sponsoring a July 31st public hearing on the proposed reduction to the Route 9 bus.

Recent Headlines

Projo Editorial: Any tolls should help boost mass transit (7/29)

Bright spots in the forecast

Grow Smart, in partnership with the New Public Transit Alliance (NuPTA), is convening a summit of key stakeholders, officials and community leaders in September to help build consensus for short and long-term solutions that will allow public transit to grow with demand.

In response to similar crises across the nation, two new federal funding bills are now pending in Congress:
- Saving Energy through Public Transportation Act (H.R. 6052)

- Transportation Choices for Gas Price Relief Act (

H.R. 6495

)

RIPTA is about to undertake a comprehensive study to develop a vision for the future of a first-class, robust intermodal public transit system as a convenient, reliable and affordable way for more Rhode Islanders to get where they need to go.
Innovative parking solutions drive strong

interest in Grow Smart workshop

Program aimed at strengthening the vitality and function of walkable urban, town and village centers

Tackling Your Community's Parking Challenges, the latest workshop developed for the Grow Smart RI Land-Use Training Collaborative, attracted planners and others from across Rhode Island to the North Kingstown Free Library in Wickford on July 25th. The 4-hour workshop introduced attendees to new ways of thinking about parking issues, including the public and consumer cost of providing it.

Nathan Kelly, AICP, of the Horsley Witten Group, and Jason Schrieber, AICP, of Nelson\Nygaard Consulting Associates presented zoning, design and management strategies that municipalities can use to balance public and business demands for parking with community goals for environmental protection and maintenance of community character. The discussion ranged from the economics of providing parking to the fallacies inherent in the parking standards on which many communities rely to recent developments in materials and low-impact design. Using mini case studies from around the country, Nate and Jason offered both time-tested and innovative solutions to parking challenges. Participants then applied what they had learned in an interactive design exercise.

The workshop drew planners from a dozen cities and towns as diverse as Charlestown, Newport, Providence, and Cranston. Representatives from local landscape architecture and planning firms as well as nonprofit affordable housing developers also attended.

Grow Smart and the Rhode Island Chapter of the APA are making plans to offer the workshop again in the fall. Watch for details.
T4A Campaign aims to realign the nation's

transportation policy

The interstate highway system has been built. The era of cheap gasoline is over and Americans are hurting. Bridges are crumbling. Older and rural Americans are stranded. Our foreign policy is literally over a barrel. Americans are begging for transportation options that are cheaper, faster and cleaner.

The current national transportation program is essentially unchanged from the 1950s, when gas was a nickel a gallon and President Eisenhower set us on a course to build the interstate highway system. Today, we live in a very different world. We need a 21st century vision for a 21st century America.

Transportation for America is a broad coalition of housing, environmental, public health, urban planning, transportation and other organizations seeking to align our national, state, and local transportation policies with an array of issues like economic opportunity, climate change, energy security, health, housing and community development.

Click HERE to learn more about T4A or to join the call for new transportation solutions.
Google Maps now provide directions for

public transit riders and walkers

Eureka! What Google did for driving directions, it's now doing for mass transit and walkers alike.

Launched in partnership with RIPTA last April, local bus and trolley passengers now have access to a free online trip-planning tool, developed by Google. The service lets users to map out the best bus routes to get from point A to point B, complete with itineraries and maps." Click HERE to try it.

And, starting this month you can now tell Google Maps that you want walking directions, and they'll find you a route that's direct, flat, and uses pedestrian pathways when they know about them. Just get directions as you normally would. If you're going 10 km or less, they'll show you a link with "Walking" directions. Try it.
DEM Announces RFP for Local

Open Space Grants

Deadline to file is Friday, September 26th

Grants will provide up to 50 percent of funding, up to a maximum of $250,000 per project, to protect open space lands that possess significant natural, ecological, agricultural or scenic values, by direct purchase or conservation easements. Special consideration will be given to projects that provide linkages between or expansion of existing preserved lands.

A total of up to $2.5 million is available during this round of the grant program
All projects must be able to close within 18 months
Grants will be awarded in December 2008

More detailed information, instructions and an application form can be downloaded by clicking HERE.
Housing Network, RWU join forces to

advance community development

Roger Williams University's Institute for Public Policy and the School of Continuing Studies, in partnership with the Housing Network of Rhode Island, have come together to offer two new courses in community development for the Fall 2008 semester.

These courses are aimed at enriching the professional development of those already working in the field of community development - where public policy, affordable housing advocacy, finance, and government regulation come together. It also offers newcomers the opportunity to develop a useful skillset for a new and exciting career.

Learn more about the Partnership for Community Development.

*Scholarships may be available to Housing Network members as well to Municipal and State of Rhode Island staff members. Click HERE for details.
URI's NEMO program publishes

stormwater resources for local officials

In an effort to help municipal officials comply with Phase II stormwater training requirements, the NEMO (Nonpoint Education for Municipal Officials) program at the University of Rhode Island has completed "Train-The-Trainer Manuals" for the following workshops presented by the URI.

Stormwater System Maintenance
Preventing Storm Water Pollution at Your Public Works Facility

The manuals, now available for purchase or free download, are complete training modules that can be presented to municipal public works and transportation employees to aid in their understanding of new stormwater regulations.

Click HERE to view the download page. Questions may be directed to Marie Esten, RI NEMO, (401) 874-5687.
Where has all the money gone?

July 11th issue of the Rhode Island Policy Reporter examines some of the hidden infrastructure costs associated with 50 years of sprawl

Comparing the spending to building what amounts to an entire second state's worth of infrastructure, Rhode Island Policy Reporter author Tom Sgouros chronicles the public cost of our migration away from more efficient urban and town centers to lower-density suburbs.

The research article makes a case that the expensive choices we've made have been masked by continued growth, but that masking effect only lasts as long as the growth does. When the growth slows in suburban communities, that's when the bill comes due and taxes rise to pay for the expenses no longer covered by growth.

Sgouros emphasizes the point of this observation isn't to mourn what might have been, but to better understand the economics of decisions that are influenced by state and local policies that will guide our future.

The Rhode Island Policy Reporter is available by subscription. Past issues are made available free online.
CALENDAR Highlights:


Click here b> to let us know if you would like your land-use/water resources related conference or workshop listed on our CommunityConnectionRI Calendar.

August 5-7, 2008

State Public Transit Partnerships Conference

A cooperative effort among: American Public Transportation Association (APTA), Federal Transportation Administration (FTA), Community Transportation Association of America (CTAA), and American Association of State Highway and Transportation Officials (AASHTO). Registration $325.

Providence Hilton

Providence

September 4-5, 2008

Southern New England Planning Conference

. The 2008 conference is a two-day event that will focus on "Planners in Action", highlighting regional planners who have taken action to improve their communities and the profession.

Rhode Island Convention Center

Providence

October 15-18, 2008