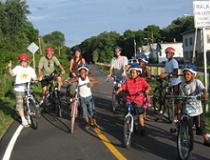 Wednesday Evening
Bike Rides
Because it's summer, and the bike path is calling!
Wednesdays through August at 6 p.m. Interested riders to
meet at Riverside Park.
Sponsored by the Woonasquatucket River Watershed Council.


Board Member
in the news

Durkee appointed to
RIPTA Board
Grow Smart RI's Public Transportation Subcommittee Chairman Stephen Durkee was appointed by the Governor to the RIPTA Board of Directors. The appointment was ratified by the State Senate on
June 30, 2009.
Grow Smart Rhode Island

Board of Directors

Howard M. Kilguss

Chairman of the Board

Susan Arnold

William Baldwin

Rebecca G. Barnes

Samuel J. Bradner

Kenneth Burnett

Joseph Caffey

Robert L. Carothers

Jen Cookke

Trudy Coxe

Dennis DiPrete

Stephen Durkee

Stephen J. Farrell

Michael L. Freidman

Wilfred L. Gates

John R. Gowell, Jr.

Akhil C. Gupta

Stanley J. Kanter

Jason E. Kelly

Howard M. Kilguss

Dennis Langley

James Leach

Thomas V. Moses

William M. Pratt

B. Michael Rauh, Jr.

Richard Schartner

Lucie G. Searle

Deming E. Sherman

Pamela M. Sherrill

John C. Simmons

Curt Spalding

Jonathan F. Stone

James F. Twaddell

Directors Emeritus

Arnold "Buff" Chace

Louise Durfee, Esq.

J. Joseph Garrahy

Michael S. Hudner

Michael F. Ryan

Frederick C. Williamson

W. Edward Wood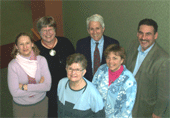 Staff

Scott Wolf

Executive Director

Director of Programs

Director of Research & Communications

Executive Assistant for Finance

Office Assistant

Training Coordinator

Winner of The Congress for New Urbanism CNU 17 video contest. This short film explores the connection between Smart Growth, New Urbanism and environmental issues.
Dear John,

You're among the 3,289 civic leaders, state & local officials, development professionals, journalists and visionary citizens getting the latest news, happenings and trends in the smart growth movement from Grow Smart Rhode Island.



Smart Growth Legislative Scorecard:

Progress for transit, housing;

Water mgt. bill remains in limbo

House of Representatives expected to reconvene later in July to close unfinished business. Three of Grow Smart's legislative priorities became law in June, while some others remain in play.

Approved

Transit:

Included in Budget Article 16 was a provision to increase the motor fuel tax by 2 cents and direct the estimated $8.8 million to help sustain the state's public transportation system and prevent massive service cuts. Also passed and allowed to become law without the Governor's signature was

H-5010

(Transit Signal Prioritization) which will enable RIPTA to improve schedule performance and efficiency.

Housing:

$2.5 million for the state's Neighborhood Opportunities Program (NOP) was approved in the FY '10 state budget recently sined into law by the Governor. Since 2001, NOP has been a significant affordable housing production program.

Stalled for now, but could move if Assembly reconvenes

Water Management:

The Water Use and Efficiency Act (

S 732

/

H 5828

) passed their respective chambers, but failed to be voted upon by the opposite chamber. Grow Smart is a member of the Coalition for Water Security, which supported this legislation to develop a comprehensive water policy for Rhode Island. This bill promotes water efficiency and conservation, helps RI to capitalize on its water supply to create a competitive edge, protects our natural resources by maintaining adequate water in our rivers and streams and improves the structure and operation of the Water Resources Board. It is hoped that the House will vote on the approved Senate version when it reconvenes in July.

Not voted out of committee | Not introduced

Transfer of Development Rights (TDR)

Grow Smart helped to craft a pair of companion bills to enable North Kingstown to create sending and receiving areas under its Transfer of Development Rights (TDR) Ordinance (

S-1015

/

H-6321

). As of the end-of-June recess, bills had failed to get out of committee and it seems unlikely that they will move any further this session.

Economic Development:

Grow Smart helped to draft a proposal for a new and more targeted State Historic Tax Credit program to replace an existing program that has been shut off for newly proposed projects. The redrafted proposal, which was submitted to the Leadership for their consideration, puts much greater emphasis on commercial (non-residential) activity by limiting program eligibility to projects with at least 50% of their floor space allocated to commercial activity. To date the proposal has not resulted in any legislation being introduced, and action on this proposal appears unlikely in whatever may remain of the 2009 General Assembly session.

If the state historic tax credit is not reinstated for new applicants this year, Grow Smart will continue to press for a significant new targeted program in the 2010 General Assembly session as a major component of a sound, long range economic development strategy for Rhode Island. During the next several months we will confer with our coalition partners, key legislators, and legislative staff to assess the best approach for achieving our goal.
RI gets high marks for targeting stimulus

spending on transportation

National study by Smart Growth America cites Rhode Island as one of only 11 states to dedicate 100% of its transportation stimulus spending to repair and maintain existing networks, versus new road development

Smart Growth America (SGA) has released a report assessing each state's committed plans for transportation projects funded by the The American Recovery and Reinvestment Act, the major federal economic stimulus package passed by Congress earlier this year.

The report was released on June 29th, marking the date by which states were required to have obligated 50 percent of the flexible money granted them for transportation projects by the federal government. The money is meant to stimulate the economy, but also in the words of the Act "to invest in transportation, environmental protection, and other infrastructure that will provide long-term benefit".

While the overall federal stimulus program remains controversial because much of it is being used to offset state budget deficits, the portion specifically allocated to RIDOT ($138.5 million) has been targeted wisely, according to SGA, including non-motorized projects such as sidewalk repair.

The Rhode Island Public Transit Authority received a separate allocation from the federal stimulus package of approximately $37 million that is being used for a number of capital projects that include the purchase of new hybrid buses, high tech equipment that will improve efficiency and enhancements to key transit corridors.

Download the 37-page SGA report

Projo: Stimulus article

- 7/3/09

State posts interactive map of RIDOT stimulus projects

The Rhode Island Office of Economic Recovery & Reinvestment (OERR) has posted an interactive map that shows stimulus funded Department of Transportation projects. By clicking on a project pinpointed on the map visitors can view project details including: project name and description, estimated cost, project status, start and end date, information on completion of project, and the project contractor.

The map displays details of these projects as of June 18, 2009.
Congress considers GREEN Act of 2009

Green Resources for Energy Efficient Neighborhoods (GREEN) has hearings in House committee while RI's Senator Whitehouse introduces companion bill in the Senate

The House Financial Services Committee has held several hearings on HR 2336, the Green Resources for Energy Efficient Neighborhoods (GREEN) Act of 2009, which is supported by Smart Growth America and many of its partners.

On June 25, 2009 Senator Sheldon Whitehouse (D-RI) introduced the Senate companion bill, the Energy Efficiency in Housing Act of 2009 (S. 1379), along with Senators Chuck Schumer (D-NY) and Robert Menendez (D-NJ). The Senate Committee on Banking, Housing, and Urban Affairs, on which Rhode Island Senator Jack Reed sits, is expected to hold a hearing and markup of the bill soon.

The legislation promotes sustainable communities through provisions to create location-efficient mortgage incentives and increased energy efficiency in structures financed by the Department of Housing and Urban Development. HUD Deputy Secretary Ron Sims testified before the committee that HUD supports the bill.
Rhody Fresh repays business loan in full

Successful dairy farm cooperative adds four new farms to membership

The RI Economic Development Corporation announced last month that a $125,000 Small Business Loan was paid off in full by the Rhode Island Dairy Farms Cooperative (Rhody Fresh), a business development and farm preservation initiative that has exceeded expectations.

Launched in July 2004, Rhody Fresh milk has been well received by Rhode Island consumers and has grown from an initial five member cooperative to nine members in 2009. With growth in demand and distribution remaining steady, the cooperative was able to make regular loan payments and distribute net profits among its member farms.

"Many Rhode Islanders don't realize the breadth of agriculture in our small state," says James Hines, executive director of the cooperative. "Rhody Fresh really helped create an awareness of the local farmer and sparked other types of farms to band together to sell their products locally. We're proof that people will, when given the opportunity, support local enterprise."
RI Housing officials seek community

input on housing plan, HUD application

Goal is to encourage housing that supports vibrant, sustainable neighborhoods

Rhode Island Housing has scheduled a series of public focus groups for June 14th through August 7th on topics related to the State of Rhode Island Consolidated Plan's broad strategies. A session on Community Development and Housing will be held on Wednesday, August 5th, from 3:30 - 5:30 P.M. at the Warwick Public Library on Sandy Lane.

Input from the planning community and other Rhode Islanders interested in land use is extremely important to provide valuable ideas for how Rhode Island can create housing that supports vibrant, sustainable, well-designed communities which integrate affordable homes with access to job centers, public transportation, access to services, parks, etc. Subjects to be covered in other focus groups include Healthy Homes, Family Housing, Homelessness, Housing for Individuals with Disabilities, Housing for the Elderly, and Fair Housing,

For a full schedule of sessions, focus group presentations, discussion summaries, and participant lists, click HERE. If you would like to attend one of the remaining sessions, please contact Tobias Stein at (401) 277-1550.
New national reports highlight economic,

environmental benefits of Smart Growth

Center for Clean Air Policy recommends four federal steps to advance local preparations for climatic impact

In two major reports this month -- "Ask the Climate Question: Adapting to Climate Change Impacts in Urban Regions" and "Cost-Effective GHG Reduction through Smart Growth & Improved Transportation Choices: An economic case for strategic investment of cap-and-trade revenues" -- the Washington, D.C.-based Center for Clean Air Policy (CCAP) documents the urgent need for the federal government to "help advance local climate adaptation efforts," and to dedicate "10 percent of cap- and-trade allocation values toward smart planning and low-carbon transportation investments," promising further analysis of the profitability of such outlays in a "Growing Wealthier: The Economic Benefits of Smart Growth" report to be released later this summer. [Read More]

Adapting to Climate Change Impacts in Urban Regions

GHG Reduction through Smart Growth
CALENDAR Highlights:


Click here b> to let us know if you would like your land-use/water resources related conference or workshop listed on our CommunityConnectionRI Calendar.

This Week's Listings on CommunityConnectionRI:

July 19-23, 2009

Coastal Zone 2009: Revolutionary Times: Catching the Wave of Change

Presented by NOAA. The coastal and ocean landscape is changing, whether it's the climate, shoreline, habitat, or even the people setting and implementing policy. Explore the many facets of change and share tools and information to help in managing our changing coastal and ocean resources.

Location: Boston Park Plaza Hotel

Boston