Help Support Grow Smart

Grow Smart Board of Directors

Michael F. Ryan

Chairman of the Board

Susan Arnold

William Baldwin

S. James Busam

Joseph Caffey

Robert L. Carothers

Arnold Chace

Jen Cookke

Trudy Coxe

Peter Damon

Stephen J. Farrell

Thomas E. Freeman

J. Joseph Garrahy

John R. Gowell, Jr.

Stephen Hamblett

Robert Harding

Michael S. Hudner

Stanley J. Kanter

Howard M. Kilguss

Thomas A. Lawson

Dennis Langley

James Leach

Roger Mandle

Rev. James C. Miller

Thomas V. Moses

George Nee

B. Michael Rauh, Jr.

Gary Sasse

Richard Schartner

Deming Sherman

Merrill Sherman

Curt Spalding

James F. Twaddell

Ranne Warner

Sandra Whitehouse

Frederick C. Williamson

W. Edward Wood

Board Listing with Affilliation

Staff

Executive Director

Director of Programs

Director of Research & Communications

Office Manager / Executive Assistant

Office Assistant

Research Assistant
---
Looking for a past issue?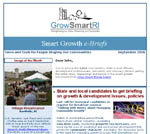 ---
Want to join an

expanding network of

smart growth practioners?

Click below for details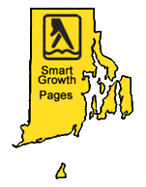 Smart Growth
Dear John,

You're among the 2,584 opinion leaders, state & local officials, development professionals, journalists and visionary citizens getting the latest news, happenings and trends in the smart growth movement from Grow Smart Rhode Island.



Wolf elected Chair of national smart growth group

Grow Smart Executive Director Scott Wolf was elected Chairman of the Washington, DC- based Growth Management Leadership Alliance (GMLA) by the organization's membership at its recent May meeting.

The GMLA is a network of leaders from state, provincial and regional organizations in the United States and Canada that carry out programs to directly shape and implement smart growth policies and actions.

Among Wolf's immediate goals for GMLA will be to leverage its 30 plus years of institutional advancement with like-minded national groups to strengthen the smart growth movement's policy influence and connection with both the business and labor communities.
Grow Smart RI Networking Event set for June 24

Advertisers in the online Smart Growth Yellow Pages will gather with members of Grow Smart's Board of Directors, Advisory Council and major funders at an outdoor networking event on Friday, June 24, 4:00 - 6:00 p.m.

The event is sponsored by Struever Bros., Eccles & Rouse, PUENTE Providence and The Armory Revival Company and will be held at the Rising Sun Mills in Providence's Olneyville neighborhood. >More

There is still time to list your organization in the Yellow Pages and attend this sponsored event. Click HERE for details.
Scorecard examines link between Rhode Island's quality of place, economic performance

Land consumption, job sprawl and home prices remain areas of concern, while progress is noted on water quality and historic preservation

The Quality of Place Scorecard, the third of four annual scorecards designed to keep civic leaders and citizens informed about Rhode Island's overall economic performance, was unveiled this month by the Rhode Island Economic Policy Council (RIEPC).

The Quality of Place Scorecard illustrates the link between quality of place and economic performance. It measures water quality in Narragansett Bay, tolerance and diversity, land consumption, job sprawl, home affordability and historic preservation. >More

- Watch a 3-minute Channel 10 interview on this topic
- Download the 4-page scorecard (pdf)
Grow Smart helps celebrate protection of 3 RI farms

Grow Smart Rhode Island Executive Director Scott Wolf provided a smart growth lens to describe the long-term value of preserving 3 Hopkinton farms using the purchase of development rights and a conservation easement.

Excerpts from Wolf's remarks

"The preservation of these three Hope Valley farms is a model of taking decisive action for the benefit of future generations. I think we'd all agree that the legacy represented by this effort is one we can be much prouder about than the construction of any additional big box stores or strip malls. If efforts such as the ones we celebrate today can be duplicated frequently and quickly, while we continue to stimulate urban revitalization, Rhode Island will neither lose our way nor our soul".

>More
New State loan program aims to assist agritourism

The Rhode Island Economic Development Corporation along with its partners, DEM, First Pioneer Farm Credit, the Small Business Administration and the Rhode Island Center for Agricultural Promotion and Education (RICAPE), announced that it has established a small business loan program aimed at supporting the state's growing agricultural tourism business.

$250,000 in loans will be made available to those businesses involved in agritourism. Loans range from $10,000 - $25,000 and can be used for upgrades such as parking lots, bathrooms and other visitor amenities as well as website development.

Rhode Island has 858 farms that total approximately 61,000 acres. >More
Practical advice for healthier, walkable communities

Sprawl and auto-dominated development can make it nearly impossible for people to integrate walking or bicycling into their daily routines. With national physical activity levels decreasing and obesity rates increasing, local leaders are looking for ways to shape future development in a way that improves pedestrian infrastructure and safety.

This six page fact sheet produced by the Local Government Commission, offers tips, tools, and case studies to help communities align planning with the implementation of walkable community design.
Local chapter of National Brownfield Association expands to RI

Group bestows NBA Leadership award on Senator Chafee

The local chapter of the National Brownfield Association (NBA) was recently renamed the Massachusetts & Rhode Island Chapter to better reflect the Chapter's membership and the commonalities between the Rhode Island and Massachusetts brownfield redevelopment markets. The inaugural meeting provided attendees with an update on the mechanisms available for limiting environmental liability. The Chapter will be holding their fall meeting in the Providence area.

The NBA is a non-profit, educational organization dedicated to stimulating the responsible redevelopment of brownfields. The NBA represents the wide array of brownfield stakeholders - property owners, developers, investors, service professionals and government representatives.
CALENDAR

June 1- 30

Sponsored by The RI Rivers Council

Statewide

Monday, June 20 (1:00p - 3:30p)

Seminar presented by the RI Geospacial Extension Specialist at URI. Free. No pre- registration necessary.

Cranston

Thursday, June 23 (1:00p EDT)

Sponsored by the Council for Educational Facility Planning International.

Registration fee.

Available from your desktop

Saturday, June 25

Presented by the Community Training and Assistance Center.

Thursday, June 30

RI DEM

* submissions for calendar items may be emailed to John Flaherty.
20 RI communities get economic development grants

From Burrillville to Block Island, the Rhode Island Economic Development Corporation (EDC) has awarded grants to 20 Rhode Island communities ranging from $2,000 to $25,000 to stimulate economic development. Many of the grants are alligned with smart growth principles and objectives.

In Lincoln, for example, a $12,000 grant will be used to create a mixed-use redevelopment plan for the former Lonsdale Bleachery site, a once-thriving 19th century textile mill complex on the Blackstone River.

The town of Tiverton is utilizing a $15,000 grant to develop a Design Standards Manual that will help to better balance the need for economic growth with the desire for preserving the town's rural character.

- Download list of recipients and project descriptions (pdf)
Growth and development issues in the news


Statewide

Hopkinton

Kent County

Lincoln

North Kingstown

North Smithfield

Providence

Smithfield

South County

Tiverton

Woonsocket