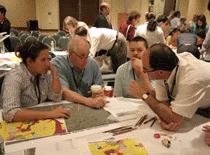 'Power of Place Summit'
Resource Column

See who participated
(use 'smart' as the password)
Post Summit Survey
Following the Power of Place Summit, we surveyed the nearly 500 participants - planners, architects, state and local officials, business leaders and citizens - asking what they think about Land-Use 2025, what it offers their communities as well as their priorities for implementation. The results below reflect all completed responses and represent approximately 20% of Summit attendees.
Complete Survey Results
Sample Highlights
What do you think are the most important ways that RI's new Land-Use Plan can make a difference in your community?


If you were designing a plan to promote the smart growth concepts contained in Land Use 2025 in your community, what issues/messages would you emphasize?

Workshop Session Notes

With the help of several volunteers from the Statewide Planning Division, we have assembled notes from each of the workshop sessions held during The Power of Place Summit. In some cases, there were two note-takers and therefore two sets of notes.


Grow Smart

Board of Directors

Michael F. Ryan

Chairman of the Board

Susan Arnold

William Baldwin

Joseph Caffey

Robert L. Carothers

Arnold Chace

Jen Cookke

Trudy Coxe

Stephen J. Farrell

Thomas E. Freeman

J. Joseph Garrahy

John R. Gowell, Jr.

Michael S. Hudner

Stanley J. Kanter

Howard M. Kilguss

Thomas A. Lawson

Dennis Langley

James Leach

Roger Mandle

Rev. James C. Miller

Thomas V. Moses

George Nee

B. Michael Rauh, Jr.

Gary Sasse

Richard Schartner

Deming Sherman

Merrill Sherman

Curt Spalding

James F. Twaddell

Ranne Warner

Sandra Whitehouse

Frederick C. Williamson

W. Edward Wood
---
---
---
Become an e-Brief Sponsor

---
Display at your city or town hall, local library or place of
business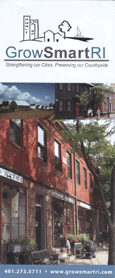 ---
Want to join an

expanding network of

smart growth practioners?

Click the map for details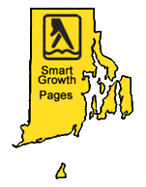 Smart Growth
Grow Smart Staff
Executive Director
Director of Programs
Director of Research & Communications
Executive Assistant for Finance
Office Assistant
Training Coordinator
Dear John,

You're among the 2,962 civic leaders, state & local officials, development professionals, journalists and visionary citizens getting the latest news, happenings and trends in the smart growth movement from Grow Smart Rhode Island.



State investment strategy seen as highest priority for implementing Land-Use 2025

May 12th Power of Place Summit attendees responding to survey say the state should prioritize capital investments to steer future growth to urban, town and village centers

Whether through state aid for school or library construction, siting of new public facilities such as courthouses or through financial incentives for business development, housing or other infrastructure, respondents to an electronic survey following the Power of Place Summit identified a strategy of targeted state investments to urban, town and village centers as the single most important of nine strategies listed for influencing smarter growth (view full results of this survey question).

The results follow two compelling keynote presentations at the Summit. Both Massachusetts and Maryland were profiled for their success in re-directing state investments to achieve smarter growth. Doug Foy, former Secretary of the Massachusetts Office for Commonwealth Development, spoke about his role in govermental "silo-busting" that led to a more efficient strategy of investing state funds in communities that are engaged in smart growth.

Later in the day, former Maryland Governor Parris Glendening spoke of his experience influencing smarter growth in Maryland as its Governor from 1995 to 2003. He explained how he led the creation of a groundbreaking initiative that conserved tax dollars by using the entire $23 billion Maryland state budget as an incentive for steering development and investment to more efficient existing centers and adjacent areas with infrastructure, while enhancing conservation of farm and forest land and other open spaces.
Providence draws praise as host for

New Urbanism conference

Providence hosted more than 1,500 architects, urban planners and designers, government officials and developers at the annual meeting of the Congress for the New Urbanism (CNU). The conference showcased the city, which has undergone a dramatic transformation as a hub for the arts, design, restaurants, retail and residences.

With its old buildings well-preserved or beautifully restored, a revitalized downtown and officials committed to further improvements, Providence amazed attendees at the four-day conference. CNU co-founder and key leader Andrés Duany told a seminar that's ... [More]
Grow Smart honored in PPS Hall of Fame

Preservation society honors fifty individuals and organizations in celebration of its 50th anniversary

The Providence Preservation Society named Grow Smart Rhode Island as one of its 50th Hall of Fame inductees at a State House ceremony on May 4, 2006.

Grow Smart was recognized for its role in positioning historic preservation in a broader context of community and economic development and for its role in the passage and defense of the state historic tax credit program.
Grow Smart testifies at CRMC hearing

Workshop tackles controversy over the impact of increased density in sensitive environmental areas

Despite strong advocacy for increased production of affordable housing - particularly in communities that fall short of the 10 percent state target - Grow Smart testifies that it should not come at the expense of the environment.

Sheila Brush, Grow Smart's Director of Programs testified before a Coastal Resources Management Council workshop held on June 14, 2006 in Charlestown. At issue were proposed changes to the Salt Pond and Narrow River Special Area Management Plans. The changes would enable a "substantially complete" low-mod comprehensive housing permit application (filed before December 14, 2004 as a land development project) to avoid the CRMC density standards for self-sustaining lands and lands of critical concern.

Brush argued against the rule change saying "We don't need to develop affordable housing in fragile, environmentally sensitive areas". Save The Bay, the Wood-Pawcatuck Watershed Association and numerous Charlestown residents also spoke in opposition to the rule change.

CRMC staff will review letters and testimony and prepare a written recommendation to the full Council, which is expected to consider the rule change in September.

* Photo courtesy of Lori Urso, Wood-Pawcatuck Watershed Association
'Complete Streets' campaign kicks into

high gear

The streets of our cities and towns ought to be for everyone, whether young or old, motorist or bicyclist, walker or wheelchair user, bus rider or shopkeeper. But too many of our streets are designed only for speeding cars, or worse, creeping traffic jams. They're unsafe for people on foot or bike — and unpleasant for everybody.

Now, in communities across the country, a movement is growing to complete the streets. States, cities and towns are asking their planners, engineers and designers to build road networks that welcome all citizens. [Read More]
Rhode Island leads the region in rate of

rising farmland values

According to the U.S. Department of Agriculture (USDA), Rhode Island farmland values are increasing at a rate faster than any other state in Northeast - 9.8% from January 1, 2004 to January 1, 2005. USAToday reports the increase in values is driven by a number of factors including continued housing development pressure.

'RI Farmways' launches new website

Rhode Island FarmWays

is a special initiative of the Rhode Island Center for Agricultural Promotion and Education (

RICAPE

), established to make our farms and nature based sites - on land and by the sea - more visible and accessible to people of all ages and interests.

The Center's mission is to keep viable Rhode Island's farm communities, strengthen pride of place and enhance quality of life.
CALENDAR

Thursday, June 22

Spearheaded by the Pawtucket Foundation, focus will be on beautifying the downtown area and steetscape improvements in the Barton Street neighborhood.

Pawtucket

Saturday, June 24

This event is a benefit for the Narrow River Preservation Association (NRPA) and proceeds from the swim will be used to fund NRPA's programs such as the Active Watershed Education (AWEsome) program being used in local schools and the River Watch/Watershed Watch water quality monitoring program, now entering its 15th year.

Kingston

Monday, April 3 (7:30a - 12:30p)

PLACEMATTERS06 is the annual gathering of the PLACEMATTERS community, where a national network of practitioners come together to learn, share, inspire and seed innovation in place, collectively elevating the art and science of planning for vibrant, sustainable communities.

Denver, CO
'Growth & Development' in the news

National

New England

Statewide

Aquidneck Island

Bristol

Cumberland

East Providence