Photo by Christine Keene
Scene from the

Power of Place Summit

Friday, May 14, 2010




Read the Projo's editorial




View a recap of the Summit






Grow Smart Rhode Island

Board of Directors

Howard M. Kilguss

Chairman of the Board

Susan Arnold

William Baldwin

Daniel A. Baudouin

Samuel J. Bradner

Kenneth Burnett

Joseph Caffey

Robert L. Carothers

Jen Cookke

Trudy Coxe

Kristin A. DeKuiper

Dennis DiPrete

Stephen Durkee

Stephen J. Farrell

Michael L. Friedman

Wilfred L. Gates

John R. Gowell, Jr.

Akhil C. Gupta

Stanley J. Kanter

Jason E. Kelly

Dennis Langley

James Leach

Basil Lee

Stephen M. Maiorisi

Thomas V. Moses

William M. Pratt

B. Michael Rauh, Jr.

Richard Schartner

Lucie G. Searle

Deming E. Sherman

Pamela M. Sherrill

John C. Simmons

Jonathan F. Stone

James F. Twaddell

Directors Emeritus

Arnold "Buff" Chace

Louise Durfee, Esq.

J. Joseph Garrahy

Michael S. Hudner

Michael F. Ryan

Frederick C. Williamson

W. Edward Wood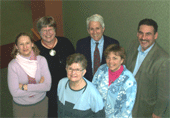 Staff

Scott Wolf

Executive Director

Director of Programs

Director of Research & Communications

Executive Assistant for Finance

Office Assistant

Training Coordinator



Smart Growth is featured topic on Senior Journal

click image to view clip


Grow Smart RI Executive Director, Scott Wolf and Director of Programs, Sheila Brush join host Libby Arron for a discussion of the role of Smart Growth in Rhode Island's future.

The full program can be seen on the Statewide Interconnect channel at the following times:

Monday, June 28th, 7 PM

Tuesday, June 29th, 11:30 AM
---
---
---
---
John,

You're among the 3,410 civic leaders, state & local officials, development professionals, journalists and visionary citizens getting the latest news, happenings and trends in the smart growth movement from Grow Smart Rhode Island.



2010 General Assembly highlights

which impact smart growth agenda

Advances for transfer of development rights (TDR), transportation, housing; Setback for community comprehensive planning reform

Rhode Island lawmakers adjourned for the year at 4:10 a.m. on Friday, June 11, 2010. The following are highlights of bills that have an impact on community & economic development and quality of place.

Planning / Land Development

H-7588 (Representative Carter)

This Act increases the effectiveness of existing TRANSFER OF DEVELOPMENT RIGHTS (TDR) legislation for the Town of North Kingstown and supports the Town of Exeter in establishing its own TDR ordinance. Grow Smart

supported

this legislation with the following

written testimony

.

[Passed]

S-2901 (Senator Tassoni)

This Act would have amended EXISTING LAWS ON STATEWIDE PLANNING and provided additional flexibility and efficiencies to the process of updating municipal comprehensive plans. Grow Smart

supported

this legislation with the following

written testimony

.

[Failed]

H-7533 (Representative Newberry)

This Act would have repealed "THE RI LAND DEVELOPMENT & SUBDIVISION REVIEW ENABLING ACT OF 1992. Grow Smart

opposed

this legislation with the following

written testimony

.

[Failed]

Transportation

S-2744 (Senator DiPalma),

H-7734

(Representatives

Handy

,

Ajello

,

Rice M

,

Sullivan

)

This Act would have created the RHODE ISLAND HIGHWAY MAINTENANCE & PUBLIC TRANSIT TRUST to fund highway maintenance, commuter rail operations and maintenance, enhancing and expanding existing transit services, and for the upkeep, maintenance and repair of local roads and bridges. View oral testimony by

Grow Smart

and

other

members of the Coalition for Transportation Choices (CTC) on YouTube.

[Failed]

S-3023 (Senators Connors, Miller)

This CTC supported Resolution created a SPECIAL SENATE LEGISLATIVE COMMISSION ON SUSTAINABLE TRANSPORTATION FUNDING. It is expected that the study commission will convene in the fall and report its findings in time to make a second attempt at establishing a RHODE ISLAND HIGHWAY MAINTENANCE AND PUBLIC TRANSIT TRUST FUND in the next legislative session.

[Passed]

S- 2241 (Senators Miller, C Levesque, and Connors),

H-7497

(Reps.

Walsh

,

Handy

,

Ferri

,

Ruggiero

,

Rice M

.)

JOINT RESOLUTION MEMORIALIZING THE UNITED STATES CONGRESS AND MEMBERS OF THE RHODE ISLAND CONGRESSIONAL DELEGATION TO CO-SPONSOR, SUPPORT, AND VOTE IN FAVOR OF DESIGNATED PENDING LEGISLATION, another CTC backed measure.

[Passed]

Housing

H-7397 (Representative Watson)

(Article 1, p.4) The Neighborhood Opportunities Program (NOP) was funded at $1.5 million, despite Governor Carcieri's earlier proposal to eliminate its funding entirely. NOP is Rhode Island's most critical program for ending homelessness and developing affordable housing. Grow Smart supported continued funding of this vital investment through HousingWorks RI.

Bonds

H-7397 (Representative Watson) Article 5 of the House Budget Bill authorizes Bond Referendum Questions for the November Ballot. Among them are proposals for an $84.7 million Transportation Bond (roads, bridges & transit) and a $14.7 million Open Space & Recreation Bond to acquire land at Rocky Point in Warwick, the former Shooter's property on the Providence Waterfront and for improvements to Fort Adams State Park in Newport.

[Passed]

Grow Smart will be deciding shortly whether to endorse either or both of these bond referenda.
Over 400 attend Power of Place Summit

to learn, network and mobilize for

smart growth policy reforms

New Federal Partnership for Sustainable Communities takes center stage with Keynote Symposium including key leaders from from HUD, DOT, EPA and Smart Growth America.

20 workshops and nearly 80 speakers brought together leading experts on sustainable economic growth, zoning for green energy production, reuse of I-195 surplus land, an enhanced public transportation system, regulatory reform, improving public health through better community design, agricultural vitality, leadership in energy and environmental design, affordable housing and more.

Click HERE for a complete recap of the Summit, including a registration list, survey results, outcome recommendations and media coverage.

Grow Smart is exceptionally grateful for the support of our Summit sponsors and for the generosity and commitment of our many presenters and panel moderators. We will continue to leverage the talents, ideas and energy of diverse partners to help transform Rhode Island into an economic and cultural leader for this and future generations.
Port Forum reveals growth at Providence

and Quonset Ports, underscores

competing city and state interests

At issue is income tax versus property tax as both sides look to maximize economic benefit.

An April 26th forum on Port Development in Rhode Island organized by Grow Smart Rhode Island and Save The Bay brought together more than 75 invited business, government and maritime industry leaders to clarify issues and explore future opportunities.

Forum speakers included veteran maritime transportation advisor William Coffey, Providence & Worcester Railroad Company president P. Scott Conti, ProvPort President Bruce Waterson, the Quonset Development Corporation's port manager Evan Matthews, Moran Shipping Agencies Executive Vice President Jason Kelly, and Jennifer McCann of the URI Coastal Resources Center. State Senator William Walaska, who co-chairs the General Assembly's joint commission on ports, attended the forum and shared the commission's plans for future work. Following the presentations Grow Smart's Executive Director Scott Wolf moderated a response panel that included Providence Planning and Redevelopment Director Thomas Deller, RIEDC Business Development Manager John Riendeau and Save The Bay Executive Director Jonathan Stone.

Click HERE for links to presentations.

The presenters and audience comments highlighted several critical points that should be incorporated into future state policy development:

There is an inherent disconnect between state reliance on income tax revenue and municipal reliance on property tax revenue which severely impedes reaching state-municipal consensus on economic development strategies.
There is limited land available and zoned for future port-related development adjacent to existing ports.
The state needs to find a way to finance necessary future dredging at Quonset.
Policy-makers need data about the economic impact of current port and shipping activities.

Several speakers also noted potential opportunities for joint marketing of the Port of Providence and Quonset.

Attendees agreed that the forum underscored the importance of bringing together diverse interests to share differing perspectives and heighten overall understanding of the shipping industry and the range of issues involved.

Grow Smart sees the forum as a first step in our efforts to promote port development that capitalizes on the economic development assets offered by Rhode Island's location and natural harbors and at the same time incorporates sound land-use planning principles and stewardship of the Bay's natural resources.