Grow Smart Board of Directors

Michael F. Ryan

Chairman of the Board

Susan Arnold

William Baldwin

S. James Busam

Joseph Caffey

Robert L. Carothers

Arnold Chace

Jen Cookke

Trudy Coxe

Peter Damon

Louise Durfee

Stephen J. Farrell

Thomas E. Freeman

J. Joseph Garrahy

John R. Gowell, Jr.

Stephen Hamblett

Robert Harding

Michael S. Hudner

Stanley J. Kanter

Howard M. Kilguss

Thomas A. Lawson

Dennis Langley

James Leach

Frederick Lippitt

Roger Mandle

Rev. James C. Miller

Thomas V. Moses

George Nee

B. Michael Rauh, Jr.

Gary Sasse

Richard Schartner

Deming Sherman

Merrill Sherman

Curt Spalding

James F. Twaddell

Ranne Warner

Sandra Whitehouse

Frederick C. Williamson

W. Edward Wood

Board Listing with Affilliation

Staff

Executive Director

Director of Programs

Director of Research & Communications

Office Manager / Executive Assistant

Office Assistant

Research Assistant
---
Looking for a past issue?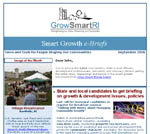 ---
Want to join an

expanding network of

smart growth practioners?

Click below for details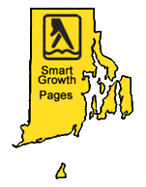 Smart Growth

Toolbox Topics

Dear John,

You're among the 2,263 opinion leaders, state & local officials, development professionals, journalists and visionary citizens getting the latest news, happenings and trends in the smart growth movement from Grow Smart Rhode Island.



Study: Compact, mixed-use growth saves tax dollars

As municipal leaders strive to expand the tax base while also safeguarding "quality-of-place", a new study released by the Brookings Institution reviews the fiscal and competitive advantages of adopting smarter growth development patterns.

Overall, the study finds that:

The cost of providing public infrastructure and delivering services can be significantly reduced through thoughtful design and planning.
Policies that result in revitalization of city and town centers enhance regional economic performance.
Suburban and rural areas also benefit from investment in healthy town and urban centers.
Brush earns top honors in planning

Award was among six that were presented by the Rhode Island Chapter of the American Planning Association at its February 17 Annual Meeting

Sheila Brush, Director of Programs for Grow Smart Rhode Island, was presented the President's Distinguished Service Award for her hard work effectively promoting affordable housing throughout the state to a broad variety of audiences, including the majority of her fellow APA members.

Chapter President Dan Baudouin cited her leadership role in presenting a recent standing room only workshop for municipal officials, entitled "Housing Affordability: Financial Considerations & Zoning Strategies". That workshop was a collaborative effort led by Grow Smart RI and including the Statewide Planning Program, RI Housing, the Housing Network of RI, the Housing Resources Commission, DEM and the law firm of Ursillo, Teitz & Ritch.
DEM to introduce Urban Environmental Design Manual

DEM will host a public meeting on Thursday, March 24 to present its new Urban Environmental Design Manual to community planners, designers, smart growth advocates and developers.

The manual identifies ways to encourage the reuse of existing buildings and infrastructure to lesson the trend towards sprawl in undeveloped parts of the state. Its goal is to promote cost-effective techniques that can restore or retain environmental features for proposed projects in city and town centers.

"There is an increasing interest in redirecting development into our urban areas", said Frederick Vincent, Acting Director of DEM. "This smart growth movement is good for the environment by taking pressure off our farms and forests, and makes good economic sense and strengthens local tax bases by restoring and revitalizing abandonned properties."

- Get meeting details
- Access an online version of the manual
FREE brownfield site assessments

DEM currently accepting applications from municipalities, nonprofit organizations, and tribal governments

If your community has a blighted site with redevelopment potential, you'll want to consider this offer being made by DEM. The department's technical assistance contractors will provide environmental assessments through its Targeted Brownfields Assessment (TBA) program which is funded by the EPA.

A brownfield site is a property whose expansion, redevelopment or reuse may be complicated by the presence or potential presence of a hazardous substance, pollutant or contaminant. The purpose of the program is to provide assessments that could be the catalyst to jump start the redevelopment process.

- Read the full announcement
- Review brownfields success stories
Agritourism program aims to help sustain RI farms

An innovative direct marketing initiative called "RI FarmWays" is being launched to help local farmers start or expand alternative business enterprises and visitor amenities on farm sites while maintaining agricultural activities and keeping land in production. Based on the success of similar programs in Vermont and Iowa, this effort is the result of a partnership between the RI Center for Agricultural Promotion and Education (RICAPE), DEM Division of Agriculture and the URI Cooperative Extension . It is being funded by a grant from the USDA Sustainable Agriculture Research and Education program at the University of Vermont.

The program officially kicks off March 21st with a series of training workshops for farmers, growers and other agricultural professionals as well as educators, small business, economic development and tourism professionals. RI participants attend FREE, but registration must take place by March 16th.
AARP mobilizes to promote walkable communities

Recognizing the vast health benefits of walking, the AARP has developed and is promoting a package of resources to help its members improve the walkability of their communities.

The web-based reource presents an overview of what walkable communities once were, and how to overcome current obstacles to making your community walkable -- including adding or repairing sidewalks, calming or slowing down vehicle traffic, and reducing the threat of crime. Books, brochures, and additional web-related resources round out the article.
EPA NOAA to help coastal communities

The U.S. EPA and the U.S. National Oceanic and Atmospheric Administration (NOAA) have announced an agreement to work together to help coastal communities grow in ways that benefit the economy, public health, and the environment.

With coastal watersheds growing rapidly and 55 percent of the U.S. population living within 50 miles of a coast, such communities are faced with both challenges and opportunities, according to the release. The EPA NOAA partnership will provide training for local government staff and officials; outreach and education on successful policies, ordinances and initiatives; and assessments of the impacts of policy actions on sensitive coastal areas.
CALENDAR

March 15 (2:00p)

This

online discusion

hosted by KnowledgePlex and the Government Innovators Network will tap the experience of nationally noted experts. The information and insights presented in this discussion will be useful to state and local officials involved in framing policies to deal with abandoned properties, as well as to community organizations trying to make them happen in their city or neighborhood.

Learn more

.

Saturday, April 23 (8:30a-6:00p)

This year's conference theme is "Preserving Historic Houses of Worship." There will be 24 different walking tours; discussion panels; lectures; and workshops, as well as presentation of the 2005 State Preservation Awards.

Newport

* submissions for calendar items may be emailed to John Flaherty.
Should light rail be in Rhode Island's future?

Editorial contemplates whether the Ocean State could learn from the success of DART in Texas

As Pawtucket, Warwick, North Kingstown and Woonsocket each look to develop MBTA commuter rail stations, a Providence Journal editorial compares how the Dallas Area Rapid Transit (DART) has helped several metro Dallas communities overcome gridlock while stimulating investment in mixed-use, walkable communities.

The editorial compares Rhode Island to the Dallas- Fort Worth metropolitan area and also describes how civic leaders in Texas achieved a major success in the face of special interest opposition.

Interact with Projo.com

How would you improve the R.I. commute?
Growth and development issues in the news

National

Block Island

Burrillville

Lincoln

North Kingstown

North Smithfield

Pawtucket

Portsmouth

Providence

Smithfield