Friday, May 12, 2006
R.I. Convention Center
Early Bird registration ends 4/21

Summit Sponsors



Supporting Organizations

American Planning Assoc. - RI Chapter

URI Sea Grant

URI Coastal Resources Center

Save The Bay

Grow Smart
Board of Directors
Michael F. Ryan
Chairman of the Board
Susan Arnold
Joseph Caffey
Robert L. Carothers
Arnold Chace
Jen Cookke
Trudy Coxe
Stephen J. Farrell
Thomas E. Freeman
J. Joseph Garrahy
John R. Gowell, Jr.
Michael S. Hudner
Stanley J. Kanter
Howard M. Kilguss
Thomas A. Lawson
Dennis Langley
James Leach
Roger Mandle
Rev. James C. Miller
Thomas V. Moses
George Nee
B. Michael Rauh, Jr.
Gary Sasse
Richard Schartner
Deming Sherman
Merrill Sherman
Curt Spalding
James F. Twaddell
Ranne Warner
Sandra Whitehouse
Frederick C. Williamson
W. Edward Wood
---
Your one-stop resource for

professionals and others
---
Congress for the
New Urbanism
CNU XIV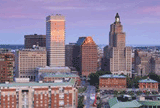 ---
Become an e-Brief Sponsor

---
Display at your city or town hall, local library or place of
business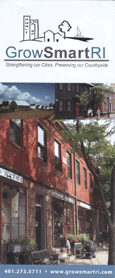 Grow Smart Staff
Executive Director
Director of Programs
Director of Research & Communications
Executive Assistant for Finance
Office Assistant
Training Coordinator
Dear John,

You're among the 2,690 civic leaders, state & local officials, development professionals, journalists and visionary citizens getting the latest news, happenings and trends in the smart growth movement from Grow Smart Rhode Island.

Foward to a friend



Doug Foy to Keynote RI's 'Power of Place Summit'

On March 17th Doug Foy stepped down as Massachusetts' Secretary of the Office for Commonwealth Development. He is credited by Governor Romney for implementing the Bay State's aggressive strategy of investing state funds in communities that are engaged in smart growth.

Foy, who earlier in his career served as Director of the Conservation Law Foundation, will deliver the keynote address at Grow Smart's Power of Place Summit on Friday, May 12th at the Rhode Island Convention Center.

The summit will be geared to citizens serving on municipal boards and commissions, state officials, builders and developers as well as architects, engineers, consultants and nonprofit interest groups. Topics will include an overview of development trends in Rhode Island, the new State Land Use Plan's proposed responses to these trends and the latest best practice tools for managing growth in a way that builds upon our existing assets, safeguards our environment and strengthens our economic competitiveness.

Romney announces over $500 million for smart growth funding


Marking Doug Foy's last day on the job, Massachusetts' Republican Governor Mitt Romney awarded a total of $516.5 million for capital projects "to communities engaged in smart growth" -- $501 million in low-interest loans for water and sewer system upgrades, and $15.5 million in direct grants for transit-oriented redevelopment, housing, pedestrian and transportation improvements, and ecologically critical parcel protection. Read More
Projo Editorial: Mill Village Victory

There is substantial publicity these days about urban mill rehab projects made possible by Rhode Island's Historic Preservation Tax Credit. But, a noteworthy and perhaps lesser known trend is the use of the credit to revitalize neighborhoods outside of the urban core.

Excerpted from the Providence Journal - 03/12/06

"Good economic, architectural and community news comes out of South Kingstown in the restoration and expansion of its historic Wakefield Mill. All Rhode Island towns and cities should take note.

The people of South Kingstown will benefit in several ways from this project. The new professional center will bring needed tax dollars -- without eating up any of the rural town's cherished open space. It will showcase a historic landmark. And with a colorful mix of occupants, it will strengthen the downtown, both commercially and socially.

Maybe most important, such projects advance the statewide effort to protect -- against suburban sprawl, among other things -- Rhode Island's specialness as a place of villages, towns, and cities of character and community."
Local smart growth group recognized

Sharon Knettell of Woonsocket, a founder of the Valley Alliance for Smart Growth, accepts one of five non-governmental New England awards for progress working toward smart growth in North Smithfield and Woonsocket, including its opposition to the Dowling Village mega big box development project.

The New England Grassroots Environment Fund, which gave the Valley Alliance a grant in 2005, sponsored the event with the Toxics Action Center Saturday night in Boston, at which 400 citizens from grassroots groups throughout Rhode Island, Massachusetts and Connecticut attended. Valley Alliance Chairperson Caroly Shumway and Al Norman of Sprawl Busters — a nationally noted anti- Wal-Mart group — were the two invited speakers addressing big box stores and sprawl.
CALENDAR

Monday, April 3 (7:30a - 12:30p)

South Kingstown, RI

Wednesday, April 5 (3:00p - 5:00p)

Presented by the RI Department of Health, RI Office of Statewide Planning, RI Department of Education and RI Department of Transportation.

Warwick, RI

Saturday, April 8 (9:00a - 6:00p)
It takes a village to lure buyers back to town

Wall Street Journal article spotlights continued growth in market demand for walkable, mixed-use neighborhoods

Traditional Neighborhood Development (TND) communities are luring growing numbers of American home buyers to their quaint, narrow streets. And unlike the first wave of these developments -- such as Celebration and Seaside, Florida, which tended to be built in the suburbs or beyond -- the new communities are being heavily concentrated in cities and on former industrial sites.

Driving their growth: the combination of plummeting land availability around many cities, along with a growing backlash by home buyers against cookie- cutter suburbs and their often grueling commutes. Read more
Growth and development in the news

National




New England




Statewide








Barrington

Block Island

Central Falls

Cranston

Exeter