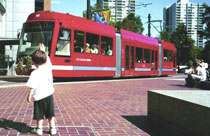 BACK TO THE FUTURE

THE PORTLAND, OR, streetcar system – implemented in 2001 on a 4.8-mile loop and since extended twice, at a total cost of about $91 million – is viewed as a potential model for the Providence area.

See related story below.



Grow Smart

Board of Directors

Deming E. Sherman

Chairman of the Board

Susan Arnold

William Baldwin

Samuel J. Bradner

Kenneth Burnett

Joseph Caffey

Robert L. Carothers

Arnold Chace

Jen Cookke

Trudy Coxe

Dennis DiPrete

Stephen J. Farrell

J. Joseph Garrahy

John R. Gowell, Jr.

Akhil C. Gupta

Michael S. Hudner

Stanley J. Kanter

Howard M. Kilguss

Dennis Langley

James Leach

Roger Mandle

The Rev. James C. Miller

Thomas V. Moses

George Nee

William M. Pratt

B. Michael Rauh, Jr.

Gary Sasse

Richard Schartner

Pamela M. Sherrill

Curt Spalding

James F. Twaddell

Ranne Warner

Frederick C. Williamson

W. Edward Wood

Board Listing with Affiliation





Sponsor Message

Grow Smart Staff
Executive Director
Director of Programs
Director of Research & Communications
Executive Assistant for Finance
Office Assistant
Training Coordinator
Dear John,

You're among the 3,226 civic leaders, state & local officials, development professionals, journalists and visionary citizens getting the latest news, happenings and trends in the smart growth movement from Grow Smart Rhode Island.



State Planning Council sets key precedent

by rejecting 'Quonset Gateway' proposal

as contrary to new State Land-Use Plan

Governor Donald L. Carcieri also reaffirms principles and purpose of Land Use 2025 in its first major test by publicly supporting State Planning Council decision

The State Planning Council (SPC) on March 1st soundly rejected the design submitted by the Quonset Development Corporation (QDC) and New Boston Development Partners for the planned "Quonset Gateway" project at the Quonset Business Park in North Kingstown.

By an 11-to-1 vote, the council found that the proposal did not conform with guidelines set forth in Land Use 2025, an element of the State Guide Plan that aims to steer growth and development to the areas of the state that have the infrastructure to support growth and to protect Rhode Island's agricultural lands, open spaces and natural resources. The vote came after the SPC received information about last-minute changes made by the developers in an effort to satisfy concerns voiced by the State Division of Planning staff report, the Town of North Kingstown and Grow Smart. The SPC also heard testimony from QDC Executive Director Geoffrey Grout, Grow Smart Executive Director Scott Wolf and Richard Pastore, Chair of the North Kingstown Planning Board.

Specifically, council members voiced concerns that the use of low-density single story buildings and the incorporation of the large retail anchor stores did not use the infrastructured land at Quonset efficiently; that the design emphasized the retail component of the project; and that it was not pedestrian friendly.

Governor Carcieri said he was "pleased" with the council's decision. "I do not believe that this project — as currently envisioned — meets the criteria outlined in the Quonset Development Corporation's original request for proposals or the state's land use plan," Carcieri said in a statement.

It is unclear at this time if the QDC will appeal the ruling to Superior Court or return with a modified plan. Grow Smart had also testified against the proposed plan before the North Kingstown Town Council on January 16, 2007.
RI Historic Tax Credit Update

A coalition led by Grow Smart RI mobilizes its advocacy effort with a focus on research, education and outreach

The Policy Strategy Committee of the 55-member Coalition for Neighborhood & Economic Renewal is already hard at work this legislative season aiming to safeguard a state investment program that has been achieving significant results for Rhode Island. The State Historic Tax Credit Program is widely credited with jump-starting a rebuilding boom, revitalizing urban, town and village centers, recycling abandoned and contaminated sites, enhancing public safety and creating new jobs, tax revenue and economic vitality in communities from Woonsocket to Westerly.

At issue is the fierce competition for limited resources at a time when state government is facing a projected $360 million deficit over the next two years. A study released by Grow Smart in 2005, however, found that the historic tax credit program actually generates $5.47 in economic output for every dollar of state tax credit invested. The study also concluded that the program is stimulating tens of millions of dollars of state and local tax revenue.

As state leaders in Rhode Island debate whether to cut our nationally renowned State Historic Tax Credit Program, the Coalition points to a competitive trend among other states - including our Northeastern neighbors - to establish or expand their own historic tax credit programs.

- View a summary of national trends in historic tax credit programs
Grow Smart releases

2007 Policy & Legislative Agenda

From economic development and neighborhood revitalization to land conservation, affordable housing, transportation, water management, property tax reform and transportation, Grow Smart outlines it reform agenda for strengthening our economic competitiveness and neighborhood vitality.

According to Grow Smart Executive Director, Scott Wolf, "We aim to highlight for the public and for a broad spectrum of governmental and community leaders how protecting Rhode Island's distinct urban/rural balance and its outstanding quality of life are critical to achieving sustainable economic prosperity throughout our state".

Read Grow Smart's 2007 Policy & Legislative Agenda
"Growing Smart with Transit" unveiled by

civic, business leaders

New report calls for a major boost to Rhode Island's mass transit system and suggests adding streetcars to complement bus service in the metro area

Calling it vital to the future of Providence and the state, a public transit study group formed by Providence Mayor David N. Cicilline is calling for a significant investment in mass transit statewide and raising the possibility of bringing streetcars back to the capital city.

The Transit 2020 Working Group, chaired by Donna Cupelo, Regional Vice President of Verizon Communications, is composed of a broad cross-section of community stakeholders, including Grow Smart Executive Director Scott Wolf.

The Working Group's report concludes that without a dramatic expansion of regional mass transit, growth already occurring in Greater Providence will turn Interstate 95 and other roads and highways into parking lots during rush hour and hinder economic development. Read More

Download the full report (pdf)
Developing the New Urbanism

Grow Smart to partner in March 30th conference presented by CNU New England in Lowell, MA

A regional gathering of the Congress for the New Urbanism (CNU) will provide a day of educational sessions with national experts, interactive hands-on workshops and networking in one of New England's revitalized downtown success stories.

Grow Smart Board Member Arnold "Buff "Chace will participate in a Developers' Roundtable, while Executive Director Scott Wolf will discuss the role of nonprofit advocacy organizations in the development process.
Using Tax Increment Financing (TIF)

for brownfields redevelopment

The latest edition of the Northeast Midwest Economic Review includes an article by Senior Policy Analyst Evans Paull outlining how tax increment financing (TIF) , a financing tool that leverages future tax revenue from major real estate projects, can advance brownfield cleanup and redevelopment.

Tax Increment Financing (TIF), once considered on the cutting edge of economic development incentives, is now a mainstream tool in most parts of the country. Several states - most notably Michigan, Connecticut, and Wisconsin - have taken the lead in structuring state-facilitated TIF financing as an effective and efficient means to improve their brownfields programs and obtain redevelopment results.

Rhode Island is among the states that have enabling legislation authorizing municipalities to utilize TIF as a way to finance a variety of public infrastructure improvements including brownfields clean-up, sewers, sidewalks and even public schools and libraries, but the use of TIF here has been limited to a small number of projects in Providence, while other communities such as Coventry have been examining its potential.

The Northeast-Midwest Institute is a Washington-based, non-profit, and non-partisan research organization dedicated to economic vitality, environmental quality, and regional equity for Northeast and Midwest states. The Institute works closely with the Northeast Midwest Senate Coalition, co-chaired by Rhode Island's senior U.S. Senator, Jack Reed.

View the full article (pdf)
Smithfield takes fresh approach to

economic development

Study commissioned by Planning Department focuses on untapped potential of the town's historic villages

Major changes may be on the horizon for how the Town of Smithfield pursues future economic development opportunities. Working with the consulting group New Commons, the town's Economic Development Commission is mapping out a strategy to better promote small business development in its collection of villages, including Greenville, Esmond, Harmony and Georgiaville.

Based on input from a series of focus groups and from an analysis of what gives Smithfield its defining character, the village identities emerged as what should be strengthened and used as the building blocks for future efforts to market the town, according to officials.
CALENDAR Highlights


Click here to let us know if you would like your land-use/water resources related conference or workshop listed on our CommunityConnectionRI Calendar.

Tuesday, March 27, 2007 (9:00a - 3:00p)

Sponsored by the URI Cooperative Extension in cooperation with the RI Division of Agriculture and Marketing.

South Kingstown Land Trust Field Office

South Kingstown

March 28-29, 2007
Jamestown is the latest Rhode Island

municipality to explore wind power

Other towns considering wind power include Bristol, Portsmouth, South Kingstown, Warren and Westerly

The Jamestown Town Council is poised to establish a Wind Energy Committee to explore options for generating its own electricity through wind powered turbines. Interest in municipal wind power generation seems to have increased greatly since the Portsmouth Abbey recently installed the first large wind turbine in Rhode Island in 2006.

So far in Jamestown, 18 residents applied to serve on the committee offering backgrounds in science, engineering and wind power. The committee will examine how much energy might be produced, for what purposes and where a proposed turbine or turbines might be located. Options range from a single turbine to power the town's wastewater operation to as many as three 10-megawatt turbines that would power the entire island.
'Growth & Development' in the news


Send us Your News We want to know what's happening in your community.

New England


Statewide


Aquidneck Island

Barrington

Bristol

Burrillville

Central Falls

Charlestown

Cranston

Cumberland

Exeter

Foster

Hopkinton

Jamestown

Johnston

Lincoln

Narragansett

Newport




North Smithfield