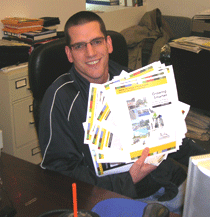 Providence Business News production artist Christopher Medeiros puts in overtime laying out Grow Smart's 10th Year Anniversary special insert that will appear in its April 7th issue.





Board of Directors

Deming E. Sherman

Chairman of the Board

Susan Arnold

William Baldwin

Rebecca G. Barnes

Samuel J. Bradner

Kenneth Burnett

Joseph Caffey

Robert L. Carothers

Jen Cookke

Trudy Coxe

Dennis DiPrete

Stephen Durkee

Stephen J. Farrell

John R. Gowell, Jr.

Akhil C. Gupta

Michael S. Hudner

Stanley J. Kanter

Howard M. Kilguss

Dennis Langley

James Leach

Roger Mandle

The Rev. James C. Miller

Thomas V. Moses

George Nee

William M. Pratt

B. Michael Rauh, Jr.

Gary Sasse

Richard Schartner

Pamela M. Sherrill

Curt Spalding

James F. Twaddell

Directors Emeritus

Arnold "Buff" Chace

Louise Durfee, Esq.

J. Joseph Garrahy

Michael F. Ryan

Frederick C. Williamson

W. Edward Wood


Staff

Scott Wolf

Executive Director

Director of Programs

Director of Research & Communications

Land-Use Training Coordinator

Executive Assistant for Finance

Office Assistant
---
Upcoming Workshop
"Making Good Land-Use Decisions"
Starting April 23, 2008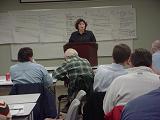 ---
Check out our Smart Growth
Resource Directory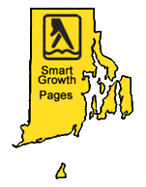 ---
Browse e-brief archives
and press releases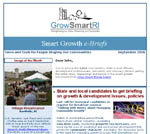 ---
Visit CommunityConnectionRI
Calendar
---
Dear John,

You're among the 3,550 civic leaders, state & local officials, development professionals, journalists and visionary citizens getting the latest news, happenings and trends in the smart growth movement from Grow Smart Rhode Island.



May 2nd 'Power of Place Summit'

agenda, registration now available online

Gathering will focus on strategies for advancing sustainable prosperity

Grow Smart's inaugural Power of Place Summit in 2006 drew nearly 500 opinion leaders, state and local officials, academics, development professionals, investors, journalists and citizen activists for the launch of Rhode Island's new smart growth oriented state land-use plan.

This upcoming Summit will take a closer look at how the growth and development choices we make today will impact our economy, quality places, public health, environment, the efficiency of state and local government and the taxes we pay. We'll look at what's working and what needs to be improved to grow our innovation economy, revitalize our walkable centers, ensure agricultural viability, promote healthy lifestyles and reduce global warming pollution, among other key goals for a prosperous and sustainable future.

Exhibit space still available

Early bird registration discounts apply through 4/18.

Click HERE for Summit Details.
Katz, "Blueprint for Prosperity" to

headline Summit gathering

Founder and Director of Brookings' Metropolitan Policy Program will deliver morning keynote address

Bruce Katz will present the Brookings Institution's recently released "Blueprint for American Prosperity," and its implications for Rhode Island's economic future. The Blueprint makes a compelling case that the assets needed to prosper today are rooted in our metropolitan areas. The blueprint calls for a new federal partnership with state, local and private sector leaders to strengthen metropolitan economies, build a strong and diverse middle class and to grow in environmentally sustainable ways.

Panel Response *

Following the keynote address, a one-hour panel discussion reacting to the presentation will be moderated by Providence Business News editor Mark Murphy. With audience participation, the panel will discuss the Blueprint's application to Rhode Island and what tactical strategies are most needed to better position the Ocean State for long-term sustainable prosperity. Also to be discussed are the relevant results of Richard Seline's recently completed economic research on behalf of the Greater Providence Chamber of Commerce and the Providence Foundation.

* Governor Carcieri invited
Historic Tax Credit changes expected as

House Finance considers Supplemental

Budget for FY '08

Action expected at April 1st meeting

The House Finance Committee's hearing and/or consideration of the Governor's proposed FY-2008 Supplemental Budget, scheduled for April 1, could give the first indications of the historic tax credit's future. Article 20 of the Governor's Supplemental Budget (H-7204), beginning on page 102, calls for a $20 million retroactive cap on historic tax credits for Fiscal Year 2008 and a cap of $40 million for Fiscal Years 2009-2017. Grow Smart and the Coalition for Neighborhood and Economic Renewal (CNER) have testified (02/05/08 Testimony) in two House Finance Committee hearings that at a time when the state's general economy and the construction industry are already weakening, the caps would shut down projects in the pipeline and prevent planned projects from moving forward. The CNER also noted that a retroactive cap would severely damage Rhode Island's reputation as a good place to do business.

The House Leadership, House Finance Chair Stephen Costantino, and the House Fiscal Office have been meeting over the past week with various members of the development community in an effort to craft an alternative to the caps that would honor the state's commitment to developers and tax-credit purchasers while at the same time helping to address the FY 2008 budget deficit and reduce the "cost" of the tax credit to the state going forward. As this e-brief goes out, all parties are hopeful that language will be ready for the Finance Committee's consideration tomorrow (April 1, 2008).

"Given the State's fiscal crisis, we must unfortunately expect significant changes," commented Grow Smart's Executive Director Scott Wolf. "However, until every vote affecting the tax credit has been taken, tax- credit supporters need to continue to work with legislators to craft the best possible solution - a solution that considers program costs and benefits going forward, commitments already made by the State, and the impact that any major cutbacks to the tax credit program could have on the depth and duration of our current recession."
Report calls for 'new transportation future'

Expanding the regional mass transit system would yield big savings in energy, time, money and greenhouse gas emissions, according to a report released this morning by the Rhode Island Public Interest Group.

The downtown train station was the setting for the release of the report by RIPIRG analyst Phineas Baxandall, co-author of "A Better Way to Go: Meeting America's 21st Century Transportation Challenges with Modern Public Transit," sponsored by the U.S. PIRG Education Fund. Joining him for the 10 a.m. news conference were government and environmental leaders including Mayor David N. Cicilline; R.I. Sen. Daniel P. Connors, D-Cumberland and Lincoln, co-chair of the Special Legislative Committee to Study Public Transit in Rhode Island; and Chris Wilhite, director of the Sierra Club's Rhode Island Chapter.

Read [MORE] from Providence Business News
Choosing a Place to Live

Why it's as important as picking a spouse. A Q&A with Richard Florida

The world is not flat, says Richard Florida, contrary to the bestselling book by New York Times writer Thomas Friedman. Florida, author of his own bestselling book, The Rise of the Creative Class, and a professor of business and creativity at the University of Toronto, argues that while Friedman is correct in saying that technology has reshaped the world, it has not created a level playing field. With newly accumulated data to back him up, Florida argues in his upcoming book Who's Your City? that the world is, in many ways, spiky-with population, opportunity, innovation, and money increasingly coalescing in metropolitan areas worldwide.

That means pursuing a career and staying close to family and friends are often at odds. Deciding what makes you happy, he argues, must go hand in hand with deciding where you want to live. Recently, Florida spoke with U.S. News.

[MORE]