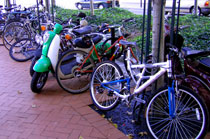 Photo by Jef Nickerson
Bike Directions by Google

On March 10th, Google Maps launched bicycle directions for

150 American Cities,

including Providence.


Streetsblog has an audio interview with Google Engineer Scott Shawcroft about the roll out of bike directions and Google's future plans for it.



(Former) Board member
in the News

Curt Spalding


On February 17, 2010, the U.S. EPA formally welcomed Curt Spalding as the Regional Administrator of the U.S. EPA's New England regional office in a swearing in ceremony in Providence. Since its founding in 1998, Curt provided invaluable counsel to Grow Smart RI as a member of its Board of Directors. We miss you already - Good luck Curt!
Read more



Grow Smart Rhode Island

Board of Directors

Howard M. Kilguss

Chairman of the Board

Susan Arnold

William Baldwin

Rebecca G. Barnes

Samuel J. Bradner

Kenneth Burnett

Joseph Caffey

Robert L. Carothers

Jen Cookke

Trudy Coxe

Dennis DiPrete

Stephen Durkee

Stephen J. Farrell

Michael L. Friedman

Wilfred L. Gates

John R. Gowell, Jr.

Akhil C. Gupta

Stanley J. Kanter

Jason E. Kelly

Dennis Langley

James Leach

Thomas V. Moses

William M. Pratt

B. Michael Rauh, Jr.

Richard Schartner

Lucie G. Searle

Deming E. Sherman

Pamela M. Sherrill

John C. Simmons

Jonathan F. Stone

James F. Twaddell

Directors Emeritus

Arnold "Buff" Chace

Louise Durfee, Esq.

J. Joseph Garrahy

Michael S. Hudner

Michael F. Ryan

Frederick C. Williamson

W. Edward Wood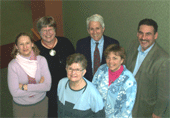 Staff

Scott Wolf

Executive Director

Director of Programs

Director of Research & Communications

Executive Assistant for Finance

Office Assistant

Training Coordinator

Save-The-Date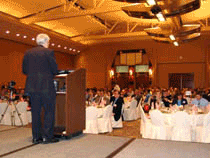 Grow Smart RI will present its 3rd Biennial Power of Place Summit on

Friday, May 14, 2010

at the RI Convention Center. Stay tuned for special announcement of keynote speakers. Online registration to open this month

Request for Proposals

Pawtucket Urban Design & Transportation Circulation Plan

Issued: March 10, 2010

Deadline: April 12, 2010

Read more from

the Pawtucket Foundation.

Aquidneck Island Transportation Study


Take the survey by 3/17/10







The purpose of this survey is to solicit opinions on the evaluation criteria for the Aquidneck Island Transportation Study. Your confidential answers will inform the study team assessing the merits of a range of potential transportation enhancements.

Partnership for Community Development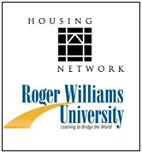 TIME TO ENROLL FOR FALL COURSES!!! This fall RWU will offer two of the core courses - Elements and Issues in Community Development and Community Economic Development- as well as a wide array of electives.

Social Justice

& The City

Sustainable Urban Development: The Case for Rhode Island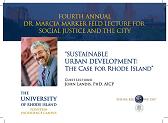 Featuring John Landis, PhD, AICP, Crossways Professor & Chair, Department of City and Regional Planning University of Pennsylvania.
Tuesday April 20th, 2010, 7:00 PM
---
---
Grow Smart Rhode Island Workshops
---
Miss a previous e-brief?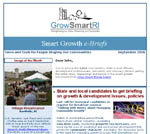 ---
John,

You're among the 3,410 civic leaders, state & local officials, development professionals, journalists and visionary citizens getting the latest news, happenings and trends in the smart growth movement from Grow Smart Rhode Island.



Welcome to our new look

Communications update reflects Grow Smart's commitment to sustainable economic growth and quality of place

After 12 years of working with diverse partners to think and act more strategically about integrating housing, transportation, economic development and environmental decisions, we thought it was time to sharpen our communications and freshen up our look.

The Board of Directors asked local communications and nonprofit consultant David Karoff to assist the Board in updating its mission statement and communications. It then engaged the local artistic talent of Isolde Maher of 4 Eyes Design to create a new logo that best reflects Grow Smart's work in helping to shape a better Rhode Island. We're grateful to both for their generosity and commitment.

The resulting mission statement:

"Grow Smart Rhode Island advocates sustainable economic growth that builds upon and strengthens Rhode Island's exceptional quality of place".

We work to achieve:


Revitalized, walkable urban and town centers

Housing options and affordability

Expanded transportation choices

A vital agricultural sector

Responsible stewardship of natural resources

We will continue to leverage the talents, ideas and energy of our many diverse partners in transforming our beloved and quirky Rhode Island into an economic and cultural leader for future generations.
Transportation coalition to host

breakfast meeting April 9th

Coalition for Transportation Choices advances agenda for 21st century transportation system that enhances our economy, affords Rhode Islanders healthy, efficient and affordable transportation choices

The CTC invites you to a breakfast meeting for an update on its 2010 Legislative & Policy Agenda. Learn also about CTC's grassroots (and grasstops) advocacy to sustain the necessary investments to get our roads and bridges in a state of good repair while also improving our statewide transit system to become a more viable option for more Rhode Islanders. John Flaherty, Grow Smart's Director of Research & Communications, co-chairs the CTC along with Sheila Dormody, the Executive Director of Clean Water Action.

CTC Breakfast Meeting

Friday, April 9th (8:30-10:00 a.m.)

Rhode Island Foundation

One Union Station

Providence

This event is free, but space is limited. RSVP now to reserve your place.

About the Coalition for Transportation Choices

The Coalition for Transportation Choices (CTC) is a diverse alliance of more than 30 organizations representing economic, social and environmental interests. The CTC is working with state agencies, municipalities, legislators, civic organizations, the business community and members of the public to promote awareness, understanding, support and new ideas to help improve the state's multi-modal transportation system.
Still time to reserve your ad in PBN

preview of Power of Place Summit

Grow Smart is once again partnering with Providence Business News to produce a Special Supplement to preview the Power of Place Summit taking place on Friday, May 14th at the Rhode Island Convention Center.

Space and materials deadline is March 26, 2010. The supplement will appear in the April 12th edition of Providence Business News.

CONTENT TO INCLUDE:


The state of Smart Growth in Rhode Island and its role in shaping a more efficient and prosperous future




Preview of keynote presenters, Summit program, workshop descriptions, panelists and organizational partners




Outline of significant policy changes at the federal level that will help Rhode Island better implement smart growth and capitalize on its many strengths




Updates on how several leaders throughout Rhode Island are already succeeding in efforts to advance sustainable economic growth and quality places



Download the Sales Sheet here [.pdf]

Special announcement coming soon on keynote presenters. Read more about the Power of Place Summit on our blog.
Upcoming workshops for local officials,

board and commission members

Sign up now for the classes that have already helped more than 500 local land-use decision-makers to do their work more effectively

Making Good Land Use Decisions

Wednesdays, April 7th, 14th & 28th, (5:30-9:00 p.m.)

Location: South County Neighborhood Guild


Taught by land-use attorneys and professional planners, Making Good Land Use Decisions is designed primarily for Town Councils, Planning Boards, Zoning Boards, and the municipal staff that support those bodies. It is also valuable for Conservation Commission members and interested citizens.

Participants learn about planning, smart growth, and local comprehensive plans; their legal responsibilities as public officials; the legal requirements and recommended practices for conducting reviews; and the basics of deliberating to reach a decision.

In response to municipal budget challenges, we have reduced registration fees and also offer scholarships.

Writing Sound Decisions

Thursday, June 3, 2010 (5:30-9:00 p.m.)

Location: Northern RI (TBD)




Wednesday, June 9, 2010 (5:30-9:00 p.m.)

Location: Portuguese American Social Club - Jamestown, RI

A one-evening class for board and commission members who have already taken Making Good Land- Use Decisions, Writing Sound Decisions is designed to help municipal planners, legal staff and boards and commissions write decisions whose content will hold up in court and whose clarity will make them readily understandable for both enforcement officers and property owners. It is specifically intended to address the problem, noted repeatedly in recent Superior Court and Supreme Court decisions, that written decisions coming out of municipal planning boards and zoning boards do not explain how the evidence contained in the record led the board to reach its conclusions.

Registration fees for many communities are fully or partially covered by the RI Interlocal Risk Management Trust.

About the Grow Smart RI Land-Use Training Collaborative The Grow Smart RI Land-Use Training Collaborative is an alliance of agencies and organizations that share a commitment to the principles of smart growth and sustainable community development. The partnering members believe that if we are to curb the sprawling development patterns that threaten Rhode Island's open space, urban vitality and community character, municipal officials and staff must be fluent and comfortable with the principles and practices of sound land-use planning. At the same time, citizens must be equipped with the knowledge necessary to have a stronger voice in local decisions, and the development community must also be brought into local planning efforts.
From our Blog

Between eBriefs, keep up with Grow Smart on our blog. Recent posts include:

Optimism Offensive
David Scharfenberg writes about Scott Wolf's one- man optimism offensive in the Providence Phoenix.
Read and discuss

ProJo Editorial: The obesity challenge
First Lady Michelle Obama has launched Let's Move, a program to counter childhood obesity. The program however does not address farm subsidies which make poor nutritional food inexpensive nor federal subsidies which encourage sprawl and auto- dependency.
Read and discuss

Scott Wolf ProJo OpEd: Myth of a bloated R.I.
As part of GrowSmart's ongoing effort to enhance the dialogue and decisions about Rhode Island's future, Scott Wolf recently had the following op-ed published in the Providence Journal. Scott's piece rebuts some unrealistically negative assertions about Rhode Island contained in an Ed Achorn February 9, 2010 column. Scott concludes that "To deal with the challenges facing us, we will be best served by a hard nosed look at the facts about our strengths and weaknesses rather than by a twisting and flouting of the facts that creates a false sense of hopelessness and desperation."
Read and discuss

Sign up for our blog's RSS Feed to be updated when we post.
We're on Facebook

Become GrowSmartRI's fan on Facebook. On Facebook we post updates on smart growth stories in Rhode Island and around the country and also post updates on events related to smart growth happening in Rhode Island.

When you become a fan, ask your friends to become a fan too.
CALENDAR Highlights:


Click here b> to let us know if you would like your land-use/water resources related conference or workshop listed on our CommunityConnectionRI Calendar.

Wednesday, March 17, 2010 6:00 p.m. - 8:00 p.m.
Place/Displace: Providence & the 20th Century
"Place/Displace: Providence and the Twentieth Century," by R. Tripp Evans, Ph.D., will discuss the International Style, Modernism, and the current Green Building movement. This lecture is free to PPS members, and $10 for non-members. Registration is required; please contact kmcareavey@ppsri.org
Location: Providence Career & Technical Academy, 91 Fricker Street, Providence

Providence

Saturday, March 27, 2010 (7:45 a.m. - 4:30 p.m.)
The 2010 Land & Water Conservation Summit
Sponsored by the Narragansett Bay Estuary Program, RI Land Trust Council and the RI Association of Conservation Commissions. Online registration is now open.
Location: URI Memorial Union
Kingston

Saturday, April 24, 2010
25th Annual Statewide Historic Preservation Conference
Sponsored by the Rhode Island Historical Preservation & Heritage Commission.
Little Compton
'Growth & Development' in the news

Rhode Island & Region

Block Island

Cranston

East Providence

Newport

North Kingstown

North Providence

Pawtucket

Providence

South Kingstown

Warwick