Grow Smart mourns the passing of Board member Fred Lipptt

Remembered as a beloved and selfless community leader,

Grow Smart mourns the loss of Board member Frederick Lippitt,

who died on May 11, 2005.

Passionate about what made his native state so great, Fred was a longtime supporter of the smart growth movement in Rhode Island and was instrumental in the founding of this organization. He provided valued counsel as a public servant with vision and dedication to constructive problem solving.

Obituary for Fred Lippitt

Grow Smart Board of Directors

Michael F. Ryan

Chairman of the Board

Susan Arnold

Joseph Caffey

Robert L. Carothers

Arnold Chace

Jen Cookke

Trudy Coxe

Peter Damon

Stephen J. Farrell

Thomas E. Freeman

J. Joseph Garrahy

John R. Gowell, Jr.

Stephen Hamblett

Robert Harding

Michael S. Hudner

Stanley J. Kanter

Howard M. Kilguss

Thomas A. Lawson

Dennis Langley

James Leach

Frederick Lippitt

Roger Mandle

Rev. James C. Miller

Thomas V. Moses

George Nee

B. Michael Rauh, Jr.

Gary Sasse

Richard Schartner

Deming Sherman

Merrill Sherman

Curt Spalding

James F. Twaddell

Ranne Warner

Sandra Whitehouse

Frederick C. Williamson

W. Edward Wood

Board Listing with Affilliation

Staff

Executive Director

Director of Programs

Director of Research & Communications

Office Manager / Executive Assistant

Office Assistant

Research Assistant
---
Want to join an

expanding network of

smart growth practioners?

Click below for details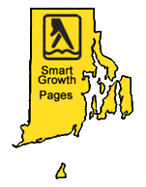 Smart Growth

Toolbox Topics

Dear John,

You're among the 2,502 opinion leaders, state & local officials, development professionals, journalists and visionary citizens getting the latest news, happenings and trends in the smart growth movement from Grow Smart Rhode Island.



Grow Smart Releases '05 Legislative & Policy Agenda

From economic development to neighborhood revitalization, farm preservation, affordable housing, property tax reform and transportation, Grow Smart sets its agenda with the General Assembly and the Administration on a number of initiatives to strengthen our community.

According to Grow Smart Executive Director, Scott Wolf, "We aim to raise the awareness of the public and a broad spectrum of governmental and community leaders about the importance of encouraging planned, sustainable economic and residential development in our urban, town and village centers while protecting Rhode Island's outstanding quality of life."

Read Grow Smart's 2005 Legislative & Policy Agenda
Nation looks to RI as model for Urban Redevelopment

Prepared by the National Association of REALTORS®, a new report entitled Urban Redevelopment Success Stories features a series of case studies that examine seven redevelopment projects across the country that have served as catalytic projects for urban revitalization in their communities.

The Alice Building in Downcity Providence is among the case studies that profile successful urban redevelopment projects and the tools used and lessons learned. Among the findings was the importance of financial incentives such as historic tax credits.
Revived urban fund helps finance pivotal projects

Although active in the marketplace for just 6 months, the newly capitalized Urban Revitalization Fund of Rhode Island (TURF-RI) has already provided critical financing for two commercial real estate projects aimed at expanding job growth in distressed urban communities.

Led by veteran bank executive Michael Saul, TURF provides technical assistance and tailored financial products that make otherwise unfeasible projects feasible. TURF used initial funding from the CDFI Fund of the U.S. Department of the Treasury to leverage additional funding from Bank of America, Citizens Bank and Sovereign Bank.

The growing fund, now at over $2 million, is used to make equity like investments to qualified developers and not for profit organizations involved in the revitalization of commercial properties in Rhode Island's urban areas.
3-Year Plan sets Grow Smart strategy

Following a process that included an online survey completed by almost 300 e-brief readers, 1-on-1 interviews with community opinion leaders and a strategic planning retreat, the Grow Smart Board of Directors has ratified a strategic plan prioritizing activities for the next three years that will do the most to ensure strong, vibrant communities.

The plan calls for an expansion of Grow Smart's award winning municipal training program and a major commitment to establishing a state policy of targeting infrastructure, housing, transportation and community development investments to locally designated growth centers. Continued work on incentives for urban and town center revitalization is also emphasized, along with a communications effort to make the land use case for property tax reform. Three areas recommended for some increased emphasis are transportation, project commentary and farm preservation.
PBS to air documentary about sprawl in New England

Livable Landscapes: By Chance or By Choice? is a one-hour documentary for public television that explores the transformation taking place in five communities across northern New England where people are struggling with tough choices about how their communities grow and change. Along with a viewers' discussion guide and a teaching curriculum, it holds lessons for people who care about their communities and the landscapes that define them, and leads us to question our stewardship of the land we are leaving for those who follow.

Airing date: Thursday, May 19, 2005 (10:00 pm), Channel 36

Click HERE to view a clip

Click

HERE

to get an email reminder
Editorial higlights need for zoning reform in RI

Excerpted from the Providence Journal of April 26, 2005...

"For centuries, in many parts of the world, apartments above shops were commonplace. Today, in much of the United States, having an apartment above a shop is illegal. The town-planning movement called New Urbanism seeks to build new villages and neighborhoods in ways that were conventional before World War II. Its toughest job is to change local zoning so that civic arrangements that made sense for hundreds of years are no longer illegal."
New report backs economics of historic preservation

Since it was first published by the National Trust for Historic Preservation in 1994, The Economics of Historic Preservation: A Community Leader's Guide has become an essential reference for any preservationist faced with convincing government officials, developers, property owners, business and community leaders that preservation strategies can make good economic sense.

In this eagerly awaited 2005 edition, author Donovan D. Rypkema - real estate consultant and nationally known speaker and writer - makes his case with 100 proven arguments on the economic benefits of historic preservation.

RI offers statewide Preservation Grants

The Rhode Island Historical Preservation & Heritage Commission announces that applications are now available for $1 million in State Preservation Grants to fund capital preservation work at public historic sites, museums and cultural arts centers located in historic structures. Learn more
CALENDAR

Wednesday, May 25 (7:00p - 9:00p)

Sponsored by The RI Natural History Survey and the Blackstone River Coalition.

North Smithfield

Thursday, May 26 (7:00p - 9:00p)

Presentation and discussion sponsored by the WCRPC and the Charlestown Affordable Housing Commission.

Charlestown

Wednesday, June 1 (7:00p - 9:00p)

Tools will be presented to help towns anticipate and proactively plan for the impacts of commuter rail extrension into the region.

North Kingstown

Saturday, June 4 (11:00a - 5:00p)

Sponsored by the Providence Preservation Society.

Downcity Providence

Saturday, June 4 (11:00 - 7:00p)

Presented by the Apeiron Institute for Environmental Living.

Coventry

Saturday, June 11 (11:00a)

Hosted by Woonsocket Neighborhood Development Corporation and Northern Rhode Island Affordable Homes Action

Woonsocket

Wednesday June 15 - Saturday, 18

Organized by the John H.Chafee Blackstone River Valley National Heritage Corridor Commission.

Blackstone Valley

* submissions for calendar items may be emailed to John Flaherty.
New evidence to support smarter street design

For decades wide suburban-style streets have been the norm in new developments. As the Smart Growth movement gained momentum, emergency response agencies, especially fire departments, expressed concern about the narrower streets seen in many Smart Growth developments. Their fears were that these streets would slow down responding vehicles in an emergency situation where seconds are precious, not provide sufficient setup room for fire trucks with ladders and "outrigger" stabilizer legs, and not allow second or third vehicles on a scene to pass a deployed fire truck.

The Local Government Commission has prepared two new fact sheets that address these issues, summarizing the solutions that make safe Smart Growth streets work for emergency responders as well as residents. The first fact sheet "Traffic Calming and Emergency Response" discusses retrofit solutions and the second, "Street Design and Emergency Response" looks at initial street design.

Download Traffic Calming and Emergency Response (pdf) - 4 pages
Growth and development issues in the news

Statewide

Massachusetts

Burrillville

Cranston

Coventry

Hopkinton

North Kingstown

North Providence

Pawtucket

Providence

Richmond

Tiverton

Woonsocket

Westerly

West Warwick