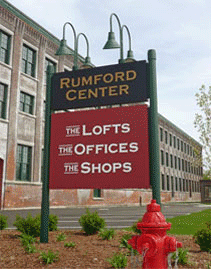 Re-Growth in Rumford
Former Rumford Chemical Works property brought back to life
A product of the State Historic Tax Credit program, the former Rumford Chemical Works is poised to re-open on June 11, 2009 as Rumford Center, a multi-building mixed-use complex including 87 loft style apartments, 53,000 SF of office space and 8,000 SF of retail space.
Rumford Center brings new vitality to the historic Rumford neighborhood. The complex will now become an economic, historical and cultural engine for this revitalized village center.
More about Rumford Center




Click the image above to see a
3-minute video about why
The Rhode Island Foundation
supports Grow Smart.
Grow Smart Rhode Island

Board of Directors

Howard M. Kilguss

Chairman of the Board

Susan Arnold

William Baldwin

Rebecca G. Barnes

Samuel J. Bradner

Kenneth Burnett

Joseph Caffey

Robert L. Carothers

Jen Cookke

Trudy Coxe

Dennis DiPrete

Stephen Durkee

Stephen J. Farrell

Michael L. Freidman

Wilfred L. Gates

John R. Gowell, Jr.

Akhil C. Gupta

Stanley J. Kanter

Jason E. Kelly

Howard M. Kilguss

Dennis Langley

James Leach

Thomas V. Moses

William M. Pratt

B. Michael Rauh, Jr.

Richard Schartner

Lucie G. Searle

Deming E. Sherman

Pamela M. Sherrill

John C. Simmons

Curt Spalding

Jonathan F. Stone

James F. Twaddell

Directors Emeritus

Arnold "Buff" Chace

Louise Durfee, Esq.

J. Joseph Garrahy

Michael S. Hudner

Michael F. Ryan

Frederick C. Williamson

W. Edward Wood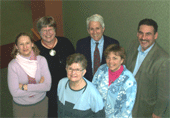 Staff

Scott Wolf

Executive Director

Director of Programs

Director of Research & Communications

Executive Assistant for Finance

Office Assistant

Training Coordinator

Thursday, June 19, 2009


The New Public Transit Alliance is planning a special event to celebrate

Dump The Pump Day.

Stay tuned for details.
Dear John,

You're among the 3,285 civic leaders, state & local officials, development professionals, journalists and visionary citizens getting the latest news, happenings and trends in the smart growth movement from Grow Smart Rhode Island.



Howard Kilguss takes reins as newly

installed Chairman of Grow Smart RI

Accomplished businessman and entrepreneur with a long history of civic leadership succeeds prominent attorney and preservationist Deming Sherman

Howard M. Kilguss, Chairman and partner of Bioprocess Technologies of Portsmouth, was unanimously elected Chairman of the Grow Smart Rhode Island Board of Directors on May 7, 2009, succeeding Deming E. Sherman.

Kilguss has served the organization as a member of its board since 2000, and has also served as chairman of its Board Development Committee and as a member of its Executive Committee for several years. His election to the Grow Smart Board Chairmanship is the latest in a series of community leadership positions including memberships on the boards of Save The Bay, the Rhode Island Public Expenditure Council and the Rehoboth Land Trust. Kilguss, an amateur rowing enthusiast who earned a silver medal in the U.S. National Championships, also serves on the Governance Studies Advisory Board for the Washington, DC-based Brookings Institution and was a New England Advisory Council member of the Federal Reserve Bank of Boston.

Outgoing Board Chairman Deming E. Sherman, a partner in the law firm of Edwards, Angell, Palmer and Dodge LLP, has been a member of the board since Grow Smart's founding eleven years ago, serving as Board Chairman for the last three years. He will remain a member of the Board and Executive Committee.

During Sherman's leadership, the organization has been the principal advocate for the far-reaching economic and community revitalization benefits of the popular State Historic Tax Credit, while also shaping long-term policies to enhance public transit and conserve farmland, forests, water and other important natural resources. The group's efforts on a wide range of growth-related issues have produced new influence and recognition as reflected in recent awards from the Environmental Business Council of New England, the Providence Preservation Society and the Rhode Island Historical Preservation & Heritage Commission.
Push is on to stabilize, strengthen RIPTA

finances before General Assembly ends

With financial and operational audits showing a generally well-run agency, advocates focus on reforming the way public transportation is funded in Rhode Island

Aiming to avoid the recurring fiscal crisis that forces the agency's Board of Directors to hike fares and cut service, the New Public Transit Alliance (NuPTA) has been promoting funding reform policies that safeguard the agency against the negative impacts that volatile gas prices have had on the transit agency's budget. This phenomenon was particularly pronounced during the summer of 2008 when fuel prices skyrocketed, gas consumption decreased sharply (causing a significant drop in RIPTA revenue) and demand for public transportation soared. [More]

View the funding reform bills that Grow Smart supports

Links

to RIPTA's audit, review

RIPTA not alone:

Gas tax funding undermines transit agencies coast to coast

Share your views on transit funding through our new blog.


Major transportation reform underway in Washington - contact your Senators

With debate about the reauthorization of the Federal Transportation Act now underway in Washington, DC, Senators Lautenberg (D-NJ) and Rockefeller (D-WV) are proposing a bold new vision for federal transportation funding.

There is presently no overarching strategy that determines when, how, or where transportation dollars are spent? No plan. No vision. No goal.

The Lautenberg/Rockefeller bill (S. 1036) aims to change that. Their bill outlines a vision and purpose for federal transportation policy that is in line with goals for building a cleaner, smarter, safer system that provides more travel choices for all Americans. But their bill - and real reform - needs the support of many more senators to become the law of the land.

Take 30-seconds now to ask Senators Reed and Whitehouse to become cosponsors of the Transportation Policy and Planning Act of 2009.
Rhode Island gets $1.8 million to clean

brownfield sites

Polluted sites in Cumberland, Glocester, East Providence, Pawtucket and Woonsocket among those targeted for clean-up and redevelopment

Pawtucket Mayor James Doyle joined U.S. Senators Sheldon Whitehouse and Jack Reed, along with an EPA administrator on May 18, 2009 to announce the award of $1.8 million to help return contaminated properties back into productive use, while stimulating job production in Rhode Island. Grow Smart sent a letter to the U.S. EPA endorsing the grant application that led to this award.

$800,000 will be used to jump-start the clean-up and redevelopment of four specific sites, while the remaining $1 million will be used to assess and qualify locations statewide for clean-up assistance. A brownfield site is defined as a property where re-use is complicated by the presence or potential presence of a hazardous substance, pollutant or contaminant.

Grow Smart has long supported efforts to clean and redevelop brownfield sites as a way to revitalize Rhode Island's urban, town and village centers and to reduce development pressure on the state's remaining farmland and forests.

More from Projo.com
Rhode Island's Ag sector shows growth:

Continued federal incentives announced

Total number of farms, working land and value of production up significantly

With the new growing season under way, Rhode Island farmers and consumers are celebrating the first crops of the year and the opening of farmers' markets around the state, and have also received two welcome pieces of news from the U.S. Department of Agriculture.

The USDA announced in May that it has provided $4.2 million in funding to Rhode Island's National Resources Conservation Service to preserve farmland. The funding comes from the Farm and Ranch Lands Protection Program and will be used to purchase farmland conservation easements. "This program helps ensure that valuable, productive land is protected," said Rhode Island State Conservationist for the U.S. Department of Agriculture Phoukham Vongkhamdy. NRCS will accept funding proposals until June 20 from state and local governments, tribal leaders and non-government organizations.

News of the USDA conservation funding followed an earlier report from the 2007 Census of Agriculture that showed Rhode Island has experienced a significant growth in agriculture. The 2007 Census will be available in hard copy in July, 2009. The Census, which is conducted every five years, showed that the number of farms in Rhode Island ... [ More]

Visit Farm Fresh RI's website to find the farmers' market closest to you.
Blueprint America: Road to the Future

PBS documentary examines our aging infrastructure, the choices we make and the effect they have on the way we live.

May 20, 2009 - Over the next 40 years, America's population will grow by more than an estimated 130 million people - most will settle in or near the country's major population centers. At the same time, an unprecedented multi-billion dollar public works investment is being made by the federal government to rebuild both the weakened economy and stressed national infrastructure. And, Congress is about to consider a transportation bill that will determine the course of the nation's highways and transit for years to come.

Host and veteran correspondent Miles O'Brien goes to three very different American cities - and their surrounding suburbs - to look at each as a microcosm of the challenges and possibilities the country faces as citizens, local and federal officials, and planners struggle to manage a growing America with innovative transportation and sustainable land use policies.

Grow Smart believes that Rhode Island has an opportunity to better position itself to compete in the new economy while advancing environmental sustainability.
"Where do the Children Play?"

Documentary screening June 4th

Grow Smart's Scott Wolf to join panel discussion

The Providence Children's Museum joins the Audubon Society of Rhode Island to present a free public screening of "Where Do the Children Play?" on Thursday, June 4th (7-9 PM) at the Audubon Society's Environmental Education Center in Bristol.

This thought-provoking documentary examines an issue of growing concern among pediatricians, mental health experts, educators and environmentalists: more children are growing up today with little or no opportunity for unstructured play, especially outdoors.

Following the screening, panelists Janice O'Donnell, executive director of Providence Children's Museum; Kristen Swanberg, Audubon's senior director of education; and Scott Wolf, executive director of Grow Smart Rhode Island, will kick off a lively discussion.

[More]
URI Prof says urban revitalization

key to righting Rhode Island economy

Edward M. Mazze

Distinguished University Professor of Business Administration, University of Rhode Island

"An important part of economic development should be the revitalization of cities and towns that lost businesses and their economic base. Rhode Island should offer a "shovel-ready program" designed to help companies locate and develop a site quickly by working with cities and towns in identifying sites as 'ready for development.' "

More from Projo.com
Transportation, land-use planning grants

to be made available this summer

Statewide Planning Program advises interested municipalities to anticipate the required 20% match when preparing FY 2010 budgets

The Rhode Island Department of Administration, Statewide Planning Program anticipates inviting qualified applicants to submit proposals for a new round of Planning Challenge Grants. Similar to the previous funding cycles, these grants may be used to support transportation and land use planning studies that advance the objectives of the State Guide Plan's Land Use 2025 and Transportation 2030 elements.

It is anticipated that funding will be made available in FY 2010 for project awards in amounts ranging from $25,000 to $100,000. Each grantee will be required to provide a match share totaling 20% of the total project cost. A detailed request for proposals for this grant program is likely to be released in the summer of 2009.

Click HERE to view a summary of all previously funded Planning Challenge Grant proposals.
CALENDAR Highlights:


Click here b> to let us know if you would like your land-use/water resources related conference or workshop listed on our CommunityConnectionRI Calendar.

This Week's Listings on CommunityConnectionRI:

Saturday, Sunday, June 6-7, 2009

Sustainable Living Festival

- Music, food, 80 workshops, vendors, activities, demonstrations.

Presented by the Apeiron Institute for Sustainable Living.

Location: The Apeiron Institute.

Coventry


Wednesdays, June 3, 10 and 17, 2009

Workshop

The Grow Smart Land-Use Training Collaborative is bringing its award-winning workshop series "

Making Good Land-Use Decisions

" to Northern Rhode Island. anyone who has attended Making Good Land-Use Decisions in the past and missed a session may take advantage of the spring programs to make up the missed session.

Location: The Audubon Society Education Center.

Smithfield