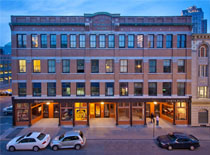 Open for Business

AS220 celebrates the re-opening of the Mercantile Block this month


In 2008 AS220 purchased the Mercantile Block, located on Washington Street in Providence for adaptive re-use. Directed by AS220 Development Manager (and Grow Smart Board member) Lucie Searle, the project was made possible because it was grandfathered into the now-suspended State Historic Tax Credit program (see more about tax credit in Legislative Update at right).

The adaptive reuse of the historic Mercantile Block provides for a vibrant mix of live and work studios, arts related offices and a one-of-kind, local retail and commercial space.
Congratualtions to Lucie, to project architects Durkee, Brown Viveiros and Werenfels and to AS220.

More



Grow Smart Rhode Island

Board of Directors

Howard M. Kilguss

Chairman of the Board

Susan Arnold

William Baldwin

Daniel A. Baudouin

Samuel J. Bradner

Kenneth Burnett

Joseph Caffey

Kathleen Connell

Gib Conover

Jen Cookke

Trudy Coxe

Kristin A. DeKuiper

Dennis DiPrete

Dr. David Dooley

Stephen Durkee

Stephen J. Farrell

Michael L. Friedman

Wilfred L. Gates

Akhil C. Gupta

Junior Jabbie

Stanley J. Kanter

Jason E. Kelly

Basil Lee

Stephen M. Maiorisi

Kelly Nickson Morris

Donald W. Powers

John A. Rupp

Richard Schartner

Lucie G. Searle

Deming E. Sherman

Pamela M. Sherrill

Julia Anne M. Slom

Jonathan F. Stone

Martha L. Werenfels

Directors Emeritus

Arnold "Buff" Chace

Louise Durfee, Esq.

J. Joseph Garrahy

Michael S. Hudner

Michael F. Ryan

W. Edward Wood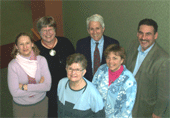 Staff

Scott Wolf

Executive Director

Director of Programs

Director of Research & Communications

Executive Assistant for Finance

Office Assistant

Training Coordinator
Aquidneck Island Transportation Plan unveiled May 4th



"Transportation Choice" advocates had good reason to celebrate the unveiling of the Aquidneck Island Transportation Study as the final plan emphasizes many opportunities and recommendations for enhanced transit, ped and bike alternatives.

Several members of the Coalition for Transportation Choices (CTC) have participated in AIPC public forums and have contributed specific recommendations. Kudos to AIPC for advancing a visionary planning tool!

Review the Plan

Affordable Housing in RI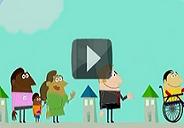 HousingWorks RI this week released a three-minute animated short to raise awareness about the need for long-term affordable housing in Rhode Island.




Economic Growth Proposal

click to watch 2-minute clip


State Rep. Jeremiah O'Grady discusses the benefits of one of Grow Smart's priority legislative initiatives in this year's General Assembly. The proposal would amend the property tax levy cap law to encourage municipal investments in smart economic development and job creation.

Read more about H-5496
---
---
---
---
John,

You're among the 3,567 civic leaders, state & local officials, development professionals, investors, decision-makers and visionary citizens getting the latest news, happenings and trends in the local smart growth movement.

We're Grow Smart Rhode Island. Partner with us. Support us with a tax deductible contribution. Let's make Rhode Island a better place together by playing to our strengths.



Nine elected to Grow Smart Board

At its May 18th, 2011 Board meeting, nine new members were elected to serve on the Board of Directors of Grow Smart RI.

Founded in 1998 as a statewide nonprofit organization, Grow Smart RI is a diverse alliance of business and civic leaders, urban revitalization and environmental advocates, developers, builders and active citizens that advocates for sustainable economic growth that builds upon and strengthens Rhode Island's exceptional quality of place.

New members, elected to serve a

3-year term, are:

Kathleen Connell, Senior State Director, AARP-RI. Her career in public service includes three terms as the elected Secretary of State in Rhode Island, a term in the Rhode Island Senate and sixteen years elected to local town offices in Middletown.
Gilbert (Gib) Conover, Jr., philanthropist, avid cyclist and former CEO/President, Goldline Controls, Inc.
Dr. David M. Dooley, President, University of Rhode Island. Dr. Dooley became URI's 11th president in July 2009 and also serves on the board of the Rhode Island Economic Development Corporation.
Junior Jabbie, Sales and Marketing Manager, Banneker Industries, Inc. Mr. Jabbie is Vice-President of the Rhode Island Young Professionals (RIYP) organization and a volunteer Big Brother with Big Brothers of Rhode Island.
Kelley Nickson Morris, Esq., Principal, Moses & Afonso, LTD. Ms. Morris is the former President Pro Tem of the Cumberland (RI) Town Council, on which she served as a member from 2006-2010. Much of her law practice focuses on municipal land use issues.
Donald W. Powers, AIA, LEED AP, Principal, Donald Powers Architects. Mr. Powers is an active member of the Congress for the New Urbanism and has a single minded vision to restore communities and save the world from sprawl.
John Rupp, Esq., Senior Associate General Counsel, Textron Inc. Mr. Rupp is a Trustee of the Providence Foundation, the former Board Chair of the Rhode Island Public Transit Authority and has been extensively involved in promoting enhanced public transportation both in Rhode Island and his native Illinois.
Julia Anne M. Slom, Senior Vice President, Commercial Real Estate Group, Washington Trust Company. Julia Anne serves on the Executive Committee Board for Big Sisters Rhode Island, the Board of Rebuilding Providence, and is an Advisory Board member of LISC (Local Initiatives Support Corporation).
Martha L. Werenfels, AIA, LEED AP, Principal, Durkee, Brown, Viveiros & Werenfels Architects. The principal architect for multi-phased restoration projects throughout Rhode Island, she is a past president of AIA/Rhode Island and is an advisor to the National Trust for Historic Preservation, serving on their sustainability task force.

Scott Wolf, Grow Smart's Executive Director, noted that this is the largest infusion of newcomers to the well respected and high profile Grow Smart Board since the organization's founding. He added: "The wealth of talent and generosity of spirit among the members of the Board of Grow Smart RI is deeply impressive. Grow Smart's success in recruiting so many dynamic and engaged leaders is a testament to the urgency of the work before us coupled with an abiding hope in Rhode Island's vast untapped potential. Let's get going."
Legislative Update:

The 2011 General Assembly, now in high gear, typically brings business to a close by the last week of June.

The following are highlights of pending legislation from Grow Smart's

Historic Tax Credit

(

H-6098

)

This proposal to restore a more targeted version of the State Historic Tax Credit program will be heard by the House Finance Committee on Tuesday, June 7th at 1:00 PM. "Like" our

Facebook Page

and stay tuned for details.

Transportation Investment & Debt Reduction Act

These twin bills have had favorable hearings by each chamber's respective Finance Committee. The 47-member Coalition for Transportation Choices is confident that key elements of the proposal will be enacted this year.

Amendment of Zoning Enabling Act

(

H-5553

/

S-306

)

This act expands the definition of "Overlay Districts" making it easier for municipalities to revitalize urban, town and village centers. The bill has been passed in each chamber and was transmitted to the Governor on 5/25.

Local Economic Development Incentive proposal (amendment to the Property Tax Levy Cap)

(

H-5496

)

This act would provide an incentive - and a means - for municipalities to encourage growth in urban and town centers. The bill was heard by the House Finance Committee on 3/9 and had the support of the City of Pawtucket and the League of Cities and Towns.
Rhode Island Agricultural Partnership

presents Five-Year Strategic Plan

Farmer-led plan offers a vision for further strengthening a bright spot in Rhode Island's economy

The Rhode Island Agricultural Partnership (RIAP)presented its Five-Year Strategic Plan on Thursday, May 12, 2011, during Rhode Island Agricultural Day at the State House.

Formed in 2009, the Agricultural Partnership is a farmer-led statewide consortium that represents the full diversity of agriculture in Rhode Island. Its Steering Committee is comprised of a majority of farmers but also includes several service providers and community stakeholders, including Grow Smart's Sheila Brush who chairs its Policy Committee and serves on its Executive Committee.

More than a year in the making, the development and publication of the Five-Year Strategic Plan has been funded through a grant from the van Beuren Charitable Foundation.

With implementation of several recommendations already underway, the Partnership is now stepping up efforts with state and municipal officials to integrate its recommendations into local Comprehensive Community Plans as well as the overarching plan for Rhode Island's future, known as the State Guide Plan.

Noting that Rhode Island's family farms are another example of the small businesses that drive the state's economy, RIAP Chairman Jan Eckhart of Sweet Berry Farm in Middletown observed that the current public support for local farms provides an opportunity to expand agricultural activities and increase farming's economic impact. "This Plan offers a vision of what agriculture can be in Rhode Island but is also realistic in identifying the difficult challenges that farmers face in making their operations economically viable. And it offers strategies for addressing those challenges."

Download a copy of the plan HERE.
Upcoming Workshops for citizen planners

Conducting Effective Land Use Reviews

Led by experienced Land Use Attorneys and Planners, this workshop will guide you through your legal responsibilities as a public official in Rhode Island and discuss in detail the legally required procedures and best practices that should be followed in conducting land use reviews. The workshop provides ample time for participant questions.

Workshops are geared to the needs of individuals serving on municipal boards and commissions such as Town Councils, Planning or Zoning Boards and Conservation Commissions.

Individuals can choose from the following:

Thursday, June 16th, 5:30-9:00 PM - Johnston, or

Thursday, June 23rd, 5:30-9:00 PM - Middletown

Get registration details HERE
Power of Place Summit

Mark your calendar

Grow Smart's 4th biennial Power of Place Summit will take place at the Rhode Island Convention Center on:

Friday, May 11, 2012

Details on partnership opportunities, call for workshop proposals, etc. coming soon.
Seniors piling on to public transportation

Nationally, the use of public transportation among older Americans has increased by 40% since 2001, says a new report from the AARP Public Policy Institute

The report, "How the Travel Patterns of Older Adults Are Changing," predicts that older travelers will change the landscape of transportation in coming years, and concludes that transportation planners and policymakers must adapt to this shift. The number of Americans 65 and older is projected to rise by 60 percent in the next 15 years.

These findings are consistent with trends observed by RIPTA. According to Amy Pettine, Special Projects Manager at RIPTA, senior ridership in April 2011 is 23.7% higher than it was in April 2009.