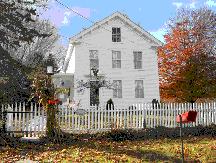 Projo photo / Steve Szydlowski

Hope Valley retains its

mill village charm

Projo's Neighborhood of the Week


Pictured above is a house on Spring Street in Hope Valley, which features many historical mill properties. In 1824, Gardner Nichols bought the mills and renamed the village around them Hope Valley because all his hopes were centered there.

Today, many of the neighborhood's historical residences and industrial buildings are restored and still in use.





Grow Smart Rhode Island

Board of Directors

Deming E. Sherman

Chairman of the Board

Susan Arnold

William Baldwin

Rebecca G. Barnes

Samuel J. Bradner

Kenneth Burnett

Joseph Caffey

Robert L. Carothers

Jen Cookke

Trudy Coxe

Dennis DiPrete

Stephen Durkee

Stephen J. Farrell

John R. Gowell, Jr.

Akhil C. Gupta

Michael S. Hudner

Stanley J. Kanter

Howard M. Kilguss

Dennis Langley

James Leach

The Rev. James C. Miller

Thomas V. Moses

William M. Pratt

B. Michael Rauh, Jr.

Richard Schartner

Lucie G. Searle

Pamela M. Sherrill

John C. Simmons

Curt Spalding

James F. Twaddell

Directors Emeritus

Arnold "Buff" Chace

Louise Durfee, Esq.

J. Joseph Garrahy

Michael F. Ryan

Frederick C. Williamson

W. Edward Wood


Staff

Scott Wolf

Executive Director

Director of Programs

Director of Research & Communications

Executive Assistant for Finance

Office Assistant

Training Coordinator
---
Visit our Smart Growth
Resource Directory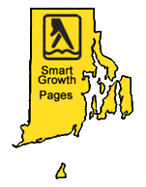 ---
---
Miss a previous e-brief?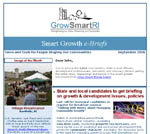 ---
Do you live
or work in this zone?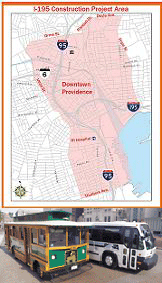 Dear John,

You're among the 3,690 civic leaders, state & local officials, development professionals, journalists and visionary citizens getting the latest news, happenings and trends in the smart growth movement from Grow Smart Rhode Island.



President-Elect Obama on smart growth,

transportation, cities, and regions

The following excerpts from President-Elect Obama's speeches and position papers provide some insight into what an Obama Administration means for smart growth, sustainable development, and metropolitan America. Statements suggest the President-Elect is more serious about these issues than any other modern president.

On smart growth, transportation and oil... Candidate Obama explicitly recognized the benefits of smart growth in his campaign material.

"Over the longer term, we know that the amount of fuel we will use is directly related to our land use decisions and development patterns, much of which have been organized around the principle of cheap gasoline. Barack Obama believes that we must move beyond our simple fixation of investing so many of our transportation dollars in serving drivers and that we must make more investments that make it easier for us to walk, bicycle and access transportation alternatives."

On cities and rural areas... The President-Elect's position paper on urban policy demonstrates in several places that he understands the connections between neighborhoods, cities, and metropolitan regions. For example, in a section on city livability, he stresses the importance of transportation alternatives, green buildings, and even that "how a community is designed - including the layout of its roads, buildings and parks - has a huge impact on the health of its residents." For rural areas, his platform has included conservation of private lands, regional food networks, and help for organic farmers.

On the new metropolitan reality ... As we reported in June, candidate Obama gave a major address to the US Conference of Mayors during which he asserted that current urban policy was obsolete and needed to be replaced by a model that focused on rational metropolitan growth:

The top 100 metro areas generate two-thirds of our jobs, nearly 80% of patents, and handle 75% of all seaport tonnage. In fact, 42 of our metro areas now rank among the world's 100 largest economies. "To seize the possibility of this moment, we need to promote strong cities as the backbone of regional growth. And yet, Washington remains trapped in an earlier era, wedded to an outdated 'urban' agenda that focuses exclusively on the problems in our cities, and ignores our growing metro areas. Strong cities are the building blocks of strong regions, and strong regions are essential for a strong America....that is the new metropolitan reality and we need a new strategy that reflects it . . ."

On infrastructure, transit, and rail... In the same speech, Obama the candidate took a bold position on transportation:

"Let us invest money in a world-class transit system. Let's re-commit federal dollars to strengthen mass transit and reform our tax code to give folks a reason to take the bus instead of driving to work - because investing in mass transit helps make metro areas more livable and can help our regional economies grow. And while we're at it, we'll partner with our mayors to invest in green energy technology and ensure that your buses and buildings are energy efficient. And we'll also invest in our ports, roads, and high-speed rails . . ."

We thank Kaid Benfield of the Natural Resources Defense Council for compiling much of this information.

This just in...

Now as President-Elect, Barack Obama outlines his thoughts on America's transportation future

November 19, 2008 - Before the last presidential debate Oct. 15, Transportation For America (T4A - a broad coalition including Smart Growth America) asked supporters to sign a petition urging Sen. McCain and then Sen. Obama to explain their plans for keeping America moving and for creating new jobs by investing in our critical transportation system and infrastructure. Just this week, President-Elect Obama responds via blog.
Grow Smart, CNU New England partner to

bring Urban Design 301: Workshop to RI

December 12th program targeted to urban designers, landscape architects, civil engineers, architects, and planners. Concepts to be useful for communities seeking to innovate for economic recovery.

Urban Design Workshop: 301, co-hosted by Grow Smart and the Congress for the New Urbanism - New England Chapter (CNU-NE), will provide registrants with specific tools and techniques for designing infill and neighborhood plans that reflect the best traditions of New England town building. Instruction will focus on on smart growth principles and the design of walkable, compact neighborhoods as a strategy for achieving sustainability.

Date: Friday, December 12, 2008

Time: 12:30 - 4:30 p.m.

Location:

Providence Dept. of Planning & Development,

400 Westminster Street, 4th fl, Providence, RI

Cost: $65

for CNU members and

Grow Smart e-news subscribers

,

$85

non-members,

$25

students with ID

To register: Send an email to:

newengland@cn u.org

(Enter "Providence" in the subject line)

Instructors Donald Powers of Donald Powers Architects and

Russ Preston

of

Cornish Associates

will lead participants through a hands-on exercise, using a local

project site

that presents an urban design challenge common to towns throughout New England. These experienced urban designers will provide one-on-one instruction and teach methods for artfully and economically solving real-life urban design challenges. Instruction will include:

Optimal street sections for walkable streets
Sustainable design solutions
Flexible retail design techniques
Phasable plans that can change with market needs
Parking solutions that facilitate walkability
Safe and functional open spaces
Drawing techniques that result in easily understood master plans

Space is limited to 20 participants. This workshop has been submitted to the American Institute of Certified Planners (AICP) for Certification Maintenance (CM) credits.
NEDA seminar to help communities craft

energy plans for economic development

December 11th seminar aims to help participants gain a competitive advantage in positioning communities for long-term economic development

As global energy demand escalates, long-term energy prices will also rise to new heights. What impact will this have on the near-term and long-term health of our local and regional economies?

Experts with the Northeastern Economic Developers Association say that every community will need to address the challenge of energy supply and demand management in order to attract and retain quality businesses and jobs. This seminar is designed to go beyond attracting and growing businesses that provide energy related products and services and provide participants with the information and tools to elevate the importance of this issue to their community's future economic health.

Presenters include Susan Rochford, Vice President, Energy & Sustainability Initiatives for the DC-based Council on Competitiveness; Thomas A. Marano, EDP, Business Development Manager for Northeast Utilities in Berlin, CT; and Kenneth Payne, PhD University of Rhode Island.
Using Tax Increment Financing (TIF) for

brownfields redevelopment - 2008 update

Innovative financing tool gains traction for helping to reclaim contaminated sites

A new Northeast- Midwest Institute report offers a timely update to Using Tax Increment Financing for Brownfields Redevelopment, providing additional information on this economic development incentive that has now become a maintstream tool in much of the U.S.

Rhode Island's senior U.S. Senator, Jack Reed, is co- chair of the Northeast-Midwest Congressional and Senate Coalitions.

From the Executive Summary: Tax Increment Financing (TIF), once considered on the cutting edge of economic development incentives, is now a mainstream tool in most parts of the country. TIF is often the most effective incentive in closing project gaps on brownfields sites, particularly for large-scale projects that have multi-million dollar financing shortfalls.

Despite many successes, TIF is an under-utilized financing mechanism for brownfields projects due to a mismatch between a brownfields project's need for upfront financing compared to the bond market's need for the ''done deal.''

The connection between brownfields projects and TIF could have more widespread application, even reaching some weak-market and upside-down sites, if brownfields financing vehicles were specifically designed to complement TIFs.
Municipal grants now available for

planning historic rehab and preservation

projects

Certified Local Government (CLG) Grants can help local governments do critical planning - especially during this down economic time. Prime targets for funding include architectural studies, plans and specifications, and building reuse feasibility studies.

The Rhode Island Historical Preservation & Heritage Commission (RIHPHC) announces that applications are now available for matching grants to support local preservation projects nominated by local governments. Each year the RIHPHC awards matching grants to local governments whose municipal historic preservation program has been certified by the Commission.

Approximately $49,000 will be available in this grant round with $10,000 reserved for a Certified Local Government (CLG) to co-sponsor the 2010 Statewide Historic Preservation Conference.

Eligible communities include: Bristol, Cranston, Cumberland, East Greenwich, Glocester, Hopkinton, Newport, New Shoreham, North Kingstown, North Providence, North Smithfield, Pawtucket, Providence, South Kingstown, and Warwick. Potential projects include studies on use and reuse of municipally owned buildings; surveys of historic properties; National Register nominations; preservation planning initiatives; and public education activities and publications.

Applications are due by December 19. Read More
American driving less, unmoved by lower

gas prices

USA Today, November 20, 2008 - Americans are driving less despite falling gas prices, reflecting the deepening recession and signaling a shift in lifestyles and driving habits that could outlast the current turmoil.

Drivers logged 10.7 billion fewer miles in September than they did the same month a year earlier - a 4.4% decline, according to data issued Wednesday (11/19) by the Federal Highway Administration.

Gas prices peaked around $4 a gallon July 4 and had dropped 12% by the end of September. They have tumbled even more since, slipping under $2 a gallon in many states.

Unlike previous cycles, cheaper gas hasn't inspired Americans to drive more. While some of their reluctance to return to their old ways may be due to the bad economy, some transportation experts say something bigger is happening.
CALENDAR Highlights:


Click here b> to let us know if you would like your land-use/water resources related conference or workshop listed on our CommunityConnectionRI Calendar.

Tuesday, December 2, 2008

Adler, Pollack & Sheehan

Providence

Friday, December 5, 2008

Sheraton Needham Hotel

Needham, MA

Friday, December 12, 2008

2008 Massachusetts Smart Growth/Smart Energy Conference

. Presented by The Administration of Governor Deval Patrick and Lt. Gov. Tim Murray; The Executive Office of Housing and Economic Development; Department of Housing and Community Development; The Executive Office of Energy and Environmental Affairs; The Executive Office of Health and Human Services; The Executive Office of Transportation and Public Works.

Boston Convention and Exhibition Center

Boston

January 22-24, 2009