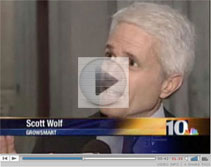 90-second clip | NBC-10 - 11.05.09
Click above to watch
Hope for Rhode Island:
Misleading business-climate rankings
Following his 11.5.09 commentary in the Providence Journal, Grow Smart RI Executive Director Scott Wolf had the opportunity to share Grow Smart's outlook with NBC-10's Bill Rappleye as part of his coverage of House lawmakers' strategy session to rescue Rhode Island's struggling economy.




Click the image above to see a
3-minute video about why
The Rhode Island Foundation
supports Grow Smart.
Board member in the News



PBN: Five Questions with
B. Michael Rauh, Jr.

The Washington Trust Co. is constructing a new branch in Warwick. The bank intentionally hired local contractors to complete the job. Washington Trust's B. Michael Rauh Jr., executive vice president for sales, service and delivery, recently took a few minutes to discuss the project.
Grow Smart Rhode Island

Board of Directors

Howard M. Kilguss

Chairman of the Board

Susan Arnold

William Baldwin

Rebecca G. Barnes

Samuel J. Bradner

Kenneth Burnett

Joseph Caffey

Robert L. Carothers

Jen Cookke

Trudy Coxe

Dennis DiPrete

Stephen Durkee

Stephen J. Farrell

Michael L. Friedman

Wilfred L. Gates

John R. Gowell, Jr.

Akhil C. Gupta

Stanley J. Kanter

Jason E. Kelly

Dennis Langley

James Leach

Thomas V. Moses

William M. Pratt

B. Michael Rauh, Jr.

Richard Schartner

Lucie G. Searle

Deming E. Sherman

Pamela M. Sherrill

John C. Simmons

Curt Spalding

Jonathan F. Stone

James F. Twaddell

Directors Emeritus

Arnold "Buff" Chace

Louise Durfee, Esq.

J. Joseph Garrahy

Michael S. Hudner

Michael F. Ryan

Frederick C. Williamson

W. Edward Wood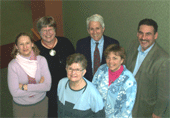 Staff

Scott Wolf

Executive Director

Director of Programs

Director of Research & Communications

Executive Assistant for Finance

Office Assistant

Training Coordinator

Save-The-Date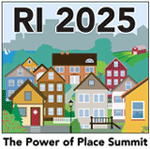 Grow Smart RI will present its 3rd Biennial Power of Place Summit on

Friday, May 14, 2010

at the RI Convention Center. Sponsorship opportunities and a "Call for Workshop Proposals" to be released soon. Click

HERE

to review the 2008 program.

Warwick Intermodal

on track




On November 3, 2009 crews install windows on the skywalk that will connect the Sundlun Terminal at Green Airport with a rental car garage and railroad station platform.
Read more from

Farm Fresh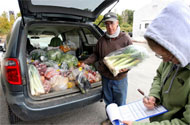 Projo photo | Kathy Borchers

Skip Paul of Wishing Stone Farms in Little Compton unloads fresh produce while Jenn Baumstein marks the checklist. Farm Fresh RI's Market Mobile program makes it easier for farmers to sell their goods to grocers, restaurants and schools.

Farm Fresh RI
Projo: Smaller cities seen leading the way in urban agriculture

Leaders put focus on transportation in Northern Rhode Island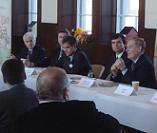 Grow Smart's Scott Wolf participates in an October 26th panel discussion about regional transportation and economic development issues affecting northern Rhode Island. The panel was part of a Congressional Breakfast, featuring U.S. Senator Jack Reed, presented by the Pawtucket Foundation and the Northern RI Chamber of Commerce.

from the Valley Breeze

by Pawtucket Mayor James E. Doyle
---
Visit our Smart Growth
Resource Directory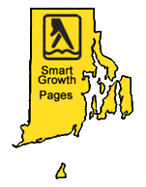 ---
Grow Smart Rhode Island Workshops
---
Miss a previous e-brief?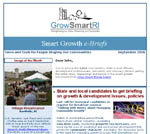 ---
John,

You're among the 3,238 civic leaders, state & local officials, development professionals, journalists and visionary citizens getting the latest news, happenings and trends in the smart growth movement from Grow Smart Rhode Island.



UNFI brings corporate headquarters, 181

jobs to rehabbed mill space in Providence

United Natural Foods - the largest wholesaler of natural and organic foods in the country - becomes the latest company to locate its headquarters in redeveloped mill space in Rhode Island

Despite the "Great Recession", the few bright spots in Rhode Island's economic landscape are shining light on a trend that may hold a key to the state's future prosperity and to achieving multiple community development and energy efficiency goals.

The adaptive re-use of historic mill buildings is not new to Rhode Island, but it's a concept that's gaining favor in a state with an abundance of them in 'location-efficient' and transit-friendly urban, town and village centers.

Grow Smart has been conferring with officials at the Rhode Island Economic Development Corporation since March to help shape a Strategic Plan for Office and Industrial Site Development - one that includes a sharpened focus on attracting and incubating the type of small and medium size businesses most attracted to "location-efficient" spaces. "The relocation of United Natural Foods to a rehabbed historic manufacturing complex in Olneyville is an example of what can be achieved when Rhode Island plays to its strengths", said Scott Wolf, Executive Director of Grow Smart RI, adding "Private investments like these create a variety of well-paying jobs and support the revitalization of our existing building stock while reducing the pressure to develop our state's remaining green spaces".

"What was really attractive for us was that it was a reuse of an existing mill building. It's a special space."

Tom Dziki, Vice President of Sustainable Development, United Natural Foods, Inc.

"We're psyched. It took an old brownfield and made it about as green as it could be."

J. Michael Saul, Interim Executive Director, RI Economic Development Corporation

Former mill a natural fit for food firm - Projo

United brings 181 jobs to new RI headquarters

- PBN

Luring United to R.I. step in right direction

- PBN Editorial

Other examples of revitalizing urban and town centers with new uses for old spaces

Cutler Mills, Warren, RI circa 1868

Cutler Mills - Warren

AVTECH, worldwide IT leader in facility management software and hardware, outgrew its space in Newport and purchased the Cutler Mill in 2008 to become its new HQ. A number of other commercial tenants also occupy the building.

Hope Artiste Village - Pawtucket

Former mill complex restored with aid of state historic tax credit in 2008. Mixed-use residential, commercial, light industrial. Commercial space 90% occupied with approximately 60 commercial tenants.

View 2-minute news clip

Rumford Center - East Providence

Recently completed mixed-use redevelopment of the former Rumford Chemical Works. Includes residential, office and retail tenants. Another state historic tax credit project.

Thames Street Landing - Bristol

One of the earliest state historic tax credit projects, this $8.3 million mixed-use development consisting of retail establishments, restaurant, pub, offices, a 40-room inn, and apartments. The project has been a central part of the town's revitalization plan that reconnects the city with its historic harbor.

The Foundry Corporate Office Center - Providence

Once the site of one of the industrial revolution's most successful companies - the Brown & Sharpe Manufacturing Company - the Foundry complex continues to attract new innovative companies. More than 2,000 people work in its restored spaces today, which also include 350 loft-style apartments made possible through the state historic tax credit.

Rising Sun Mill - Providence

Former mill complex restored in 2006 with the aid of the state historic tax credit. DASSAULT SYSTEMES - Worldwide PLM leader and software innovator, formerly known as

Abaqus

is lead commercial tenant.

IYRS Mill (IYRS) - Newport

Former mill building. One of the most recent state historic tax credit projects, the mill was converted in 2008 to International Yacht Restoration School with programs in traditional boatbuilding and marine systems. The refurbished mill also houses 9 commercial tenants in downtown Newport.

United Theater - Westerly

As one of the first land trusts in the nation to play an active role in the redevelopment of downtown, the Westerly Land Trust has purchased and is converting, with the aid of the state historic tax credit, the long vacant theater and adjacent building into a multi-faceted arts complex geared to further the revitalization of downtown business.

Morfessis backed as new EDC chief

According to the Providence Journal, the Rhode Island Economic Development Corporation (RIEDC) Search Committee is unanimous in its recommendation of Ioanna T. Morfessis to become the next RIEDC Director. Read more from Projo.com.
Grow Smart takes its federal agenda to

DC and RI's Congressional delegation

Scott Wolf teams up with national colleagues from Smart Growth America to pitch policy reforms that support community revitalization, better transportation options and long-term, sustainable prosperity

In meetings on October 15th with Senators Reed and Whitehouse, Congressman Langevin and staff of Congressman Kennedy, Grow Smart Executive Director Scott Wolf made the case for several federal initiatives that could have a big impact on Little Rhody.

Among the bills promoted in the meetings:

H.R. 2724 - National Transportation Objectives Act of 2009

Better supports affordable transportation choices, economic development, and the types of walkable, vibrant communities that Americans increasingly desire.

H.R. 1043 - Amendments to the Federal Historic Tax Credit

Raises the federal tax credit from 20% to 30%, makes it more user-friendly, links it with housing affordability objectives and makes the credit more attractive to smaller rehab projects.

S 1619 - Livable Communities Act of 2009

Provides funding and technical assistance to coordinate transportation, housing and land use planning and implement projects to create economically competitive and livable communities.

H.R. 1329 / S 575 - Clean, Low-Emission, Affordable, New Transportation Efficiency Act (CLEAN-TEA)

Dedicates 10 percent of cap-and-trade climate funds to public transportation, inter-city rail, and the infrastructure changes necessary to make our communities more walkable to reduce the amount people need to drive.

H.R. 1443 / S 584 - Complete Streets Act of 2009

Creates safer streets by requiring transportation planners and engineers to consider the needs of pedestrians, cyclists and the disabled when building or rebuilding roads.

H.R. 932 / S 453 - The Community Regeneration, Sustainability, and Innovation Act

Would establish a three-year grant program to help communities design and implement strategies to deal with vacant and abandoned properties.
White House, Congressional caucus set

sights on advancing urban agenda

Executive Order requires Federal agencies to set greenhouse gas reduction targets; increase energy efficiency; conserve water; and follow forthcoming guidelines for locating federal buildings in or near central business districts and close to transit.

Following the July 2009 launch of a HUD-USDOT-EPA Partnership for Sustainable Communities aimed at better coordinating federal housing, transportation, and other infrastructure investments, President Barack Obama wants the federal government to lead by example in decisions it makes that affect the environment and the health of the nation's cities and towns. On October 5, 2009 he signed Executive Order 13514, entitled "Federal Leadership in Environmental, Energy and Economic Performance". Read more

Then, on October 19, 2009, Congressman Earl Blumenauer (D-OR) announced the creation of a congressional Livable Communities Task Force. Its mission is to make the Federal Government a better partner with communities in their efforts to improve quality of life.

With significant resources, and in coordination with the administration's new Partnership for Sustainable Communities, the Federal Government is poised to help communities take advantage of federal and local investment opportunities to provide a range of housing and transportation choices, create safer and healthier communities, strengthen their economies, and protect their environment. Read more.
Groundbreaking Senate Climate bill will

promote expanded travel options

The latest version of the Senate climate-protection bill put forth by U.S. Senator Barbara Boxer (D-CA), Chairman of the Senate Committee on Environment and Public Works, would provide significant resources and incentives to communities to plan and build cleaner, more convenient travel and living options.

The Clean Energy Jobs and American Power Act (S. 1733) would set aside an average of 2.4 percent of revenues generated by the Act each year to help states and metropolitan areas reduce greenhouse gas emissions as they grow and change in the years to come. Half of the funds would support a competitive grants program for transportation projects and smart growth strategies that help reduce emissions and the planning needed to better account for and curb emissions. The other half would support the expansion of public transportation.
CALENDAR Highlights:


Click here b> to let us know if you would like your land-use/water resources related conference or workshop listed on our CommunityConnectionRI Calendar.

Monday, November 30, 2009

Thursday, December 10, 2009

(5:30 - 7:30 p.m.)

Sponsored by RIDEM and the Narragansett Bay Research Reserve Coastal Training Program. Peter Ruggiero, Esq., AICP, Ruggiero, Orton & Brochure, will explain how conservation easements are drafted, reviewed, put into action, and effectively enforced to ensure that conservation parcels remain protected in perpetuity. Advance registration required.

Location: Room 300, RI Department of Environmental Management

Providence