Smarter Growth for RI?

Governor-elect Lincoln D. Chafee has already signaled his support for several of Grow Smart's key policy recommendations to help Rhode Island achieve sustainable economic growth.

Among them are proposals to invest more responsibly in our state's transportation infrastructure, restore a targeted State Historic Tax Credit, provide municipal incentives for economic development in location-efficient "growth centers" and to further strengthen Rhode Island's flourishing agricultural sector.

Read candidate Chafee's responses to 10 of Grow Smart's key policy recommendations

View Grow Smart's entire


Grow Smart Rhode Island

Board of Directors

Howard M. Kilguss

Chairman of the Board

Susan Arnold

William Baldwin

Daniel A. Baudouin

Samuel J. Bradner

Kenneth Burnett

Joseph Caffey

Robert L. Carothers

Jen Cookke

Trudy Coxe

Kristin A. DeKuiper

Dennis DiPrete

Stephen Durkee

Stephen J. Farrell

Michael L. Friedman

Wilfred L. Gates

John R. Gowell, Jr.

Akhil C. Gupta

Stanley J. Kanter

Jason E. Kelly

Dennis Langley

James Leach

Basil Lee

Stephen M. Maiorisi

Thomas V. Moses

B. Michael Rauh, Jr.

Richard Schartner

Lucie G. Searle

Deming E. Sherman

Pamela M. Sherrill

John C. Simmons

Jonathan F. Stone

James F. Twaddell

Directors Emeritus

Arnold "Buff" Chace

Louise Durfee, Esq.

J. Joseph Garrahy

Michael S. Hudner

Michael F. Ryan

W. Edward Wood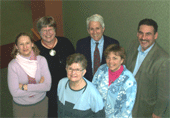 Staff

Scott Wolf

Executive Director

Director of Programs

Director of Research & Communications

Executive Assistant for Finance

Office Assistant

Training Coordinator




Upcoming Workshops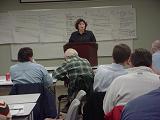 A one-evening workshop designed to help municipal planners, legal staff, and boards and commissions write decisions whose content will hold up in court. Advance registration is required.

Thursday, Dec. 9th, 5:30-9:00 p.m

Middletown

A workshop for affordable housing volunteers.

Tuesday, Dec. 7th, 6:00-9:00 p.m

North Smithfield
---
---
---
---
John,

You're among the 3,427 civic leaders, state & local officials, development professionals, journalists and visionary citizens getting the latest news, happenings and trends in the smart growth movement from Grow Smart Rhode Island.



Rhode Island farms make a come-back

After century-long decline, state's agricultural sector is experiencing dramatic growth

They can't keep up with demand. That's how local farmers describe the state of their industry in Rhode Island these days. Restaurants and farmers' markets are generating increased demand for high quality, locally grown food.

At the same time, Rhode Island agriculture faces challenges. The need for affordable land for young farmers has never been greater. Rhode Island leads the nation in the percentage of farmland lost to development in the last two decades. And local regulations often prevent farms from diversifying agricultural activities to make farms more profitable. To address the challenges and maximize opportunities, farmers, ag service providers and advocates (including Grow Smart Rhode Island) have formed a new alliance called the Rhode Island Agricultural Partnership.

The Partnership's first initiative is a 5-Year Strategic Plan for Rhode Island Agriculture. The Plan focuses on expanding production and marketing, increasing business and technical support for farmers and ensuring the availability and affordability of working agricultural land. A grant from the van Beuren Charitable Foundation enabled the Partnership to secure the American Farmland Trust's assistance in developing the plan, which will be completed in early 2011.

Grow Smart's director of programs Sheila Brush, who sits on the Partnership Steering Committee, emphasizes, "RI farms are local businesses. They add to our economy and they also provide public benefits -- healthy food, scenic landscapes, natural resource protection. To continue to enjoy those benefits, we must create conditions that enable farms to be viable and profitable. The 5-Year Strategic Plan recommends specific strategies to ensure continued growth for agriculture. Now it's up to the agricultural community and all of us who support local farms to work together and with state and municipal officials to make sure the plan is carried out."
Providence beats Boston in

Travel & Leisure 'Favorite City' face-off

Travel and Leisure magazine says in a new survey that Providence is considered one of America's favorite cities

The 'Creative Capital' beat Boston in 9 out of 10 categories on Travel + Leisure's 2010 "America's Favorite Cities" ranking when put to a "Favorite City Face-Off."

When looking at Providence's stand-alone ranking, the city's "best" scores are for its theater and performance art, neighborhood joints and cafes and its ethnic food and pizza. The local theater scene ranked second to only New York City; Chicago followed in third and San Francisco came in at No. 4. Boston lagged in 12th place.

"I think we need to remember that the outside world often sees us more favorably than we see ourselves", said Scott Wolf Executive Director of Grow Smart Rhode Island. "Our growing reputation for being a dynamic and exhilarating place is an asset we need to fully leverage", he said.

Not to be outdone, GQ names Providence one of America's "coolest small cities"

Providence joins Charleston, Santa Fe, Boulder, Portland, ME and 15 others in cool city ranking

"Want a real break? Forget the hassle of getting in and out of America's metropolises-with their $400 hotel rooms and mobbed tourist attractions," said GQ about its small city travel feature. "Instead, hit these miniopolises, where top-notch food comes straight from the farm and your third round is on the house."

The magazine goes on.... "For years, Providence has been heralded as the arts-and-culture center of New England-in large part by developers who dreamed of replacing the resident artists with Boston yuppies. Thankfully, that dream is dead. Because what Providence lacks in fratty Irish bars, it makes up for with a vibrant art scene and the renegade character of a bastard son."
Rhode Island's knowledge economy

ranks 16th in the U.S.

State named a "top mover" for inventor patents, after moving up eight places in three years

The index uses 26 indicators divided into five major categories: knowledge jobs; globalization; economic dynamism; transformation to a digital economy; and technological innovation capacity.

"This news reinforces our strong belief that Rhode Island's outstanding 'Quality of Place' is a major resource for attracting and retaining knowledge economy companies and workers", said Scott Wolf, Executive Director of Grow Smart Rhode Island, adding "this highly sought after economic sector places a high value on vibrant and transit-friendly urban centers".

Rhode Island's outstanding performance was in the "digital economy" category, coming in second only to Massachusetts. The indicator reveals how many people are online, the use of IT to deliver state government services, how many farmers are online, health-related IT and the deployment of broadband telecommunications.
A vision for the future of transit in RI

Attend a Community Briefing about RIPTA's draft 5-Year Strategic Plan

The Rhode Island Public Transit Authority (RIPTA) has developed a draft strategic plan establishing a bold new vision for making transit a convenient and viable option for more Rhode Islanders.

The plan recognizes that investing in a 21st century transit system is increasingly seen by business and civic leaders as key to Rhode Island's ability to effectively compete in a 21st century economy.

To learn how a vastly improved statewide transit system can advance state and local goals for sustainable economic and community development, attend one of the following sessions:

Tuesday, Nov. 23rd, 8:30-10:00 AM - Woonsocket Depot

Tuesday, Nov. 23rd, 2:30-4:00 PM

- URI Providence Campus

RIPTA hires new CEO to lead agency

The Rhode Island Public Transit Authority board has chosen Charles Odimgbe to head the agency in a new job, chief executive officer, officials announced on November 15th. He starts the job on December 6th.

Odimgbe, 50, is a native of Nigeria who started his transit career in 1985 as a bus driver in Portland, Ore. He rose through the ranks, mostly in planning and project-management jobs, to head two transit agencies before RIPTA. He is now general manager of Veolia Transportation, which operates the Savannah, Ga. transit system for the Chatham Area Transit Authority. [More]
Industry survey confirms developers

shifting to smart growth

Smart growth development in high demand according to an August 2010 survey of 1000 builders, developers and other real estate industry professionals.

The survey, conducted by an alliance of New Jersey real estate developers, found that builders are looking to mixed-use development to stay ahead in a tight market. From multi-family homes to senior living communities, walkable, mixed-use neighborhoods are increasingly popular with consumers. According to the group's press release:

"Sixty percent [of developers surveyed say] that to stay competitive, they are shifting away from bigger traditional home designs to conservative pedestrian-oriented mixed-use neighborhoods." In other words, smart growth has become the "conservative" investment.

The fact that consumers want pedestrian-oriented development in an economic downturn says a lot about the benefits afforded by walkable neighborhoods. Families in walkable neighborhoods usually have lower overall transportation costs, and that's a large part of many working families' budgets. The longer commutes and higher gasoline costs associated with spread out development aren't as affordable in tight times. However, the alliance predicts that a growing number of developers will continue to see smart growth as a sound investment through the recovery and beyond.
Amtrak hits record ridership

More people took an Amtrak train in the last year than ever before, bringing in record ticket sales for the national rail service.

As is always the case, the most popular line runs through the densely populated corridor from Boston to Washington, where the train can be faster than a car or airplane, if you calculate the trip from door to door.

Ridership grew despite some robust competition from a new generation of intercity bus companies.

Amtrak unveils vision for High Speed Rail in Northeast Corridor

40-Year Plan would cross through Northern RI, stop in Woonsocket





On September 28th Amtrak unveiled "A Vision for High-Speed Rail in the Northeast Corridor". The plan envisions service from Boston to New York in less than 90 minutes.