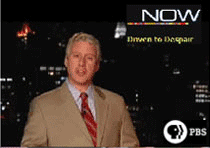 Broadcast on PBS the week of 10.10.08

Driven to Despair

PBS Special makes connection between the high cost of gas, the mortage crisis and inefficient development patterns


David Brancoccio, host of the PBS program NOW, takes a close-up look at our nation's transportation network, energy markets and the impacts to our economy, growth and changing lifestyles.

Called "Driven to Despair", this is the first segment of a year-long, PBS-wide series called "Blueprint America," which focuses on the nation's ailing infrastructure. It illustrates how smarter growth decisions are being shaped by economics, global warming and personal choices.

Our question is... Will Rhode Island's growth, development and transportation policies be aligned to fully capitalize on the changing paradigm?




Watch all or parts of the 30-minute program HERE.





Grow Smart Rhode Island

Board of Directors

Deming E. Sherman

Chairman of the Board

Susan Arnold

William Baldwin

Rebecca G. Barnes

Samuel J. Bradner

Kenneth Burnett

Joseph Caffey

Robert L. Carothers

Jen Cookke

Trudy Coxe

Dennis DiPrete

Stephen Durkee

Stephen J. Farrell

John R. Gowell, Jr.

Akhil C. Gupta

Michael S. Hudner

Stanley J. Kanter

Howard M. Kilguss

Dennis Langley

James Leach

The Rev. James C. Miller

Thomas V. Moses

William M. Pratt

B. Michael Rauh, Jr.

Richard Schartner

Lucie G. Searle

Pamela M. Sherrill

John C. Simmons

Curt Spalding

James F. Twaddell

Directors Emeritus

Arnold "Buff" Chace

Louise Durfee, Esq.

J. Joseph Garrahy

Michael F. Ryan

Frederick C. Williamson

W. Edward Wood


Staff

Scott Wolf

Executive Director

Director of Programs

Director of Research & Communications

Executive Assistant for Finance

Office Assistant

Training Coordinator


Corrections:

In the September e-brief, we inadvertently omitted RI DEM as one of the sponsors of Grow Smart's 2008 Power of Place Summit.

Also in the September e-brief, we incorrectly described the NYLO Hotel in Warwick as a "recycled" building. It is in fact a newly constructed building on recycled land.
---
Visit our Smart Growth
Resource Directory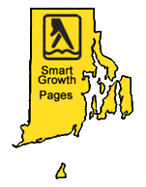 ---
---
Miss a previous e-brief?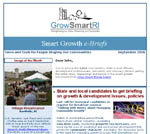 ---
Do you live
or work in this zone?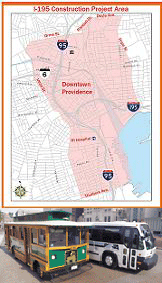 Dear John,

You're among the 3,682 civic leaders, state & local officials, development professionals, journalists and visionary citizens getting the latest news, happenings and trends in the smart growth movement from Grow Smart Rhode Island.



Will a transportation funding solution

emerge in time to avert proposed RIPTA

service cuts?

Following last month's Financing Transit Summit, encouraging developments suggest that support is building to strengthen public transit in Rhode Island. Whether the necessary action will be taken remains to be seen.

According to RIPTA Chairman John Rupp, if more money isn't committed to the authority "in the near future, we're going to run out and the buses will stop." Due mainly to the rising cost of fuel and a significant drop in gas tax revenue, RIPTA has gone from a balanced budget in March to projecting a $10.2 million deficit for the current fiscal year, FY '09. RIPTA has indicated that, absent an immediate funding solution, it expects to begin implementing 20% service cuts on January 19, 2009.

Since September 23rd, when the New Public Transit Alliance (NuPTA) - of which Grow Smart is an active member - convened key business, civic and political leaders to examine RIPTA's funding challenges, several positive developments have emerged, including the following:

The Governor's Blue Ribbon Panel on Transportation Funding, originally convened to recommend new ways to fund sorely needed road and bridge repairs, has now signaled a willingness to include public transit funding needs as part of its recommendation to the Governor and the General Assembly.

The House Finance Committee initiated an unusually early set of hearings on October 14th about transportation funding issues. Leaders acknowledged the convergence of several pressing transportation related needs and indicated their intention to confront them in a comprehensive way. House Finance Committee Chairman Steven M. Costantino was quoted as saying that RIPTA is "going to need an infusion of resources."

NuPTA and the Blue Ribbon Panel are refining and coordinating their respective funding recommendations and are expected to forward them to the Governor and legislative leaders by mid- November.
A few spaces left ... for innovative

parking workshop slated for Nov. 7

[Registration extended to 10/31]

Program aimed at strengthening the vitality and function of walkable urban, town and village centers through innovative parking solutions

Tackling Your Community's Parking Challenges, the latest workshop developed for the Grow Smart RI Land-Use Training Collaborative, is back by popular demand following strong interest and positive feedback from those who participated in the July session. The 4-hour workshop, to be held in East Providence, will introduce attendees to new ways of thinking about parking issues, including the cost to drivers and the general public of providing parking.

Nathan Kelly, AICP, of the Horsley Witten Group, and Jason Schrieber, AICP, of Nelson\Nygaard Consulting Associates will return to present zoning, design and management strategies that municipalities can use to balance public and business demands for parking with community goals for environmental protection and maintenance of community character.

The discussion will range from the economics of providing parking, to the fallacies inherent in the parking standards on which many communities rely, to recent developments in low-impact design and parking construction materials. Using mini case studies from around the country, Nate and Jason will offered both time-tested and innovative solutions to parking challenges. Participants will apply what they learn in an interactive design exercise.

The workshop is approved for 4 AICP CM credits.

Click

HERE

to learn more or register.
New jobs in old mills

Rehabbed mill spaces in Providence, Warren provide economic bright spots despite current slump


Cutler Mills, Warren, RI circa 1868

From the "Playing to our Strengths" Department...

In the midst of tough economic times, it is noteworthy that two recent good news items involve job creation in the kind of economic development sites of which Rhode Island has an abundance.

On October 16th, it was announced that United Natural Foods of Dayville, CT will relocate its corporate headquarters and 150 employees to the American Locomotive Works redevelopment project on Valley Street in Providence. The company said it plans to expand its workforce to 240 employees over the next three years at this old factory complex whose rehab has been made possible by the State Historic Tax Credit program.

Then on October 22, software maker AVTECH of Newport announced that it has outgrown its current location and will purchase the Cutler Mill in Warren in order to expand its workforce of 30.

These economic development breakthroughs reinforce Grow Smart's conviction that rehabbing historic industrial properties in urban and town centers should continue to be a major component of Rhode Island's economic development strategy.

"We may never be able to compete with places like Florida on tax rates or climate, but we have a competitive edge when it comes to having an abundance of charming, historic, pedestrian and transit friendly properties that appeal to today's knowledge economy employers and employees", said Scott Wolf, Executive Director of Grow Smart Rhode Island.

- United Natural Foods to bring 150 corporate jobs to Providence
North Kingstown leads the way in TDR

Strategy helps to balance increased density in designated centers with farmland and open space protection around them

The North Kingstown Town Council's October 20, 2008 adoption of a Transfer of Development Rights ordinance marks a first for Rhode Island and will provide an opportunity for other communities to learn how this strategy can help protect agricultural and conservation lands and direct growth to designated centers.

Transfer of Development Rights (called TDR for short) is a planning tool based on the idea that one of the values associated with a parcel of land is the right, under zoning, to develop a certain number of units on the parcel. The right to develop the units has a monetary value which can be sold separately from the land.

Many Rhode Islanders are familiar with the practice of a town or non-profits purchasing development rights to a parcel of farmland or forest to ensure that the land will be permanently preserved. In those cases, the development rights, once bought, are "extinguished." Under TDR programs, the development rights are also separated and sold, but they are not "extinguished." Instead, they can be used by a developer to build more units than normally allowed in a specific area of town that is appropriate for higher-density development and that has been designated for that purpose.

[ More]
Grow Smart RI Board voices support for

transportation, open space bonds

Passage of both bonds would leverage more than $439 million in federal aid for sorely needed road and bridge repairs, replacement RIPTA buses, commuter rail and open space and farmland protection

Question #1: Transportation Bond

The bond issue would provide $87,215,000 for needed highway and transit improvements. Approval would make Rhode Island eligible for another $436 million in federal matching funds over the next two years.

$80,000,000 to be used for direct improvements to roads and bridges
$3,750,000 to be used for commuter rail projects to Warwick and Wickford Junction
$3,645,000 to be used for replacement/rehabilitation of RIPTA buses

[More]

Question #2: Open Space & Recreational Development Bonds

Passage of the Open Space & Recreational Development Bonds would authorize $2.5 million in state bond funding to protect farmland and other open spaces over the next two years. The funds would recapitalize Rhode Island's Agricutlural Lands Preservation Program fund which is now depleted. Passage would also make Rhode Island eligible to acess $3-5 million in Federal farmland protection money. Question #2 presents an opportunity to make a modest state investment to protect special places and important economic resources that will contribute to a sustainable economic recovery and sustainable prosperity. [More]

View DEM's 2008 Land Conservation and Acquisition Program Annual Report
Waterplace Park honored as one of

America's Top 10 Public Spaces

Providence's Waterplace Park and riverwalk has been named one of the Top 10 Great Public Spaces for 2008 by the American Planning Association.

"Waterplace Park is the story of a very effective public- private partnership that seized opportunities that came along and made the most of them," Mayor Cicilline said. "It traces back to the Carter administration, which was planning a big investment to fix the railways of the Northeast Corridor," he continued. "A cross-section of business leaders and philanthropists - the Providence Foundation - saw in this the opportunity to achieve a longstanding goal for the city: to move the railroad tracks that divided the city."

The award recognizes careful planning; unprecedented, strong collaboration; and unwavering commitment to transform the "world's largest bridge" into a network of attractive and inviting parks and walkways. The outcome has helped strengthen the vibrancy and excitement of Providence.

Among the other awardees are: Central Park in New York City, Union Station in Washington, DC and Church Street Marketplace in Burlington, VT.

[More]
CALENDAR Highlights:


Click here b> to let us know if you would like your land-use/water resources related conference or workshop listed on our CommunityConnectionRI Calendar.

Sunday,November 16, 2008 (10:00a - 4:00p)

2008 Energy Solutions Expo

. Sponsored by the URI Partnership for Energy, the Rhode Island Office of Energy Resources, the URI College of the Environment and Life Sciences, and the URI President's Council on Sustainability.

URI - Ryan Center

Kingston

November 18-22

Greenbuild Boston!

The U.S. Green Building Council's Greenbuild International Conference and Expo.

Boston Convention & Exhibition Center

Boston, MA

Thursday, November 20, 2008 (9:00 - 12 Noon)

Can Vis Workshop

. CanVis is a visual simulation tool for resource planning. Learn how to better communicate planning alternatives to local stakeholders by creating computer-generated simulations or visualizations that help folks "see" the potential impacts of development alternatives. There is no cost for this workshop. And the software is free and easy to use.

RI Dept. of Administration

Providence
'Growth & Development' in the news

Send us Your News. We want to know what's happening in your community.


National / International


USAToday: Energy is a major concern in RI

NYT Editorial: Cut the sprawl, cut the warming


Barrington

Charlestown

Cumberland

East Greenwich

New housing authority director named

Exeter

Hopkinton

Johnston

Narragansett

Newport

North Providence

Pawtucket

Portsmouth

Providence

Richmond

Scituate

Warwick

Woonsocket

Editor's Note: While Grow Smart frequently provides links to others' resources and data when we believe such information contributes to a better understanding of smart growth, this should not be considered an endorsement of an organization, its positions, political opinions or beliefs.