Click above to view


Grow Smart's

Briefing Book for Candidates


Calling for adoption of sustainable economic growth policies that build on the State's competitive advantages and make efficient use of limited resources, Grow Smart Rhode Island published and distributed its 2010 Briefing Book for Candidates. The book was mailed to more than 650 candidates for state, local and federal office.





Grow Smart Rhode Island

Board of Directors

Howard M. Kilguss

Chairman of the Board

Susan Arnold

William Baldwin

Daniel A. Baudouin

Samuel J. Bradner

Kenneth Burnett

Joseph Caffey

Robert L. Carothers

Jen Cookke

Trudy Coxe

Kristin A. DeKuiper

Dennis DiPrete

Stephen Durkee

Stephen J. Farrell

Michael L. Friedman

Wilfred L. Gates

John R. Gowell, Jr.

Akhil C. Gupta

Stanley J. Kanter

Jason E. Kelly

Dennis Langley

James Leach

Basil Lee

Stephen M. Maiorisi

Thomas V. Moses

B. Michael Rauh, Jr.

Richard Schartner

Lucie G. Searle

Deming E. Sherman

Pamela M. Sherrill

John C. Simmons

Jonathan F. Stone

James F. Twaddell

Directors Emeritus

Arnold "Buff" Chace

Louise Durfee, Esq.

J. Joseph Garrahy

Michael S. Hudner

Michael F. Ryan

W. Edward Wood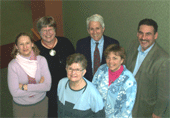 Staff

Scott Wolf

Executive Director

Director of Programs

Director of Research & Communications

Executive Assistant for Finance

Office Assistant

Training Coordinator
---
---
---
---
John,

You're among the 3,380 civic leaders, state & local officials, development professionals, journalists and visionary citizens getting the latest news, happenings and trends in the smart growth movement from Grow Smart Rhode Island.



Gubernatorial Candidates respond to

key smart growth recommendations

Issues range from new ways of funding transportation, reinstating historic tax credits, facilitating Brownfield redevelopment and affordable housing to open space and agricultural preservation

Grow Smart recently asked the four leading candidates for Governor - Kenneth J. Block (Moderate), Frank T. Caprio (Democrat), Lincoln D. Chafee (Independent) and John F. Robitaille (Republican) - to respond in writing to ten (10) key policy recommendations from our Candidates' Briefing Book. There was no set limit on the length of responses.

What follows are Grow Smart's policy recommendations and the complete unabridged responses from each candidate.
Transportation Funding Reform

1. Grow Smart: Investing responsibly in our state's transportation infrastructure - including a 21st century mass transit system - is increasingly seen by civic and business leaders as essential to Rhode Island's economic recovery and future prosperity. The Governor's Blue Ribbon Panel on Transportation Funding published a report in 2008 proposing eight recommendations for raising the resources necessary to bring roads and bridges into a state of good repair and to strengthen the state's public transit system. However, none of the recommendations has yet been implemented. Grow Smart recommends that the Governor and the General Assembly identify adequate, long range and sustainable funding sources for roads, bridges and public transportation and establish a dedicated Transportation Trust Fund.

Block: I agree that the Governor and the General Assembly should establish a Transportation Trust Fund and identify adequate, long range and sustainable funding sources for roads, bridges and public transportation.

Caprio: In order to get Rhode Island's economy moving we have to provide it with the proper infrastructure. I agree that Rhode Island needs a long range and sustainable funding source for its roads, bridges, and public transportation. I am supportive of a Transportation Trust Fund. It would be beneficial to keep all of the money for transportation needs in one fund so that all transportation projects can be allocated money based on priority. Although I would like to fix every transportation problem in Rhode Island, we are currently in an economic crisis and we need to spend our money effectively.

Chafee: My record as Warwick mayor and member of the Senate Committee on Environment and Public Works demonstrates my long-term commitment to transportation and infrastructure.



Robitaille: The report by Governor Carcieri's Blue Ribbon Panel in 2008 was an essential step in addressing the transportation infrastructure and strategy needs we have. As you observed, there has been no action on their recommendations. That is a sign of denial. I would offer reality therapy to the legislature and the public. These problems will not go away and transportation alternatives cannot be pursued until everyone accepts the scope and the cost of what confronts us. All the funding strategies have to be considered and establishing a dedicated Trust Fund is a good idea because it protects the high priority of what we need to do in transportation. Two other thoughts: first of all, the report must be updated in view of what we have learned about lower transportation project costs in the last two years, particularly with the bidding on the Pawtucket Bridge and the projects funded by ARRA. Secondly, any reduction or slowing in spending in other areas of the state budget will have a positive impact on getting the funds we need for transportation.
Incentivizing Growth in Centers

2. Grow Smart: Rhode Island's urban and town centers are vitally important to our state's future well-being because they have concentrations of commerce and population as well as buildings, roads, utilities and transportation infrastructure already in place. By putting an end to the many wasteful public subsidies for scattered development on greenfields and instead focusing on incentives for future commercial and residential growth and re-growth in centers, we can capitalize on existing assets and reap the economic, environmental and community benefits of doing so. At no cost to the State, Grow Smart recommends providing an incentive for municipalities to encourage location-efficient economic development by exempting from the property tax levy cap (S-3050) all or a portion of new property taxes generated in districts that meet state-approved Growth Center standards.

Block: I am in favor of a constitutional property tax cap that over time will equalize the disparity between the urban centers and the suburbs. I am also in favor of expanding the state's open space land purchase program to include site assembly of existing urban sites into larger parcels that facilitate development and take steps toward equalizing the burden of land acquisition.

Caprio: I think that location efficient economic development is a great idea. However, I do not want the property tax levy cap to be removed for any reason. I want to protect Rhode Island citizens from any increase in taxes. Families across Rhode Island are struggling to pay their bills and I will not allow them to be subjected to higher property taxes. However, I do agree that Greenfield development should not be subsidized. Rhode Island should focus on revitalizing its town centers before creating developments in open-space. I think it is a great idea to be able to preserve open-space in Rhode Island as much as possible and smart growth in cities and towns will help achieve that goal.

Chafee: Support. We need to work with the RI League of Cities and Towns and EDC to make sure this is as effective as possible.



Robitaille: I would not favor taking this step at this time for two reasons. First of all, municipal taxing and spending will be greatly discussed and, I hope, reformed in the next couple of years. At the least, tax discipline in the towns and cities has to be reinforced and so any mitigation of the tax levy cap cracks open a door that should not be opened. Secondly, the property and commercial municipal taxes in Rhode Island can best be described as byzantine and barely consistent with any statewide planning or standardization. These issues must be tackled first and will go a long way toward aiding coherent economic development.
Restoring a State Historic Tax Credit

3. Grow Smart: The Rhode Island Historic Preservation Investment Tax Credit, which was available to new projects from 2002 through 2008, is estimated to have leveraged $5.35 in total economic output for each dollar of state tax credit investment. It stimulated $1.2 billion of private investment, incentivized the rehabilitation of 226 structures in 22 Rhode Island cities and towns, and generated thousands of new construction and permanent jobs and tens of millions in new state and local tax revenue. Despite significant evidence of its value, it was halted for new enrollees in 2008. Grow Smart recommends that Rhode Island should reinstate a targeted State Historic Tax Credit.

Block: I support bringing the Historic Preservation Tax Credit back, but the program has to be retooled. We have to redesign it to be less about residential and more more job creation opportunities. The credits from this program must be capped and indexed, and we must make sure that we set the amount of the tax credit so that the state's exposure is known.

Caprio: Reinstating the Rhode Island Historic Preservation Investment Tax Credit is a great idea. It will be a valuable incentive to stimulate redevelopment and reuse of existing historic structures which will enrich the character of Rhode Island cities and towns and revitalize them in a sustainable way. The incentive to rehabilitate historic structures will also help the economy by providing jobs and creating space for new businesses or homes. However, this tax credit can only be implemented when the state budget revenues start to grow.

Chafee: I have proposed reinstatement of the historic tax credit, which should happen first in local and national historic sites or districts in economically stressed neighborhoods.



Robitaille: This is the classic example of the need to make judgments about affordability. Can the State afford to do this or can the State afford not to do this? No new historic tax credits are being issued because these credits have cost the state $280 million. In these times, we cannot afford that. Tax credits of any kind should be deployed sparingly because it makes the tax system more complex and less transparent and, sometimes, less equitable. If one is to be considered, it must be subject to a thorough analysis to assess the cost and the benefit. There were many benefits to the historic tax credit but the cost was too high. I would not be opposed to revisiting this question with consideration of variants of the tax credit coupled with a wide survey of the financial benefits to the state. The state has to be assured, however, that the balance sheet will come out on the plus side.
Better Coordinating Capital Investments

4. Grow Smart: The continued revitalization of our centers and corridors will require effective coordination between state, local and private partners. Big picture decision-making at the state level has often not caught up with or adapted to strategies recommended in Land Use 2025, Rhode Island's forward-thinking state land use plan. Grow Smart therefore recommends that the Governor establish a sub-cabinet in the Executive Branch that includes all state agency directors whose capital spending has an impact on land development. Task the sub-cabinet with coordinating capital spending and aligning state agency investments with smart growth strategies in Land-Use 2025.

Block: I support your proposal for the establishment of sub-cabinet in the Executive Branch for coordinating smart growth strategies.



Caprio: Coordination among agencies would be a great thing. I plan on making all departments and agencies more efficient and coordination on common areas will be part of that. I will also transform the Department of Administration into an Office of Management and Budget to oversee all budgeting which can help in coordinating spending on land development.

Chafee: I support the objective of coordinating all state capital development projects to be consistent with the Land Use 2025 plan.



Robitaille: This task can be accomplished without making things too complicated. Ensuring that departments' actions are aligned with Land Use 2025 can be made part of departments' standard operating procedures.
Smart Siting of State Facilities

5. Grow Smart: The siting of state offices and other state facilities not only influences private development decisions, but can also have a lasting effect on the vitality of our urban and town centers. Rhode Island state government should take the lead in making siting decisions that maximize citizen access to government services and economic development benefits. Grow Smart recommends that our new Governor issue an Executive Order reminding department heads in state government to comply with a provision of the State Properties Committee statute (RIPL 37-6-2), giving preference to siting state offices and facilities in transit-friendly urban and/or economically distressed locations.

Block: I believe that state government should comply with its own laws.




Caprio: State offices and facilities should be in transit-friendly areas. Rhode Islanders need to be able to access their government easily.



Chafee: I support this measure.




Robitaille: I agree. Decisions about the siting of state offices and facilities must aim for low-cost to the state and high access to citizens. I don't see any conflict with accomplishing these objectives and abiding by that statute.
Housing and Conservation Trust Fund

6. Grow Smart: Permanently protected land ensures that Rhode Islanders will continue to enjoy a number of benefits including reduced susceptibility to flooding, safe drinking water, local farms, wildlife habitat, scenic landscapes and recreational opportunities. While voters have consistently supported bond issues to fund land conservation programs, bonding increases state and local debt and is an uncertain source. Land conservation efforts would be enhanced by an alternative source of funding. In 1990, Rhode Island created a Housing and Conservation Trust Fund in recognition of the fact that affordable housing and open space land preservation are two essential attributes for Rhode Island's long term well-being that lack a stable funding source. While the Trust Fund remains on the books, no funding stream was ever identified. Grow Smart recommends that the State should activate Rhode Island's Housing and Conservation Trust Fund and provide a permanent funding stream for the Fund.

Block: I agree that the state should activate RI's Housing and Conservation Trust Fund.




Caprio: I support permanently protecting Rhode Island land. I think getting Rhode Island's Housing and Conservation Trust Fund ready is a great idea. However, because of these hard economic times I am unsure if it will be able to be funded. I do think we should update it so that when these bad economic times turn around the trust is ready to be funded.

Chafee: I would be interested in pursuing this once the state is able to resolve the FY 2010 anticipated budget shortfall, projected to be $350million.



Robitaille: More open space was preserved in the outgoing administration than in any other and I would like to continue that commitment to protected lands. I will consult with those who have been part of the successful preservation of lands - the Department of Administration and the Department of Environmental Management in particular - to seek out the best way to fund this and will look at the Housing and Conservation Trust Fund as a possibility.
Housing Affordability and NOP

7. Grow Smart: Housing has a major impact on economic growth, both because we must have affordable places for workers to live and because the residential construction industry should be an economic engine for Rhode Island's economy. One step is to revise municipal zoning ordinances to allow more compact residential development and thereby lower development costs for market rate home ownership and rental units. However, the State must also have a supply of rental and home ownership units that will remain affordable over the long-term to low and moderate income workers in our service industries. These homes generally require Federal and/or state subsidies. The $50 million in affordable housing bond funding approved in 2006 will be fully committed by the end of 2010. Grow Smart recommends that the State should continue to appropriate funds for the Neighborhood Opportunities Program (NOP.) NOP was the first Rhode Island program established to provide funds to address the housing needs of low and moderate income Rhode Islanders and will be the only program remaining after housing bond funds are spent out.

Block: I agree that the state should continue to appropriate funds for the Neighborhood Opportunities Program, as long as we can afford to do so.



Caprio: Rhode Island families need safe and affordable housing. The Neighborhood Opportunities Program has been a reliable source of that housing. In the future I have no qualms about using NOP to provide homes for low and moderate income Rhode Island families and will try to fund them as best as the budget will allow.

Chafee: I believe this is a priority.




Robitaille: It is my understanding that withholding funding from NOP was not a rejection of its work but a matter of not having the money to continue. Our hope is that our economy will revive and, with that improvement, state revenues, and at that time I would advocate for renewed funding. I also think we need to look at the creators of affordable housing in the state. Considering the development corporations and other local efforts and the federal HUD programs, our housing efforts could benefit from the prescription that many are suggesting for municipal governments: regionalization, consolidation, sharing of services, etc. I am not convinced that we are delivering affordable housing efficiently and I would like to open that discussion.
Strengthening the Agricultural Sector

through Estate Tax Reform

8. Grow Smart: It is often said that farmers are "land rich and cash poor," and the reality of that saying means that a farmer's death frequently puts a farm's future at risk. Because Rhode Island's land values are high, state estate taxes on family farms are also high. Often, families do not have the cash available to pay the estate tax and therefore are forced to sell all or a portion of the farm. Grow Smart recommends that Rhode Island should ease the estate-tax burden for farm families. A cap on the value of farms for Rhode Island estate tax purposes would avoid the next generation's having to sell all or parts of their farms to cover taxes.

Block: I agree with this plan in principle but only if they also agree to a transfer of development rights and/or conservation easements that actually preserves the land as agricultural and does not allow them to sell it later at substantial profit.

Caprio: I agree that Rhode Island should eliminate the estate-tax burden for farm families. A Rhode Island family farm should stay in the family. I do not want to see a family who has recently lost a love one have to also lose their land. I want to keep Rhode Island families in Rhode Island. The rural atmosphere that family farms provide to Rhode Island is priceless, and I will work to make sure the families do not have to sell their farms to pay an estate tax.

Chafee: I would like to provide more support and outreach to farm families to preserve as many farms as possible.



Robitaille: I am in favor of raising the estate tax exemption for everyone and eventually abolishing the tax altogether.
Enhancing Local Planning Capacity

9. Grow Smart: Most of the planning decisions that shape our state's future are made at the local level, and those decisions are based on local comprehensive plans, zoning ordinances and subdivision regulations. Municipal planning staffs do not generally have the time to research and develop ordinances for new and creative land use strategies, and many municipalities do not have resources to hire consultants. Therefore, Grow Smart recommends that the State should provide technical assistance to municipalities in the areas of planning and ordinance development on approaches ranging from Tax Increment Financing and establishment of village zoning to Transfer of Development Rights and Conservation Development.

Block: I support the idea of the state providing technical assistance to municipalities in the areas of planning and ordinance development.



Caprio: I agree that the state should be the leader in comprehensive land use planning. As governor I will make my staff available to municipalities for any questions they may have concerning comprehensive and sustainable land use planning.

Chafee: I absolutely agree. The state will develop model language for ordinances that may be used by municipalities.



Robitaille: Ground zero for the government budget crunch will be the municipalities. Of immediate concern is resetting how we govern in Rhode Island and the local functions you mention are among the many municipal services that must be part of re-engineering government in Rhode Island. We can be more effective, more efficient, and gain more savings. I plan to enhance the services of the Office of Municipal Finance and use that office as a focus for supporting our towns and cities with the tools they need to get the job done right and raising the level of expertise and overall impact of what happens on the local level. Reforming the functions you mention will be part of a more comprehensive effort to restructure the delivery of municipal services.
Recycling Brownfields

10. Grow Smart: The underused or vacant industrial sites found in Rhode Island's historic city and town centers can provide good locations for new economic activity. However, many have soil contamination issues that must first be cleaned up. The clean-up can lead to project delays, including delays caused by limited RIDEM staff resources to review projects. For a developer who already has capital invested in a property, time is money. Grow Smart recommends that Rhode Island follow the example of Massachusetts and Connecticut and adopt a Licensed Site Professional (LSP) program for oversight of brownfield remediation to expedite clean-up projects.

Block: I believe it would be beneficial for RI to follow the example set by MA and CT and adopt a LSP program.



Caprio: Rhode Island should have Licensed Site Professionals for oversight of brownfield remediation. This would not only expedite the clean-up of contaminated sites, but it would help to ensure that the sites are being cleaned up properly and will be safe for future use. As governor I want to adopt an LSP program for Rhode Island.

Chafee: I like this idea, and as author of the federal Brownfields Act, I welcome actions to facilitate improvement on this.



Robitaille: It is worth a look to see the track record of the LSP programs in states where it exists and to make a judgment about its applicability to Rhode Island.