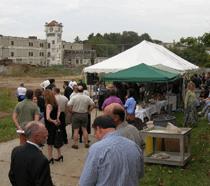 Village Renaissance

Sponsor Message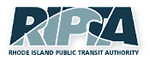 'Power of Place Summit'
Resource Column


Held May 12, 2006
See who participated
(use 'smart' as the password)
Post Summit Survey
Following the Power of Place Summit, we surveyed the nearly 500 participants - planners, architects, state and local officials, business leaders and citizens - asking what they think about Land-Use 2025, what it offers their communities as well as their priorities for implementation. The results below reflect all completed responses and represent approximately 20% of Summit attendees.
Complete Survey Results
Sample Highlights
Respondents identified a strategy of targeted state investments to urban, town and village centers as the single most important of nine strategies listed for influencing smarter growth.


What do you think are the most important ways that RI's new Land-Use Plan can make a difference in your community?


If you were designing a plan to promote the smart growth concepts contained in Land Use 2025 in your community, what issues/messages would you emphasize?

Workshop Session Notes

With the help of several volunteers from the Statewide Planning Division, we have assembled notes from each of the workshop sessions held during The Power of Place Summit. In some cases, there were two note-takers and therefore two sets of notes.


Grow Smart

Board of Directors

Deming E. Sherman

Chairman of the Board

Susan Arnold

William Baldwin

Joseph Caffey

Robert L. Carothers

Arnold Chace

Jen Cookke

Trudy Coxe

Stephen J. Farrell

Thomas E. Freeman

J. Joseph Garrahy

John R. Gowell, Jr.

Michael S. Hudner

Stanley J. Kanter

Howard M. Kilguss

Dennis Langley

James Leach

Roger Mandle

Rev. James C. Miller

Thomas V. Moses

George Nee

B. Michael Rauh, Jr.

Michael F. Ryan

Gary Sasse

Richard Schartner

Merrill Sherman

Curt Spalding

James F. Twaddell

Ranne Warner

Sandra Whitehouse

Frederick C. Williamson

W. Edward Wood
---
---
---
Become an e-Brief Sponsor

---
Display at your city or town hall, local library or place of
business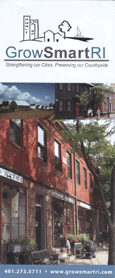 ---
Want to join an

expanding network of

smart growth practitioners?

Click the map for details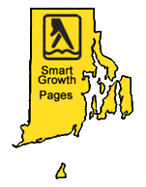 Smart Growth
Grow Smart Staff
Executive Director
Director of Programs
Director of Research & Communications
Executive Assistant for Finance
Office Assistant
Training Coordinator
Dear John,

You're among the 3,041 civic leaders, state & local officials, development professionals, journalists and visionary citizens getting the latest news, happenings and trends in the smart growth movement from Grow Smart Rhode Island.



State and local candidates to get briefing

on growth & development issues, policies

Last call for municipal candidates to register for breakfast seminar "Talking with Voters about Managing Community Growth"

Voters in communities across Rhode Island share similar concerns - escalating education costs, residential property tax increases, and ensuring the kind of residential and commercial development that preserves community character. Inevitably, the discussion turns to the need for managing growth in a way that strengthens our economy and protects our environment.

To help candidates for local and state office address these concerns, the Grow Smart Land-Use Training Collaborative will be presenting 90-minute seminars on October 4th and 11th. The seminars will feature a panel of speakers with expertise in a broad range of topics, including economic development, land conservation, housing, community planning and design, and property taxes.
Fall land-use workshop schedule set

Program geared to municipal decision-makers, citizen planners and others responsible for shaping the future of our communities

Conservation Development

The Grow Smart Land-Use Training Collaborative opens its 6th program year this fall with a new 3-hour workshop about Conservation Development being offered

October 25th

(Kingston) and

November 8th

(Smithfield). Conservation development is a creative land-use technique that allows a community to guide growth to the most appropriate area within a single parcel of land in order to minimize negative impacts to the environment and community character. It's also a great way to promote open space protection at no cost to the community.

Making Good Land-Use Decisions

Responding to the needs most often expressed by members of City and Town Councils, Planning and Zoning Boards, this workshop series - being held

October 5th, 12th and 19th and again on November 21st, 29th and December 5th

- is designed to help members:

Make legally defensible decisions
Comply with open meetings, open records and ethics laws
Know what to ask to reduce environmental impacts
Make decisions based on comprehensive plan goals

Click the above links for access to registration forms.
Statewide calendar launched for

land-use, water-related events

"Community Connections" consolidated database will help organizers and participants stay informed and avoid scheduling conflicts

The Grow Smart Rhode Island Land-Use Training Collaborative, in partnership with the Narragansett Bay National Estuarine Research Reserve (NBNERR), has launched "Community Connections", a public electronic bulletin board.

Featuring events throughout Rhode Island and nearby Connecticut and Massachusetts, the calendar will serve two purposes. First, it will become a "one-stop-shop" resource for state and local officials, citizens, watershed councils and land trusts, as well as the design and development community who want to find out about workshops, conferences and other educational programs pertaining to land use and water resources.

Secondly, since program sponsors are encouraged to post preliminary information on the calendar as soon as dates are set, "Community Connections" will help a number of Rhode Island agencies and organizations that plan land-use and water related events to avoid schedule conflicts.
New report looks at how smart growth

encourages good economic development

The International Economic Development Council has recently released "Economic Development and Smart Growth" a report highlighting the connections between smart growth and economic outcomes such as job growth, occupancy rates, tax base, and private investment.

The report, supported with funding from EPA, uses detailed case studies to illustrate economic outcomes in places that have incorporated smart growth development strategies. The case studies profile diverse projects in Lakewood, Colorado; Pittsburgh, Pennsylvania; Paducah, Kentucky; Indianapolis, Indiana; Portland, Oregon; Burlington, Iowa; Silver Spring, MD; and Columbus, Ohio. Download the PDF (50 pages).
This Is Smart Growth showcases

development at its best

Providence neighborhood group featured for innovation in promoting healthy lifestyles

The Smart Growth Network (SGN) and the International City/County Management Association (ICMA) have released this publication illustrating how communities can turn their visions, values, and aspirations into reality, using smart growth techniques to improve the quality of development.

"This Is Smart Growth" describes how, when done well, development can help create more economic opportunities, build great places where people want to live and visit, preserve the qualities people love about their communities, and protect environmental resources. Many people want to know what smart growth looks like; "This Is Smart Growth" illustrates and explains smart growth concepts and outcomes.

The publication features 40 places around the country, from cities to suburbs to small towns to rural communities, where good development has improved residents' quality of life. Photos illustrate how these communities have invested taxpayer money wisely, offered people more choices in housing and transportation, protected natural and working lands, promoted healthy environments, created a lasting legacy for the community, and achieved other accomplishments.

September 2006. 32 pages. Download Here
RI Economic Policy Council releases

Community Development Scorecard

Highlights need to expand thinking from "land development"

to "place-making".

The Rhode Island Economic Policy Council periodically publishes topical scorecards charting the State's overall economic performance and progress in key areas, including business development, education, quality of place, government, and science and technology.

Recognizing that Rhode Island's quality of place is an important asset in today's innovation driven economy, this Community Development Scorecard directly addresses the importance of developable sites and whole places. "Whole Places" are: full of life, diverse and distinctive in their built form, natural environment and social networks; empowering of their residents; transit and digitally connected, water and energy efficient; and disaster resilient. Whole places are important to innovation because they are a magnet for creative talent. Among EPC's recommended strategies is to steer future development to our urban, town and village centers.

Featured in Providence Buisiness News on Monday, 9/25.
Fall Mini-Grant deadline approaching

October 25th deadline to request assistance for nonprofit historic preservation projects

The Preserve Rhode Island / Citizens Bank Foundation Mini-Grant Program awards funding up to $1000 to support non-profit groups that need assistance with fees associated with preservation and planning consultants, planning studies, project designs, and the creation of preservation education projects. Funds will not be awarded for the regular maintenance of structures or other "bricks and mortar" costs.

Interested applicants are encouraged to visit the Mini-Grants page of the PRI website to view the guidelines for the program and to email or call a staff person to discuss applications and their structure. Grants are generally awarded within a month following the deadline.
CALENDAR Highlights

October 2006

International Walk to School Month gives children, parents, school teachers and community leaders an opportunity to be part of a global event as they celebrate the many benefits of walking.

October 11-14, 2006

Planners Training Service

. Workshops from leading planning researchers and practitioners including: Effective Zoning Techniques; Urban Design and Site Planning; The Transportation/Land Use Connection; and Collaborative Growth Visioning. Presented by the American Planning Association.

Providence, RI

October 19-21, 2006

PLACEMATTERS06 is the annual gathering of the PLACEMATTERS community, where a national network of practitioners come together to learn, share, inspire and seed innovation in place, collectively elevating the art and science of planning for vibrant, sustainable communities.

Denver, CO

November 13-15, 2006

Brownfields 2006

. National brownfields conference cosponsored by EPA and ICMA focusing on remediation, redesign and redevelopment of potentially contaminated properties. Conference registration is free.

Boston Convention & Exhibition Center, Boston, MA
'Growth & Development' in the news


National

Statewide

Bristol

Burrillville

Coventry

Cranston

East Providence

Newport




North Kingstown

North Providence

North Smithfield

Pawtucket

Providence

Smithfield

South Kingstown




Tiverton

Warren

Warwick

Westerly

West Warwick

Woonsocket