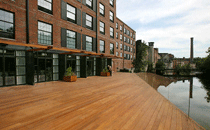 Projo photo / Steve Szydlowski

Recycling the Land

at Pontiac Mills


The 163-room NYLO Hotel opened on September 2, 2008 in the former Pontiac Mills complex in Warwick. The hotel was developed by an Atlanta, Ga., company that concentrates on business travelers who have an affinity for loft-style living popularized by the people who domesticated SoHo, TriBeCa, the meatpacking district and other formerly gritty New York neighborhoods.



Grow Smart welcomes
new staff member

Grow Smart is delighted to welcome Lauren Pendergast as Training Coordinator for the Grow Smart RI Land Use Training Collaborative. Lauren comes to GSRI with a breadth of experience gained at several agencies in the Commonwealth of Massachusetts. Her previous positions included Special Projects Coordinator for the Department of Environmental Protection and Communications Manager for the Office for Commonwealth Development. She has coordinated numerous workshops, conferences and other events throughout her career and is experienced in working with GIS and various other technologies. Lauren grew up in Warwick, where she and her husband now live, and holds a B.A. in English from the University of Rhode Island.
Grow Smart Rhode Island

Board of Directors

Deming E. Sherman

Chairman of the Board

Susan Arnold

William Baldwin

Rebecca G. Barnes

Samuel J. Bradner

Kenneth Burnett

Joseph Caffey

Robert L. Carothers

Jen Cookke

Trudy Coxe

Dennis DiPrete

Stephen Durkee

Stephen J. Farrell

John R. Gowell, Jr.

Akhil C. Gupta

Michael S. Hudner

Stanley J. Kanter

Howard M. Kilguss

Dennis Langley

James Leach

The Rev. James C. Miller

Thomas V. Moses

William M. Pratt

B. Michael Rauh, Jr.

Richard Schartner

Lucie G. Searle

Pamela M. Sherrill

John C. Simmons

Curt Spalding

James F. Twaddell

Directors Emeritus

Arnold "Buff" Chace

Louise Durfee, Esq.

J. Joseph Garrahy

Michael F. Ryan

Frederick C. Williamson

W. Edward Wood


Staff

Scott Wolf

Executive Director

Director of Programs

Director of Research & Communications

Executive Assistant for Finance

Office Assistant

Training Coordinator
---
Do you live
or work in this zone?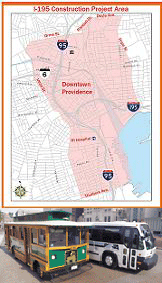 ---
Miss a previous e-brief?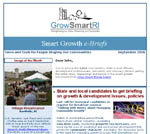 ---
Visit our Smart Growth
Resource Directory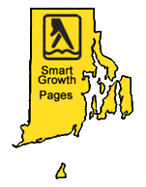 ---
Dear John,

You're among the 3,675 civic leaders, state & local officials, development professionals, journalists and visionary citizens getting the latest news, happenings and trends in the smart growth movement from Grow Smart Rhode Island.



Grow Smart, allies convene leaders last

week to address RIPTA funding crisis

Among the participants were the Governor, Lt. Governor, Directors of Administration and Transportation, RIPTA Board and staff, labor leaders, stakeholder groups, major employers, developers and members of the Governor's Blue Ribbon Panel for Transportation Funding

According to RIPTA Chairman John Rupp, if more money isn't committed to the authority "in the near future, we're going to run out and the buses will stop." Due mainly to the rising cost of fuel and a significant drop in gas tax revenue, RIPTA has gone from a balanced budget in March to projecting a $12 million deficit for next year.

In order to avert severe service cuts that are now being contemplated - or even a stoppage - Grow Smart, in partnership with members of the New Public Transit Alliance (NuPTA) convened key civic, business and political leaders on Tuesday, September 23rd to get input on structuring mass transit funding in a way that allows it to grow with increased demand. The discussion was also seen by many as an important step to envisioning RIPTA's evolution into a robust, multi-modal mass transit system that can give Rhode Island a competitive advantage in the new economy while making significant and measurable improvements to air quality and greenhouse gas reductions.

Feedback at the summit will be used to develop a set of short and long-term funding recommendations. A smaller working group will be assembled in October to vet those recommendations before being sent to the Governor and the General Assembly by 10.28.08.

It is critical that a set of recommendations be agreed upon by the Administration and Legislature quickly in order to avert service cuts that will otherwise be unavoidable.

Summit looks at RIPTA finances - Projo 9/24

Grow Smart releases policy briefing book

to local candidates in upcoming election

Campaign tool provides research and policy recommendations to candidates about a broad set of strategies for restoring prosperity by capitalizing on Rhode Island's vast untapped potential

Rhode Island is an outstanding, dynamic and distinctive place but it is looking weak and sliding into a defensive crouch these days. To accelerate constructive discussion and action on the many policy challenges and opportunities facing Rhode Island, Grow Smart has released its 2008 Candidates' Briefing Book, entitled, "A Blueprint for Sustainable Prosperity and Enhanced Quality of Place".

The book's release is a non partisan effort to promote better understanding of growth and development issues and various strategies and best practices to tap Rhode Island's full economic, environmental and social potential.

At its heart smart growth is about encouraging a pattern of development that prevents waste - waste of buildings and neighborhoods, of environmental resources, energy, tax dollars, of people's time and of people's individual and collective potential.
Back by popular demand, innovative

parking workshop slated for Nov. 7

Program aimed at strengthening the vitality and function of walkable urban, town and village centers through innovative parking solutions

Tackling Your Community's Parking Challenges, the latest workshop developed for the Grow Smart RI Land-Use Training Collaborative, is being offered again following strong interest and positive feedback from those who participated in the July session. The 4-hour workshop, to be held in East Providence, will introduce attendees to new ways of thinking about parking issues, including the public and consumer cost of providing it.

Nathan Kelly, AICP, of the Horsley Witten Group, and Jason Schrieber, AICP, of Nelson\Nygaard Consulting Associates will return to present zoning, design and management strategies that municipalities can use to balance public and business demands for parking with community goals for environmental protection and maintenance of community character.

The discussion will range from the economics of providing parking to the fallacies inherent in the parking standards on which many communities rely to recent developments in materials and low-impact design. Using mini case studies from around the country, Nate and Jason will offered both time-tested and innovative solutions to parking challenges. Participants will apply what they learn in an interactive design exercise.

The workshop is approved for 4 AICP CM credits.

Click

HERE

to learn more or register.
Our donors help advance the

smart growth agenda in Rhode Island

1st and 2nd quarter 2008 donors help Grow Smart sustain an aggressive statewide movement for better planned development and quality place- making at the state and local level

Grow Smart acknowledges and thanks the many individuals and organizations who provided us with generous financial support during the first two quarters of 2008 (January-June). Tax deductible donations to Grow Smart are what sustain our work - and are now needed more than ever in these very challenging economic times.

Individuals

Edgar George Adams

Samuel F. Babbitt

Daniel A. Baudouin

Noel Berg

Paul Boghossian (Paul & Mary Boghossian Memorial Fund)

David Brown

Nicholas Brown

Harvey Buford

Nicholas & Julia Califano

Brenda Clement

Marilyn F. Cohen

Suzanne Cohn

Alice W. Conkey

Anne & Peter S. Damon

Merlin & Sandra Deconti, Jr.

Stanley G. Dimock

Dr. & Mrs. Robert Ducoff

Rosalie Fain (The Norman & Rosalie Fain Fund)

Mr. & Mrs. Fred J. Franklin

Alan S. & Renee L. Flink

Sally & Stephen Fortlouis

Anna C. Gizzarelli

Jay & Elizabeth Gowell

Lindsay Green

Barry & Kathleen Hittner

Virginia K. Innis

Kevin Kelley

Howard M. Kilguss

Beatrice D. Krakoff

Anne Berkelhammer Krause

Marie Langlois

Stephen & Diana Lewinstein

Connie McGreavy

Walter McLaughlin

Marcia S. Riesman

Clayton A. Rockefeller

Hinda Semonoff

Pamela Morey Sherrill

Chester & Theresa Smolski *

Dennis E. Stark & Robert Amarantes

Muriel P. Stevens

Theodore G. Trafton

James F. Twaddell

Kate Waterman

Myrth York (Otto H. York Foundation)


* Sadly, Chester Smolski, a longtime Professor of Urban Studies and loyal Grow Smart supporter, passed away June 22nd. Click HERE to read about Chet's many contributions to Rhode Island.

Corporations

A4 Architecture & Planning

Adler Pollock & Sheehan P.C.

American Institute of Architects

The Aspen Group

Belvoir Properties, Inc.

E. W. Burman, Inc.

DiPrete Engineering Assoc. Inc.

The Foundry Associates, LP

Gates, Leighton & Associates, Inc.

The Greater Providence Chamber of Commerce

KPMG LLP

Moses & Afonso LTD.

Nadeau Corporation

Nation Wide Construction

NeighborWorks Blackstone RiverValley

Nortek, Inc.

Northern Waterfront Associates, LP (Brian O'Neill)

O'Hearne Associates

One Financial Center Plaza, LLC (Aram Garabedian)

The Pawtucket Foundation

Peregrine Group LLC

PM Industries, Inc.

Property Advisory Group

United Healthcare

Foundations / Grants

Blackstone River Valley National Heritage Corridor Commission

Coalition for Water Security (The ECRI Education Fund)

Stephen A & Diana L Goldberg Foundation

The Haffenreffer Family Fund

The Rhode Island Foundation

Rhode Island Division of Planning / Statewide Planning Program

The Washington Trust Company

Power of Place Summit Sponsors

Audubon Society of RI

B & H Shipping Company

BankRI

Blackstone River Valley National Heritage Corridor Commission

Brown University

Dimeo Properties, Inc.

Durkee Brown Viveiros Werenfels

Edwards Angell Palmer & Dodge LLP

F.H. French Co Inc.

Lifespan

National Grid

Northern RI Chamber of Commerce

City of Pawtucket

PRESERVE Rhode Island

The Providence Foundation

Rhode Island Association of Realtors

The Rhode Island Builders Association

Rhode Island Department of Environmental Management / Narragansett Bay Research Reserve

Rhode Island Division of Planning / Statewide Planning Program

Rhode Island Department of Health
Sustainable development conference

to be held in Newport Oct. 15-17

The first annual Sustainable Development & Restoration Summit will focus on the future of historic cities and the processes that are stimulating new business, greater energy efficiency, stronger community.

Presented by Source Newport, conference organizers promise thought-provoking sessions with planning, architecture, finance, construction, and real estate investment leaders as they share solutions and explore new paths to sustainable development and the key role played by restoration and America's historic cities.

A roster of speakers from a variety of disciplines, including Grow Smart Executive Director Scott Wolf, will share the most current information in managing and coordinating the new urban environment around historic property: colonial to 1950s contemporary. Participants will hear how development with "green" awareness and restoration are working side-by-side to grow unrivaled financial opportunities and retain the historic elements that make communities unique.

Click HERE for more information.
Sharp rise in U.S. shopping center

vacancies fails to slow new construction

The number of shuttered box stores and empty strip malls has expanded over the last nine months, according to NewRules.org and data compiled by commercial real estate brokers and investment advisors.

Chain retailers have announced plans to close more than 6,500 outlets by year's end, even as shopping center construction continues to expand. Developers are on track to bring an estimated 137 million square feet of new retail space online this year. That's more than the average annual growth during the first half of the decade.

"I would avoid ... anything related to commercial construction," advised Michael Larson, associate editor of Safe Money Report and an early predictor of the mortgage crisis.
CALENDAR Highlights:


Click here b> to let us know if you would like your land-use/water resources related conference or workshop listed on our CommunityConnectionRI Calendar.

Friday, October 3, 2008 (9:00 - 12 Noon)

Can Vis Workshop

. CanVis is a Visual Simulation Tool for Resource Planning. Learn how to better communicate planning alternatives to local stakeholders by creating computer-generated simulations or visualizations that help folks "see" the potential impacts of development alternatives. There is no cost for this workshop. And the software is free and easy to use.

RI Dept. of Administration

Providence

Thursday, October 9, 2008 (6:30- 8:30p)

River Bend Farm

Uxbridge, MA

October 15-18, 2008

Blackstone Valley Visitor Center

Pawtucket
'Growth & Development' in the news

Send us Your News. We want to know what's happening in your community.


National / International


Barrington

Block Island

Burrillville

Central Falls

Coventry

Cranston

Cumberland

East Greenwich