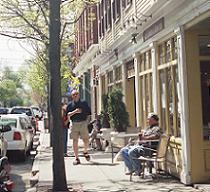 RI Statewide Planning Photo
Hope Street, Bristol, Rhode Island
Putting a value on "Walkability"
A new study suggests that people are willing to pay considerable premiums for houses in neighborhoods that are highly walkable — that is, where you can easily get to nearby stores, schools, and parks without necessarily having to get in the car.

More from Money Magazine


Grow Smart Rhode Island

Board of Directors

Howard M. Kilguss

Chairman of the Board

Susan Arnold

William Baldwin

Rebecca G. Barnes

Samuel J. Bradner

Kenneth Burnett

Joseph Caffey

Robert L. Carothers

Jen Cookke

Trudy Coxe

Dennis DiPrete

Stephen Durkee

Stephen J. Farrell

Michael L. Friedman

Wilfred L. Gates

John R. Gowell, Jr.

Akhil C. Gupta

Stanley J. Kanter

Jason E. Kelly

Howard M. Kilguss

Dennis Langley

James Leach

Thomas V. Moses

William M. Pratt

B. Michael Rauh, Jr.

Richard Schartner

Lucie G. Searle

Deming E. Sherman

Pamela M. Sherrill

John C. Simmons

Curt Spalding

Jonathan F. Stone

James F. Twaddell

Directors Emeritus

Arnold "Buff" Chace

Louise Durfee, Esq.

J. Joseph Garrahy

Michael S. Hudner

Michael F. Ryan

Frederick C. Williamson

W. Edward Wood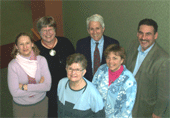 Staff

Scott Wolf

Executive Director

Director of Programs

Director of Research & Communications

Executive Assistant for Finance

Office Assistant

Training Coordinator

Save-The-Date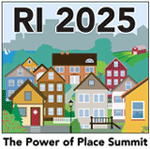 Grow Smart RI will present its 3rd Biennial Power of Place Summit on

Friday, May 14, 2010

at the RI Convention Center. Sponsorship opportunities and a "Call for Workshop Proposals" to be released soon. Click

HERE

to review the 2008 program.

Agriculture

Made in Rhode Island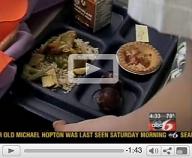 RI Students Get Homegrown School Lunch

School lunches aren't typically comprised of items kids go crazy over. But in Jamestown, students at one school are raving over their meals, all courses of which were made in Rhode Island.


Watch the newsclip from ABC6 News

Friday, September 26, 2009

Burnside Park - 10a to 6p

FREE

Concerned about congestion on Aquidneck Island?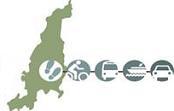 Do you drive, bike, walk, ride the bus or water ferry? Then plan to participate in a Public Workshop about the Aquidneck Island Planning Commission Transportation Study.

Tue., Sept. 29 , 2009, 6 to 9 pm


Click Here for details.

Upcoming Webinar:

Smart Growth & Public Health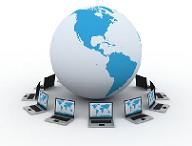 Preventing Injury and Chronic Disease through Smart Growth Policy
Thursday, Sept. 24, 2009

2:30 - 4:00 p.m.


This webcast will be the first in a two-part series that will focus on the relationship between Public Health, Smart Growth, and Community Design. Presented by the Association of State & Territorial Health Officials.
Click Here for details.

Comical Quotes


Take A Hike
"We are talking about the incredibly irritating and aggravating combination of school buses that stop at every driveway, even if they are 25 yards apart, or bussing kids less than a quarter-mile to their neighborhood elementary, and the behavior of their parents... This is because today's media - with a special salute to cable news channels - highlight the small number of cases of childhood predation to fill their always hungry 24/7 news cycles...

... What galls and embarrasses P+J is the fact that in our childhood, there was one bus stop about every quarter-mile, and all the neighborhood kids waited there together." [More]

Phillipe & Jorge

Providence Phoenix

September 16, 2009
---
Visit our Smart Growth
Resource Directory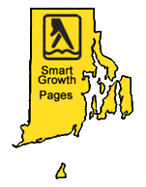 ---
Grow Smart Rhode Island Workshops
---
Miss a previous e-brief?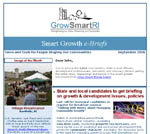 ---
Dear John,

You're among the 3,201 civic leaders, state & local officials, development professionals, journalists and visionary citizens getting the latest news, happenings and trends in the smart growth movement from Grow Smart Rhode Island.



Wolf outlines Grow Smart priorities for

economic development in PBN interview

Emphasizes strategies that play to Rhode Island's strengths, such as its large collection of restored historic buildings and compact, mixed-use neighborhoods - qualities that have already proven to draw small and medium size business investors.

As seen in PBN's 8.17.09 issue:

PBN: How is Rhode Island doing spending the federal stimulus money?

WOLF: We've seen a lot of improvement since January. The governor has designated two very savvy people - Kevin Flynn, who heads the Division of State Planning, and Mike Saul, the interim director of the R.I. Economic Development Corporation - to coordinate the solicitation of ideas. The other action we thought was positive was the establishment of a four- or five-person unit in the governor's office to work full time on allocation of the stimulus money.

PBN: A lot of the stimulus money is going toward transportation infrastructure. How is that being spent?
... Read full interview

Related stories:
Consultant: RI advised to emphasize advantages - PBN 9.9.09

Consultant delivers report on RI economy

- Projo 9.10.09
Skilled summer interns help advance

smart growth agenda for Rhode Island

Projects included work on agricultural viability, economic development and smart growth case studies

Grow Smart acknowledges and thanks the team of five talented and enthusiastic summer interns who provided pro bono services to further our work promoting policies that make Rhode Island a better place to live, learn and work and for business to invest, grow and innovate.

Daniel Bowen, a Brown University Junior, contributed research services related to best practices in municipal agricultural ordinances. Third year Roger Williams University law student, Derek Drizin, also researched agricultural ordinances and assisted staff on agricultural policy development. Will Bowling, a 2007 graduate of Brown University and Jonathan Martin, a third-year engineering student at Lafayette College in Easton, PA performed research and analysis on development of a smart site inventory. Ashley Steen, a graduate student at the Pratt Institute in New York City, helped to develop a number of case studies that illustrate the principles and effectiveness of local smart growth projects.

Interested in an internship or know a prospective intern? Click HERE for a description of opportunities.
Collaborative effort seeks to secure

agriculture's future

Grant from van Beuren Foundation funds partnership to study opportunities and challenges and put in place sustainable systems

Spurred by the increasing demand for local produce, Rhode Island agriculture has experienced significant growth in recent years. But even as they celebrate this growth, agricultural interests are concerned that our state does not have the support structure in place to ensure that farms will continue to provide good livelihoods for farming families and that Rhode Islanders will continue to enjoy the benefits derived from fresh and healthy local produce.

Now, a generous grant from the van Beuren Foundation is funding the Rhode Island Agricultural Partnership Collaborative to study the opportunities and challenges facing local agriculture and to design a system to sustain and expand Rhode Island's farms and local food system for the long term.

The collaborative is led by a Steering Committee that includes producers representing the various commodity groups in the state as well as several non- profit entities dedicated to providing services to farmers and promoting agricultural viability.

... Read more

Related News:

New England Governors publish land conservation report, adopt resolution calling for conservation initiatives including protection of region's agricultural land base and expanded agricultural production. Click HERE for details.
New Transportation Bill facing delay

Countdown has begun. Existing transportation spending bill (SAFETEA-LU) expires on September 30, 2009

With Congress and the President focused on health insurance reform, a complete overhaul of the 6-year federal transportation spending act is not likely to occur before the existing act, SAFETEA-LU, expires later this month.

It is more likely that the $450 billion Surface Transportation Authorization Act will be extended from 3-18 months. House Transportation & Infrastructure Committee Chairman James Oberstar (D-MN) is hoping for just a 3-month extension, while Senator Barbara Boxer (D-CA) has legislation in place to extend the existing transportation bill another 18 months.

Meanwhile, both chambers have passed the 2010 Transportation and HUD Appropriations bill, which is now headed to a House / Senate conference to resolve differences regarding the level of support for high speed rail.

To learn more about proposed reforms to SAFETEA-LU reflecting smart growth principles, visit Transportation for America
REALTORS® magazine highlights

potential of new direction for federal

transportation policy

On Common Ground dedicates an entire issue to transportation including articles on The Federal Transportation Program, Spurring Growth with TOD, The Transportation Element of the Affordability Equation and Complete Streets 2009

To say that America is at a pivotal time in addressing transportation would be an understatement. A confluence of factors - including economic distress, politics, personal travel trends and changing real estate markets - is posing a rare opportunity to create a new national transportation vision in a way not seen since the Interstate Highway system was created during the Eisenhower years.

Crumbling infrastructure and a need to create jobs to jump-start the economy has brought immediate and generous funding to transportation projects nationwide in the recently adopted economic stimulus legislation. Beyond that, a new Administration and Congress are focused on the environment, climate change, and reducing energy use, and Congress will be writing a new six-year authorization bill for transportation funding later this year, which will create an opportunity to shift funding priorities and create a coherent strategy for our transportation future.

Browse this issue of On Common Ground
Governor, RIDOT, RIEDC, City release

I-195 Surplus Land Report

36-acre redevelopment of Interstate 195 land may complement emerging plans for "Meds and Eds" streetcar service connecting East Side with hospital district

City and state officials released a new report this month intened to outline the highest and best use of prime downtown land that will become available following a two-year demolition of the old stretch of Interstate 195, as the new I-Way takes its place.

The report points out three main objectives that will come from the re-use of the land; an increased tax base, economic development and urban revitalization. "With the relocation of Interstate 195, the tear in the fabric of downtown will be repaired, and a new vibrant neighborhood can grow in the city," said Thomas E. Deller, AICP, Director of the Department of Planning and Development for the City of Providence.

The plan coincides with an emerging vision to enhance metro area transit service, including the re-establishment of streetcar service in Providence. Through the Metro Transit Enhancement Study, City and State officials are now evaluating the costs and benefits of comprehensive improvements to meet the growing demand for clean, convenient and affordable transportation options for residents, commuters and visitors. Grow Smart is a member of the Metro Transit Enhancement Study Working Group.

Related links:

Download the I-195 Surplus Land Report (50 MB)

Projo: Report offers plan for use of highway land

- 9.03.09

Metro Study: Streetcar Preliminary Planning Overview

(ppt)

Metro Transit Enhancement Study website
CALENDAR Highlights:


Click here b> to let us know if you would like your land-use/water resources related conference or workshop listed on our CommunityConnectionRI Calendar.

Thursday, September 24, 2009 (8:30a - 4:00p)

Presented by the Apeiron Institute, the 2nd annual Rhode Island Sustainable Schools Summit is an all-day event geared toward education professionals, parents and students.

Location: URI Providence

Providence

Tuesday, September 29, 2009 (8:30a - 12:00p)

Presented by the Grow Smart RI Land Use Training Collaborative. The first workshop is being offered to municipal managers, planners, zoning officials and solicitors. Attendance is limited to 30 people.

Location: Interlocal Risk Management Trust Training Room

East Providence

October 29 - November 1, 2009

Rail~Volution is, first and foremost, a conference for passionate practitioners - people from all perspectives who believe strongly in the role of land use and transit as equal partners in the quest for greater livability and greater communities. Attendees at Rail~Volution cross a broad spectrum of disciplines - including elected officials, developers, advocates, urban planners, transportation experts, financiers, citizen groups, architects and many others.

Location: The Westin Boston Waterfront

Boston

November 4 - November 5

With over 100 speakers, approximately 400-500 conference attendees and 32 approved AICP CM credits available, this year's conference, themed "Planning-Partnerships-Prosperity", promises to be one of the best learning and networking experiences for planning professionals in Southern New England this year.

Location: Mohegan Sun Conference Center

Uncasville, CT