The Providence Journal / Frieda Squires
38 Studios picks downtown, transit-friendly site

for its young, creative workforce


CEO Jen MacLean said "the company was attracted to downtown Providence by its arts community, proximity to talented students and easy access to public transportation". The move follows decisions by other young, creative companies in recent months to seek new uses for old spaces in Rhode Island's urban and town centers.









Click the image above to see a
3-minute video about why
The Rhode Island Foundation
supports Grow Smart.


---
In Memoriam
Frederick C. Williamson

1915-2010

Long time Grow Smart RI Board Member Emeritus Fred Williamson died on Sunday, September 26, 2010 at age 95. He was the longest serving State Historic Preservation Officer in the nation. Fred was the embodiment of an outstanding public servant and public administrator. We will miss him but always be inspired by his quiet dignity, determination and commitment to sound community development. Read more

Grow Smart Rhode Island

Board of Directors

Howard M. Kilguss

Chairman of the Board

Susan Arnold

William Baldwin

Daniel A. Baudouin

Samuel J. Bradner

Kenneth Burnett

Joseph Caffey

Robert L. Carothers

Jen Cookke

Trudy Coxe

Kristin A. DeKuiper

Dennis DiPrete

Stephen Durkee

Stephen J. Farrell

Michael L. Friedman

Wilfred L. Gates

John R. Gowell, Jr.

Akhil C. Gupta

Stanley J. Kanter

Jason E. Kelly

Dennis Langley

James Leach

Basil Lee

Stephen M. Maiorisi

Thomas V. Moses

B. Michael Rauh, Jr.

Richard Schartner

Lucie G. Searle

Deming E. Sherman

Pamela M. Sherrill

John C. Simmons

Jonathan F. Stone

James F. Twaddell

Directors Emeritus

Arnold "Buff" Chace

Louise Durfee, Esq.

J. Joseph Garrahy

Michael S. Hudner

Michael F. Ryan

Frederick C. Williamson

W. Edward Wood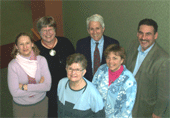 Staff

Scott Wolf

Executive Director

Director of Programs

Director of Research & Communications

Executive Assistant for Finance

Office Assistant

Training Coordinator
---
---
---
---
John,

You're among the 3,380 civic leaders, state & local officials, development professionals, journalists and visionary citizens getting the latest news, happenings and trends in the smart growth movement from Grow Smart Rhode Island.



Grow Smart releases policy briefing book

to candidates for elective office

Booklet provides broad goals and specific strategies for better capitalizing on Rhode Island's assets

Calling for adoption of sustainable economic growth policies that build on the State's competitive advantages and make efficient use of limited resources, Grow Smart Rhode Island today released its 2010 Briefing Book for Candidates. The book is being mailed to more than 700 candidates for state, local and federal office.

"In these difficult economic times, Rhode Island voters are looking for leadership, vision and something more than damage control when it comes to charting a course for Rhode Island's future. They want to elect candidates who have specific ideas for improving the State's economy by playing more effectively to its strengths and who are committed to long-term solutions, not just short term fixes", said Scott Wolf, Grow Smart Rhode Island Executive Director.

The Briefing Book is centered on the following broad goals:

Concentrated growth in vibrant, walkable centers
Responsible stewardship of natural resources
A 21st century transportation system
A vital and profitable agricultural sector
Housing options and affordability
Grow Smart welcomes new directors,

expertise on Board

New members bring fresh perspectives from the business, development, real estate finance and planning professions

The statewide smart growth movement begins a new autumn with the addition of some new faces in the Board room.

At its May 26th meeting, the Grow Smart Rhode Island Board of Directors unanimously elected the following individuals to the board:

Board Chair Howard M. Kilguss praised the Grow Smart Board Development Committee's recommendations saying "the addition of these talented individuals brings new passion and relevant insights to our ongoing efforts to promote sustainable economic growth for our region."
Workshops offered on housing,

land-use decision writing

The Grow Smart Rhode Island Land Use Training Collaborative and its partners are offering four different programs this fall and providing registration fee assistance*

Making Good Land-Use Decisions, an essential, three-night training program for municipal councils, boards, commissions and staff will be offered at a reduced rate of $60 on October 28th, November 4th and November 18th from 5:30-9:00 p.m. in East Greenwich. REGISTER

Writing Sound Decisions, an advanced, one-evening land-use decision writing workshop for municipal planners, legal staff and boards and commissions will be offered on Tuesday, November 16th in East Greenwich and again on Thursday, December 9th in Middletown. Once again The Rhode Island Interlocal Risk Management Trust is providing registration fee assistance for Trust members. REGISTER

Creating Affordable Homes in Your Community: Grow Smart RI is collaborating with HousingWorksRI, Rhode Island Housing, The Housing Network of RI and The Corporation for Supportive Housing to offer a free, four-part workshop series on creating affordable housing for affordable housing task force and other interested community members. The first workshop, on How to Build Support, will be offered on October 14th in East Greenwich from 6-9:00 pm. The second workshop, on Housing Financing, will be offered on December 7th at The Meadows in North Smithfield from 6-9:00 p.m. The workshops are offered free of charge, and Grow Smart gratefully acknowledges the support it received from Citizen Bank to develop the workshops. REGISTER

Advance registration is required.

* Registration fee assistance available for Writing Sound Decisions
3 local municipalities to be selected for

'Healthy Places by Design' assistance

Request for Proposals will be sent to all 39 cities and towns in October

The Rhode Island Department of Health has been awarded a grant to assist local municipalities in implementing healthy community policies in their comprehensive planning and zoning practices. The new project, known as Healthy Places by Design, seeks to make land use, transportation and urban design policies and ordinances that guide the decision making process for the built environment to be more supportive of health, particularly as it relates to physical activity and healthy eating. Grants will be awarded to three municipalities, based on availability of funds, through a competitive application process.

The built environment acts as the setting for human activity, and directly influences our actions. Parks, transportation systems, land-use, access to fresh and healthy foods, and perceived safety are neighborhood-level characteristics of the built environment that are closely related to overweight and obesity risk and prevalence.

The goal of this initiative is to encourage development of healthy choices for all residents by integrating health considerations into community policies.

For more information on Healthy Places by Design, contact Lauren Buckel, Project Coordinator, at 401-222-5937, or Chelsea Siefert, Community Planner, at 401.222.7774.
Study: Residents who live near transit

live healthier, longer lives

A new report, released by the American Public Transportation Association has found that people who live in communities with high-quality public transportation drive less, exercise more, live longer, and are generally healthier than residents of communities that lack quality public transit.

Evaluating Public Transportation Health Benefits, a study conducted for APTA by Todd Litman of the Victoria Transport Policy Institute, aggregates the findings of several recent studies and concludes that people living in transit-oriented "smart growth" communities enjoy several health benefits, not seen in other communities.

[More]