Click to watch clip

To Toll or not to toll...

Making the Case for

Targeted Investments


The toll controversy: Grow Smart's John Flaherty appears on WPRI's Newsmakers program to talk about why Rhode Islanders should consider Open Road Tolling (ORT) on Interstate 95 near the Connecticut state line.





Click the image above to see a
3-minute video about why
The Rhode Island Foundation
supports Grow Smart.


Grow Smart Rhode Island

Board of Directors

Howard M. Kilguss

Chairman of the Board

Susan Arnold

William Baldwin

Daniel A. Baudouin

Samuel J. Bradner

Kenneth Burnett

Joseph Caffey

Kathleen Connell

Gib Conover

Jen Cookke

Trudy Coxe

Kristin A. DeKuiper

Dennis DiPrete

Dr. David Dooley

Stephen Durkee

Stephen J. Farrell

Michael L. Friedman

Wilfred L. Gates

Akhil C. Gupta

Junior Jabbie

Stanley J. Kanter

Jason E. Kelly

Basil Lee

Stephen M. Maiorisi

Kelly Nickson Morris

Donald W. Powers

John A. Rupp

Richard Schartner

Lucie G. Searle

Deming E. Sherman

Pamela M. Sherrill

Julia Anne M. Slom

Jonathan F. Stone

Martha L. Werenfels

Directors Emeritus

Arnold "Buff" Chace

Louise Durfee, Esq.

J. Joseph Garrahy

Michael S. Hudner

Michael F. Ryan

W. Edward Wood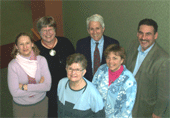 Staff

Scott Wolf

Executive Director

Director of Programs

Director of Research & Communications

Executive Assistant for Finance

Office Assistant

Training Coordinator
---
---
---
---
John,

You're among the 3,518 civic leaders, state & local officials, development professionals, investors, decision-makers and visionary citizens getting the latest news, happenings and trends in the local smart growth movement.

We're Grow Smart Rhode Island. Partner with us. Support us with a tax deductible contribution. Let's make Rhode Island a better place together by playing to our strengths.



Grow Smart's Aquidneck Island Forum

explores best path to sustainable

economic growth

Nearly 70 civic, business and elected leaders turned out at the Casino Theatre on August 23rd to explore policy reforms and targeted investments that can achieve sustainable economic growth by building on Aquidneck Island's exceptional quality of place.

Topics ranged from how to implement and leverage the newly completed Aquidneck Island Transportation Plan to efforts aimed at revitalizing neighborhoods through a restored and targeted State Historic Tax Credit to better capitalizing on Rhode Island's agricultural sector - one of the few stars in our state's struggling economy. "Agriculture and health care are the only two growth industries in the state", said Jan Eckhart, owner of Sweet Berry Farm in Middletown and chairman of the Rhode Island Agricultural Partnership Steering Committee.

The forum, organized and presented by Grow Smart Rhode Island, was generously sponsored by the van Beuren Charitable Foundation.

Read more in the Newport Daily News - 8.24.11
Trainings build capacity to shape

stronger, more healthy communities

Workshops on Mixed-Use Centers, Complete Streets kick off RIDOH Healthy Places by Design Project

The Grow Smart RI Land Use Training Collaborative's latest workshops for land-use professionals were developed this summer under the RI Department of Health's ARRA- funded Healthy Places by Design project.

On July 27th, 31 planners and attorneys participated in a 5-hour workshop on Achieving Healthy, Compact Mixed-Use Centers: Matching Regulatory & Incentive Tools with Your Community's Needs, presented by Steven G. Cecil, AIA, ASLA and Ted Brovitz, both of The Cecil Group, and by Donald Powers, AIA, LEED AP, of Donald Powers Architects. This Friday, September 16th, 40 planners, transportation engineers and public works and public safety officials are expected to attend a 5-hour workshop on Complete Streets for Rhode Island, presented by Ted DeSantos, PE, PTOE and Jennifer Nelson, AICP, EIT, LEED GA, both of Fuss & O'Neill.


'Writing Sound Decisions' - Still time to register

Writing Sound Decisions is designed to help municipal planners, legal staff and boards and commissions write decisions whose content will hold up in court and whose clarity will make them readily understandable for both enforcement officers and property owners.

Thursday, September 22, 2011

5:30 - 9:00 PM

Johnston Senior Center

Free and discounted registration assistance is available to municipalities that are members of The Rhode Island Interlocal Risk Management Trust. See full program description for details.
Washington Trust launches "I Luv RI"

campaign to support local businesses

Rhode Island's Largest Independent Bank Partners with RI Businesses and Organizations to Celebrate What Makes the Ocean State Great

As part of its longstanding commitment to Rhode Island, The Washington Trust Bank has announced its "I Luv RI" campaign, featuring the exclusive "I Luv RI" Facebook page and website www.iluvri.com, and is partnering with local businesses and organizations to celebrate what's great about the Ocean State.

Washington Trust business customers, and those interested in partnering with the Bank, are invited to take part in the campaign, which features displays and digital advertising in the Bank's branch offices, as well as on the Bank's Facebook page and "I Luv RI" website at www.iluvri.com. The website connects directly to the Facebook page that offers businesses free promotional opportunities, including monthly coupons, business spotlights, and networking on the "I Luv RI" Facebook wall. The website also engages visitors by offering a photo gallery, trivia, event listings, and fun facts about the smallest state in the union, as well as "I Luv RI" merchandise giveaways and contests.

Grow Smart Executive Director Scott Wolf praised the campaign, noting how it reinforces Grow Smart's call for a positive, asset based economic development strategy for the state. Read more.
Stage being set for 8th extension of

Surface Transportation Bill

On Thursday, September 8, 2011 the Senate Environment and Public Works Committee unanimously approved the Surface Transportation Extension Act of 2012, which provides short term level funding for transportation programs through Jan. 31, 2012.

The existing authorization legislation that provides federal funding for roads and transit, called SAFETEA-LU, expires on September 30.

While there appears to be bipartisan support for another short-term level-funded extension, there remain large differences between the House and Senate approaches to a longer-term reauthorization. House Transportation and Infrastructure Committee Chairman John Mica (R-FL) has put forth a proposal to cut federal transportation funding by roughly one-third and lock in that lower level of investment over the next six years, while Senate Environment & Public Works Committee Chairwoman Barbara Boxer (D-CA) continues to work on a bipartisan proposal, Moving Ahead for Progress in the 21st Century (MAP-21), that would reauthorize transportation programs at current levels - plus inflation - for two years. Read MAP 21 Outline.

Grow Smart and the Coalition for Transportation Choices (CTC) have been advocating for Rhode Island's Congressional delegation to support provisions that maintain overall level funding and continued dedicated funding for bike, pedestrian and transit infrastructure so important to revitalizing our urban and town centers.
Brownfield assessment grant monies

now available

Informational meeting about the application process to take place September 13, 2011, at 1:00 PM in Room 300 at DEM, 235 Promenade Street, Providence

The RI Department of Environmental Management (DEM) is soliciting applications to allocate $400,000 in Targeted Brownfields Assessment (TBA) funding to municipalities, non-profit organizations and tribes within Rhode Island. This TBA grant will be spent over the next three years on environmental assessments of brownfield sites, with $200,000 allocated towards assessments of hazardous substance sites and $200,000 allocated towards assessments of petroleum only sites. DEM plans to use the $400,000 in grant funds to carry out site assessments at 4 sites within the state, including Phase I and Phase II environmental assessments, and cleanup planning. More Information

The deadline for submitting an application is Monday, October 3, 2011.
Calendar Highlights

Friday, October 7, 2011 (9AM - 4:45PM)

Daylong regional conference with keynote speakers and several breakout sessions related to bicycle- and pedestrian-related topics including funding of bike-ped infrastructure, successful collaboration between advocates and agency personnel, and the economic development potential of biking and walking.

Providence

Thursday & Friday, October 20-21, 2011

Themed "Innovative Planning in the New Economy", this conference provides information and resources for public and private sector planning professionals, educators, citizens, business leaders, planning commissioners and elected officials. Over 35 conference sessions address the information communities need today and for planning for tomorrow. Grow Smart's Sheila Brush and John Flaherty are participating on Friday workshop panels regarding "complete streets" and public transportation respectively.

Providence

Thursday, October 27, 2011 (6:00 - 8:00 PM)

Does your land trust or municipality own farmland? If YES, this workshop is for you. Topics to be discussed include: Issues and challenges you face managing farmland; Considerations and benefits of leasing land to a farmer; 'How To's'of leasing; Funding and technical assistance. Sponsored by the RI Land Trust Council, Land for Good, USDA Natural Resource Conservation Service. Registration is free, but required.

West Warwick

Monday, November 7, 2011 (8:00AM - 6:00PM)

Special conference exploring the most pressing issues, best practices and cutting edge work on the topics of homelessness prevention and affordable housing. Sponsored by the Corporation for Supportive Housing (CSH), RI Coalition for the Homeless, Housing Action Coalition of RI and the Housing Network of RI.

Warwick
Power of Place Summit

Mark your calendar

Grow Smart's 4th biennial Power of Place Summit will take place at the Rhode Island Convention Center on:

Friday, May 11, 2012

Details on partnership opportunities, call for workshop proposals, etc. coming soon.